It is ironic that a liquor baron should retrieve the honour of India's revered prohibitionist. This happened a few days ago at Washington where the auction house, Antiquorum, put on the block Mahatma Gandhi's five personal items-his Zenith pocket watch, sandals, spectacles, a bowl and a thali (plate).
Vijay Mallaya, owning a string of breweries, bought the objects for $2,096 million.
A huge amount, indeed, but the government of India belatedly woke up to the sale and made it a question of honour. Even then it did not contact anyone except the US government to stop the auction as if it would resort to the same rough and ready methods as Delhi does at times to override legal ways in India. It tried to take the credit when Vijay Mallaya had bought the objects and said publicly that the purchase was on his own and the government was never in touch with him.
It is a pity that the central government concocted the version of trying its best to get Gandhi's objects back to India. The fact is that it has been found wanting from every angle. Even then Mallaya has been reportedly informed that he would have to pay a heavy customs duty if and when he brought the objects to India. Mallaya has a bitter experience of buying Tippu Sultan's sword and keeping it abroad because of the heavy import duty imposed. What compromise would be reached is difficult to say at present.
But why has New Delhi made so much fuss about the objects is not understandable.
Gandhi is a world figure. Does it matter if his watch, spectacles and sandals are displayed at a museum in America, Britain or Japan? When his philosophy of non-violence is discussed all over the world to understand its relevance, pegging his relics to a particular country amounts to chauvinism. Today all nations are espousing their faith in peace and non-violence and following them up with a serious discourse on disarmament and a nuclear-free world. India should be proud that the way shown by the son of its soil decades ago may well be adopted to oust fear from the minds of the people. Why should then the nation's honour be put at stake on Gandhi's personal belongings going to some other country?
The hysteria sought to be created in India on the auction is, in fact, tokenism. A nation which allocates 38 percent to defence in its latest budget cannot be considered Gandhian by any stretch of imagination.
However loud its claims about peace are, India is among half a dozen countries owning nuclear weapons. Gandhi who expressed horror over America's use of bombs on Hiroshima and Nagasaki during the last war would have never approved India owning destructive bombs.
Maybe, the possession of watch, sandals or spectacles is meant to atone for the violence in which India has been caught since Gandhi's assassination. But buying back Gandhi's possessions are not catharsis for the wars it has fought since independence.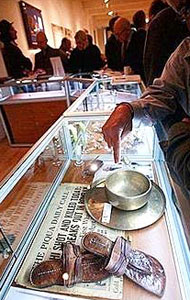 Crowds gather before a controversial auction of Mahatma Gandhi memorabilia in New York City on March 5. AFP
What pains one is the absence of Gandhi in the country which he led to freedom through non-violence. Force is used to suppress peaceful protests and demonstrations against the tyranny by the state. Security forces are becoming bigger and bigger, jails larger and larger and the law courts slower and slower in disposal of arrears of cases running into four millions.
Newer and more draconian laws are on the anvil to detain people without giving them an opportunity of open trial. Recommendations of a Police Commission to make it more autonomous, accountable and humane have been accumulating dust for the last 30 years. The force is still governed by the law the British framed more than 200 years ago. Gandhi could have never imagined that his country would train and arm militants to foment trouble in neigbouring countries.
Sri Lanka and Nepal have not yet settled down, years after independence, because some rulers at New Delhi decided to bring them in line by exporting militancy. This has had disastrous results for the countries concerned. Gandhi's message is hardly heard in India.
All that the government has done is to print his picture on the currency notes, something Gandhi would not have liked. He was not a materialist. He believed that money would never dictate the conscience of the country. But India of today talks in terms of growth rate, not the growth of people transcending the poverty line.
Gandhi promised that after independence there would be no tear on anybody's cheek and every Indian would have a roof above him and a job to sustain himself. Sixty one years after independence, a government's own report says that 77 per cent of the population gets only Rs 20 to Rs 30 per day, less than a dollar, to meet its needs. The worst is the shame that the auction house has heaped on India is in its press note which says: "The sale of the spiritual and political leader of India's possession has stirred worldwide interest."
The interest is not so much in possession but in the auction house's degradation in bringing objects of a person like Gandhi under hammer. India has been, indeed, dishonoured.