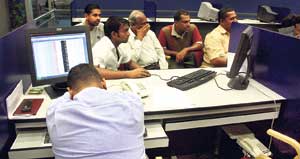 The Central Bank move to reduce the Statutory Reserve Ratio (SRR) by a further 75 basis points late last month could have a beneficial impact on the stock market by way of additional fund flow into equity investments, but the global credit turmoil will continue to haunt the market, according to some analysts.
They said this government intervention to reduce interest rates and strategies to pump liquidity to the banking system however is yet to see any positive impact on the Colombo bourse up to now.
"This was done in a bid to ensure adequate liquidity in the financial market, but, the overall market conditions could be expected to remain stagnant overall with foreign stock markets continuing to be in turmoil and certain local deposit taking institutions having tight liquidity positions," an analyst said.
The regulator had previously reduced its SRR requirement for commercial banks by 225 basis points since October 2008 to 7.75%, as a measure to address the liquidity shortfall in the financial market. Analysts said that despite these measures, the financial market however continued accumulating a daily shortfall, which amounted to approximately Rs.18 billion for the reserve week ended 20th February 2009.
The Central Bank expects the forthcoming SRR reduction to inject an estimated Rs.9 billion to the money supply, while partly mitigating the negative consequences of the global credit crunch.
In a further easing of monetary policy amidst lower inflationary expectations, the Central Bank also reduced its policy rates (overnight repurchase rates and reverse repurchase rate) last month.