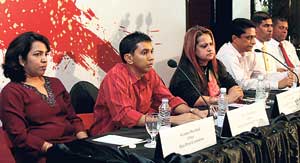 Sri Lanka's advertising industry launched its new theme, 'You Can't Kill It" in the lead up to this year's Chillies Awards in April. The theme is meant as a celebration of the enduring power of creativity which has allowed the Sri Lankan marketing communications industry to repeatedly adapt to any situation, including the local effects of the world's first true recession in recent times. While the industry continues its ongoing struggle with shrinking resources into 2009, the theme highlights the skill inherent in its creative culture which allows agencies to thrive no matter the budget. At a media briefing recently, the Chair of the Chillies Festival Organizing Committee Dusty Alahakoon said they are scaling down some areas.
The Festival Week is scheduled for April 20 to 24 which will culminate with the Chillies Awards on April 25. Mr. Alahakoon said there will be two seminars, two workshops, two judges forums and a three day exhibition.
Chair of the Judges Committee Tharaka Ranwala said the international judges for this year's awards were chosen based on certain criteria including their reputation as being the most creative in the Asian region. The five judges chosen for this year include the Creative Director of Dentsu Japan Ms. Masako Okamura, Chief Creative Officer of Taproot India Agnello Dias, Executive Creative Director of TBWA/Tequila Singapore Graham Kelly, Executive Creative Director of JWT India Senthil Kumar and Creative Director of Iris Nation Singapore Tom Ormes. The local judges were selected on a voting system by the agencies.