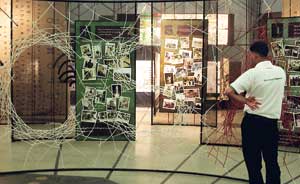 "Hi-tech wire decorations at this exhibition stall depict the skills and focus of the City School of Architecture at the Architect 2009 exhibition of the Sri Lanka Institute of Architects that was held at the BMICH in Colombo. Pic by J. Weerasekera
A top climate change scientist last week urged business leaders and architects to make development more sustainable. Making the keynote address at the 27th Annual Sessions of the Sri Lanka Institute of Architects (SLIA) and the Architect 2009 Trade Exhibition at the BMICH, Prof Mohan Munasinghe said practical solutions and policy options need to be implemented that will integrate climate change responses and sustainable development strategy from global to local levels.
The welcome address at the event was made by Jayantha Perera, President SLIA. Dinesh Gunawardena, Minister of Urban Development and Sacred Area Development; Dr Rajitha Senaratne, Minister of Construction and Engineering Services and Ms Ferial Ashraff, Minister of Housing and Common Amenities also spoke.
Prof Munasinghe said a major concern has been that carbon dioxide has gone up alarmingly in the atmosphere due to industrialization and emission Green-House gas and to achieve sustainable development eco-system should be protected.
While emphasizing the importance of the architects' contribution and good governance he said that climate change undermines sustainable development and unfairly penalize the poor and is a threat to future human development. He said that poor countries and poorest groups will be most vunerable to global warming, sea level rise, precipitation changes and extreme events. Most socioeconomic sectors, ecological systems and human health will suffer. Adaptation measures are available, but must be systematically developed.
Mitigation technologies are also available, but better policies and measures are needed to realize their potential. Along with the presentation of scrolls to the newly elected members of the SLIA three special awards were presented to Architects Ashley De Vos; Prof Lal Balasuriya and Ole B Larsen.
Architect Chandana Edirisuriya was also installed as the new President of the SLIA. The conference saw a host of internationally acclaimed guests speakers like Engineer Mario Seneviratne, Current Secretary General of the World Green Building Council and Architect Indika Samarasinghe who designed the first Platinum rated renovation of a building outside the US for Brandix in Sri Lanka.