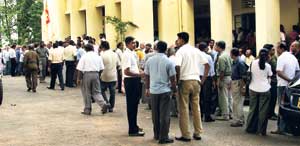 Depositors and others outside the Courts
A new comprehensive payment plan of Golden Key deposits and a draft of the Golden Key Trust devised on behalf of depositors was tabled at the Mount Lavinia Chief Magistrate's court on Wednesday when the GK fraud case was taken up for hearing.
A Trust is to be set up to plan and coordinate the recovery and repayments to depositors of the failed company. It has been proposed to transfer all the assets to the trustees to be sold to raise funds to pay the depositors. The Trust is outside the control of the Ceylinco Group. Counsels for depositors and GK management have agreed to meet at the Attorney General's Department on Wednesday, March 18th at 3.30 pm to finalise the payment plan and its modalities.
Golden Key, part of the Ceylinco Group, collapsed late last year after depositors found the company was delaying interest payments and not returning deposits. The exposure (in terms of deposits) is as high as Rs. 26 billion, part of which state prosecutors allege has been misused by its directors and other Ceylinco Group directors including its well-known Chairman Lalith Kotelawala.
In another move, Directors of the GK Group were ordered on Wednesday not to sell or transfer company assets nor their own personal assets or shares. The order by Mount Lavinia Chief Magistrate Harsha Setunga in the GK fraud case also applies to the 48 subsidiaries of the group which is part of Ceylinco Consolidated.
All suspects in the case including Ceylinco Chairman Lalith Kotelawala and GK Deputy Chairman Khavan Perera were further remanded till March 26. In this case Mr. Kotelawala and other suspects -- Deputy Chairman Michael Khavan Perera, Director Finance Saradha Sumanasekara, Director Suramya Karunaratne, Golden Key Operations Manager Niranjan Fernando, Directress Padma Mandan Kumari and Manoj Chaminda Jayalath of Ceylinco Insurance -- have been remanded in connection with the alleged misappropriation of Rs. 26 billion at the Golden Key Company. Some other directors are on personal bail of Rs. 25 million each.
C.R. de Silva PC, appearing for Kotelawala, rejected the allegation that his client, in connivance with the public officers, was trying to mislead the judiciary. He said that the repayment for depositors could not be done overnight, as time was needed to sell the assets and negotiate with foreign companies. "Only Kotelawala can pay this money. Nobody keeps Rs. 26 billion in safes. By selling the existing assets, the money can be recovered," he said.
Deputy Solicitor General Sarath Jayamanne said a 10-day deadline had been given at the last hearing to Mr. Kotelawala and the GK management to show substantial assets and money to make repayments for depositors. But so far the GK management has failed to respond or to show genuine interest on settling the money of depositors, he said.
In another revelation, he said that Ms Jasmine Chitty, Secretary, International Relations in Kotelawala's office had been present – and took notes - at all board meetings when Kotelawala and deputy chairmen in the group met in December 2008 to discuss GK and related issues.
He disclosed that that Mr. Kotelawala had transferred Rs. 215 million from the Golden Key Company for the maintenance of the Ceylinco office, and another Rs. 266 million to Ceylinco Consolidated.
The court noticed Ms Jasmine Chitty to appear on March 26.