At least 20 journalists were among 40 persons questioned by police investigating the activities of the editor of the Sudar Oli news paper Mr. Nadeshapillai Vithyatharan. Mr. Vithyatharan was taken into custody earlier this week.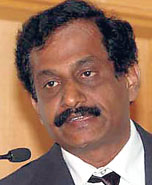 N.Vithyatharan
Sleuths from the Colombo Crime Division (CCD) visited several newspaper offices both in the city and in Jaffna recording the statements of journalists who had apparently been in contact with the Sudar Oli Editor.
According to police the journalists had made telephone contact with Mr. Nadeshapillai on or around the time of the botched LTTE night air raid on the metropolis on February 20th.
Police spokesperson Senior Superintendent (SSP) Ranjith Gunasekera said investigations were currently centered on the calls --both incoming and outgoing-- that were recorded on Mr. Nadeshapillai's mobile phone shortly before and after the LTTE raid.
Police also questioned the employees of the Sudar Oli editorial office as well as its sister paper 'Uthayan' in Jaffna. Mr. Nadeshapillai who was arrested at Mount Lavinia while attending the funeral of a relative is currently being held in the custody of the CCD.
Meanwhile police investigating the killing of The Sunday Leader Editor Lasantha Wickrematunga and the brutal assault of the Rivira Editor Upali Tennakoon are yet to make any arrests or a significant breakthrough in either of the cases.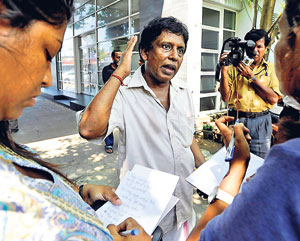 Managing Director of Sudaroli and Uthayan newspapers, E. Saravanapavan, the brother-in-law of editor N. Vithyatharan, talks to reporters after the editor was arrested while he was attending a funeral in Mount Lavinia on Thursday. - AFP
Mr. Tennakoon, a senior journalist is currently in the US, yet undecided about his return.