The management and employees of the National Zoological Gardens in Dehiwala have locked horns over the interdiction of two senior employees following allegations of serious misconduct and theft, which included the spiriting away of meat, meant for the lions, a senior official said yesterday.
Zoo Director, Duminda Jayaratne said the two suspect employees with more than 20 years of service were sent on compulsory leave, pending further inquiries.
However, this action has irked trade unionists who allege that the two men were framed as they had opposed some wasteful expenditure. They also allege that poor management was jeopardizing the country's only zoo.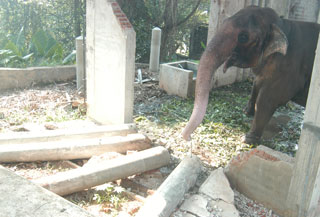 The collapsed pillars that had been built to tether elephants in their new bathing area.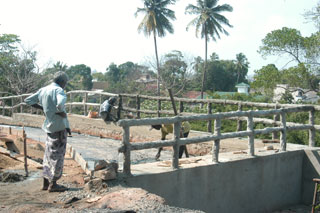 The broken down wall put up close to the outer perimeter of the zoo being repaired.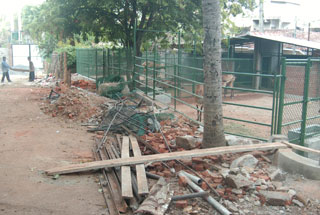 An eye sore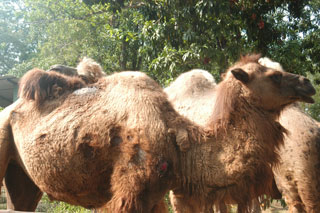 A neglected camel with wounds on its body
The Director dismissed these allegations and said one of the interdicted employees had been under the influence of liquor while on duty and the other had allegedly stolen about four kilos out of 20 kilos of fresh meat, meant for the lions.
"This kind of behaviour cannot be tolerated from such senior employees and their punishment is a warning to others to fall in line or face consequences," Mr. Dayaratne said. He said although these types of illegal activities had been going on for many years, when the officialdom from time to time attempted to take some kind of action, they were intimated, threatened and in some cases even assaulted.
"I will not tolerate this kind of behaviour whoever the persons may be," Mr. Jayaratne who serves as a voluntary director without a salary told The Sunday Times.
Mr. Jayaratne is currently the Director of the Administration Branch of the Sri Lanka Customs.
Enraged co-workers of the interdicted employees have put up posters demanding the immediate removal of the director, calling him a "dictator" with a questionable background.
Workers had earlier threatened to go on strike on February 10 when delegates from the South Asian Zoo Association for Regional Cooperation (SAZARC) were to meet at a venue in Mount Lavinia.
However, the authorities were saved embarrassment when the strike was prevented after the Ministry of Recreation and Sports stepped in to mediate with a promise that their demands would be looked into in the swiftest possible time.
Meanwhile, S.A. Upul Kumara, spokesperson for the Worker's Union told The Sunday Times that the director was behaving in a high-handed manner and as a result had earned the wrath of workers. He said the director had even ignored an order by the Minister to re-instate the two workers.
Other trade unionists also said although corruption, malpractices and unruly scenes had been going on for many decades, past officials had failed to arrest the trend although some genuine attempts were made from time to time.
They alleged that a wall that was put up close to the outer perimeter of the zoo at a cost of more than seven million rupees had collapsed as the contractors had not done a proper job, while several pillars that had been built to tether elephants in their new bathing area, too collapsed as they were poorly constructed.
Charging that the welfare of the animals was in jeopardy they said the authorities were yet to finalize a report on the death of a mother and baby hippopotamus at the zoo last November, apparently due to negligence.
Amidst the growing tension, the decision to increase the entrance ticket price per adult from January this year to Rs 100, from Rs 50, has drawn criticism from visitors. Many come in groups, and complain that it is beyond their means to pay such a big amount.
According to some employees foreigners too turn away when they realize they have to pay Rs. 2000.
Who wants to go to the zoo!
Once it was hailed as one of the best zoos in Asia, but now, a visit to the Dehiwela National Zoological Gardens leaves much to be desired, The Sunday Times learns.
Some visitors said they were unhappy to see the manner in which the big cats such as leopards and panthers were confined in small enclosures, while elephants too were kept in concrete surroundings, far removed from their natural environment.
They also complain that many of the animals looked far from healthy. Recently an MP of the Jathika Hela Urumaya Athuraliye Ratana Thera presented a private members bill in Parliament on the welfare of animals.
In addition to provide protection of animals from cruelty the Bill seeks to foster kindness, compassion and responsible behaviour towards animals.
According to the Bill to keep or confine an animal in any cage in any place which does not measure sufficiently in height, length and breadth to permit the animal reasonable opportunity for movement and to keep it for an unreasonable length of time chained or tethered upon an unreasonably short or unreasonably heavy chain or cord, is a punishable offence.