India yesterday called for a "pause" in the fighting to allow the safe evacuation of civilians trapped in the Wanni as Tamil Nadu prepared for a statewide 15-day agitation campaign starting today.
In a statement issued in New Delhi hours after his visit to the southern Tamil Nadu town of Tuticorin, External Affairs Minister Pranab Mukherjee expressed concern over the Wanni's humanitarian crisis, which he said was "building up with every passing day".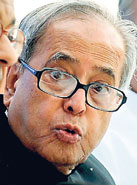 Minister Pranab Mukherjee
He referred to the recent LTTE offer of a ceasefire as an "opportunity" for the Sri Lankan government to stave off the crisis, and called on Colombo to respond to it. "While this (the ceasefire proposal) may fall short of a declaration of willingness to lay down arms, it is our view that the government of Sri Lanka should seize the opportunity presented by the offer to bring about a pause in the hostilities," Mr. Mukherjee said adding that the civilian evacuation would also require the LTTE's cooperation.
"The pause in hostilities must be utilized to facilitate the movement of the Tamil population out of the war-affected areas to secure locations where proper rehabilitation is possible, and international aid organizations ... have free access and scope to provide medical and other forms of humanitarian aid," Mr. Mukherjee said adding that India wanted to send an emergency medical team and medicines to the internally displaced people in the north.
Mr. Mukherjee said Sri Lanka should also carry out "a proper devolution of powers to the provinces," after shifting war victims to safe locations. He said that any political solution should assure equality and equal rights to all citizens, particularly the Tamil people, within the constitutional framework of Sri Lanka maintaining its territorial integrity.
Meanwhile, the Theshiya Dravida Munnetra Kazhakam of actor-turned-politician Vijayakanth will launch a 15-day protest campaign statewide starting today. Mr. Vijayakanth's party is seen as Tamil Nadu's rising third force which could pose a major challenge to both the DMK and the AIADMK at the next state elections.
In another development, Marumalarchi Dravida Munnetra Kazhakam leader Y. Gopalaswamy alias Vaiko and some 180 supporters were arrested in Tuticorin in the south of Tamil Nadu when they demonstrated against the presence of Mr. Mukherjee, who arrived there to lay the foundation for a coal-power project.