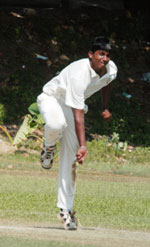 Trinity's prolific spinner Akila Jayasundera in action against Wesley at Campbell Park yesterday. (Picture by Ranjith Perera)
St. Peter's skipper Angelo Perera came up with an impressive all round performance and steered his side to their fourth outright win of the ongoing U19 inter-school cricket season they crushed St Benedict's by ten wickets at Bambalapitiya yesterday.
Angelo and his brother Denham laid the foundation for their victory with the pair cracking half tons. They were supported by two useful knocks from Shivanga Ranasuriya and Chathura Peiris to help Petes to a commanding 254.
Angelo followed it up by giving the Bens a fight for their runs. He along with Vinod Perera had the Bens in tatters as they struggled to end the first days play on 128 for 7, but they were all out adding only one run in the morning session.
Made to follow on with a deficit of 125 runs skipper Angelo tormented them once again. Bens managed to avert the follow on but were bowled out for 137 thus giving the home team a simple target of 13 runs for victory.
St. Peter's 254 (Angelo Perera 58, Denham Perera 52, Shivanga Ranasuriya 46, Chathura Peiris 40, Vinod Perera 23: Dilanka Auwardt 3 for 63, Suren Silva 3 for 63) and 13 for no loss (Andri Berenger 13 n.o.)
St Benedict's (128/7 o'night) 129 in 36.5 overs (Nisal Fonseka 32, Suren Silva 21, Sandun Sampath 42: Angelo Perera 3 for 50, Asif Mackie 2 for 1, Vinod Perera 2 for 10) and 137 in 41.2 overs (Eranga Ratnayake 28, Sandun Sampath 22: Angelo Perera 4 for 50, Asif Mackie 2 for 22)
Samitha, Oshada and Ishara shine
Half tons by Samitha de Mel, Oshada Fernando and Ishara Fernando helped St. Sebastian's to force a draw against St. Joseph's in their U19 inter-school cricket encounter concluded at Moratuwa yesterday.
The three knocks enabled Sebs to make a bold reply of 308 after resuming from their overnight score of 59 for 1. This was in reply to the Josephian score of 336.
St Joseph's 336 (Treshan Rajasooriya 67, Harin Silva 42, Chathuranga Kumara 38, Shalindra Perera 27, Shameera Weerasinghe 100 n.o.: Akila Aponso 5 for 108, Samitha de Mel 2 for 66) and 78 for 1 in 18 overs (Shyan Seneviratne 16, Shalindra Perera 34 n.o., Shameera Weerasinghe 23 n.o.)
St Sebastian's (59/1 o'night) 308 in 101.2 overs (Oshada Fernando 87, Samitha de Mel 64, Ishara Fernando 50, Hehsan Dias 24, Marlon Fernando 29 n.o.: Shameera Weerasinghe 6 for 100)
Dinuk leads Nalanda's recovery
Dinuk Jayasinghe led Nalanda's recovery with a fine knock of 86 which saw his side make a respectable score of 209. Once they were badly placed on 36 for 4 in their U19 inter-school match against S. Thomas' at Mt Lavinia. The match ended in a draw .
S. Thomas' 271 for 9 declared (Chamod Pathirana 82, Lalinda Peiris 82, H. Perera 31, Adrian Kerner 24: Nipun Karunanayake 4 for 40, Adeesha Nanayakkara 4 for 76) and 99 for 5 in 32 overs (Ravin Nirushan 39, H. Fernando 23 n.o., Chamod Pathirana 19 n.o.: Adeesha Nanayakkara 3 for 15)
Nalanda (36/4 o'night) 209 in 80.2 overs (Dinuk Jayasinghe 86, Chandimandu Rodrigo 48, Nipun Karunanayake 23, Chethan de Silva 17: Chamod Pathirana 2 for 4, Hemaka Ariyaratne 2 for 21, Lalinda Peiris 2 for 41, Chamal Fonseka 2 for 51)
Trinity retain Kannangara trophy
Trinity retained the R.L. Kannangara trophy by virtue of their first inning win over Wesley in their annual U19 inter-school cricket match played at Campbell Park. The highlights of the match were the knock of 110 by Dilan Gangoda and match bags of nine wickets each by Roshan Jaleel and Akila Jayasundera
Wesley 179 (Pasan Samarasekera 42, Ashen Fonseka 41, Raninda Sooriyakumara 36: Akila Jayasundera 4 for 42, Roshan Jaleel 4 for 60) and 211 in 72.2 overs (Jason Caderamanpulle 54, Pasan Samarasekera 35, Dulanjana Wijesinghe 32, Sachin Jayawardena 29, Raninda Sooriyakumara 24: Roshan Jaleel 5 for 64, Akila Jayasundera 5 for 77)
Trinity (130/5 o'night) 266 in 63 overs (Dilan Gangoda 110, Mohamed Sajid 31, Roshan Jaleel 26, Akila Jayasundera 25: Trian Hamer 2 for 19, Ashen Fonseka 3 for 60, Dulanjana Wijesinghe 2 for 83) and 7 for no loss in 2 overs

Royal lead over St. Anthony's
By Aubrey Kuruppu
In a high scoring draw dominated by batsmen Royal ended up taking a psychologically important lead of 62 on first innings over St. Anthony's at Katugastota.
In form Bhanuka Rajapakse made scores of 81 and 75. He included 15 fours and seven on his visits to the crease. Kithruwan Vithanage also enjoyed himself scoring 73 and 24 not out.
The Antonians were marooned on 78 for 5 when Adil Reyal produced his finest knock, a composed 91 that contained 16 fours. Under 15 player Manoj Sarathchandra impressed on debut.
Royal 301 for 8 sdec in 65.4 overs (S. Hettiarachchi 15, K.J. Perera 19, B. Rajapakse 81, K. Viythanage 73, H. Mowjoodh 34, Y. Abeyratne 31; A. Reyal 3 for 64, K. Ekanayake 2 for 67) and 205 for 3 in 46 overs (K.J. Perera 28, C. Bogoda 51 n.o, B. Rajapakse 75; K. Vithanage 24 n.o_
St. Anthony's 239 in 78.3 overs (H. Wickremasekera 36, M. Perera 15, A. Reyal 91, S. Palihakkara 29, M. Sarachchandra 23; H. Mowjoodh 2 for 33, B. Rajapakse 2 for 23, D. Rajakaruna 2 for 2) - AK
Kingswood on top
Kingswood took a first innings lead of 65 runs over St. Sylvester's in a fairly evenly contested match which ended in a draw in Kandy.
Stumper Karunaratne did well in front of the wicket with an entertaining knock of 54 while Ashan Seneviratne came good in the second innings. Maduranga and skipper Dharmaprema contributed with bat and ball.
For the Sylvestrians, skipper Chanaka Colombage picked up six wickets for 67 and then made an important contribution with the bat.
Kingswood 235 for 9 dec in 91 overs (M. Maduranga 36, C. Kumarasiri 23, H. Dharmaprema 14, C. Dharmaprema 36, J. Karunaratne 54, Y. Atukorale 40 n.o; C. Colombage 6 for 67) and 136 for 4 in 40 overs (M. Maduranga 19, A. Seneviratne 58 n.o, T. Karunaratne 29 n.o, C. Dharmaprema 18; S. Nilantha 2 for 40)
St. Sylvester's – 180 in 74 overs (M. Nanayakkara 25, N. Nilantha 28, N. de Silva 15, C. Colombage 31, D. Athauda 18; C. Kumarasiri 4 for 42, M. Maduranga 4 for 13, C. Dharmaprema 2 for 50) - AK
Rahula Ekanayake 9 for 50
Off spinner Rahulka Ekanayake had the splendid figures of 29.2-5-50-9 as the Rajans bowled out Isipathana for 207 and then played themselves into a position of dominance at Peradeniya yesterday.
Sri Vimukthi made the top score of 46 but all in all, the Pathanians could not dominate the off spinner.
Youngster Sandun Weerakkody made an attacking unbeaten 72 off a mere 70 balls. The Rajans are in a position to pull off an outright win today.
Isipathana 207 in 70.2 overs (N. Asanka 37, C. Sri Vimukthi 46, S. Premaratne 23, A. de Silva 31; R. Ekanayake 9 for 50)
Dharmaraja 155 for 4 in 32 overs (B. Ekanayake 23, R.Y. Bandara 16, T. Wedagedera 22, S. Weerakkody 72 n.o; S. Dimantha 3 for 41)