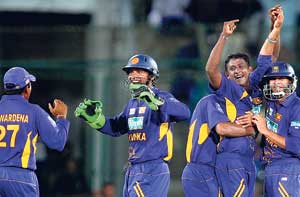 Lankans back in action
Starved of cricket till July this year, Sri Lanka Cricket which is now gaping into an almost empty barrel, will in all probabilities be a busy pack. According to cricket sources, the upcoming Sri Lanka's tour of Pakistan may take place in two stages.
The Lankan team who were to fly to Pakistan directly from Bangladesh for a three Test, five ODI and a T20 tour will now fly back to Sri Lanka for a short breather in keeping with a request from the players. Sri Lanka also have made a request to the Pakistan authorities that the original tour which was agreed upon by the former SLC chairman Arjuna Ranatunga on his own without consulting the Interim Committee or the Cricket Committee now be pruned down to two tests, three ODIs and a T20.
It is also learnt that a move to get India to play a series of matches in Sri Lanka is in the pipeline. According to sources, this move is still in its formative stages. The sources said if India is to play in Sri Lanka the matches will be scheduled between February 1 and 15 as the former will be leaving for New Zealand in the third week of February.
The series is likely to comprise five One-day Internationals. The sources also revealed that a final decision on the tour would be taken after the return of BCCI vice president Lalit Modi – man in charge of India's overseas fixtures. He is in Mexico at present.
It is also learnt that the BCCI decision would depend on who heads the SLC or the composition of Sri Lanka's new cricket administration. Nevertheless the series is also facing some logistical problems such as the preparation of grounds, security arrangements and the lack of a tour organizing committee. The question is whether SLC could fix these problems at such short notice.
If the Indian series becomes a reality Sri Lanka will fly to Pakistan to take them on in the ODI and the T20 series, comeback home to play India and then subsequently fly back to Pakistan to play the Test series.
However Pakistan are also having problems of accommodating this revised Lankan request.
A PTI report said, "Sri Lankan Cricket officials had first confirmed a tour of Pakistan from January 20 to play three Tests and five one-day internationals but now they want a shortened tour of two Tests, three ODIs and a Twenty20 game from February 15.
Their revised demand means that Pakistan has to adjust its confirmed tour to Bangladesh from March 3 to play five one-day internationals there. "We have spoken to the Bangladesh officials and they say they will consider revising dates for our tour to Bangladesh but first they have asked us to confirm the Sri Lankan team's tour," a senior Pakistan Cricket Board official said.
According to the ICC Future Tours Programme, Sri Lanka are due to host Pakistan in July 2009 on a six week tour that would contain three Test matches and five one-day Internationals. This tour would be followed by Sri Lanka hosting New Zealand in another 2 or 3 Tests and five ODI series.