Australia has gone into damage control after a humiliating home loss to the unheralded South Africans and fanatical fans here are appealing for blood transfusions to heal their bleeding hearts.
After being shocked into the reality that they were for once in a real contest when the Proteas clawed their way back from an impossible situation to clinch the first Test in Perth, Australia were expected to rebound in normal fashion and square the series to provide the humdinger this summer was scripted to be.
But unlike Aussie teams of the past, it appears that their resolve is shot to pieces as they allowed the increasingly confident visitors to do what they liked in the Boxing Day Test crashing to another sensational defeat while compounding their woes by conceding the series in the process.It was very "un-Australian" for the home team to surrender as meekly as they did, but one must not take away any of the glory of their conquerors who fought it out tooth and nail, the contest, much like two highly ranked boxers in the ring in which the hitherto undisputed champion Kangaroos were caught by a sucker punch they did not see coming.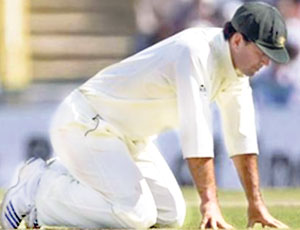 Only skipper Ricky Ponting, Simon Katich and speedster Mitchell Johnson could hold their heads high as they vainly battled the tide in an attempt to avoid the inevitable. Fans who have been accustomed to Australian dominance have reacted savagely by callng for Ponting's sacking and they have been backed up by some former Test players. It would be a futile move because without Ponting at the helm and without his gritty batting, Australia would plummet into depths unknown. Captain in waiting Michael Clarke is very talented, but his maturity as a leader with Australia's current line-up is wholly unproven and will certainly not stand the test of time.
South African Skipper Graeme Smith in contrast, has clearly signalled his coming of age as one of the best leaders in the world game. The faith thrust on him by the South African cricket administrators who burdened his young shoulders with the captaincy at a very young age has borne a bountiful harvest.
It also forged the entry into the big time of Dale Steyn, Jean-Paul Duminy and to a lesser extent, A.B De Villiers and Morne Morkel who backed skipper Smith, Jacques Kallis and Co. to rocket South African cricket to the top. They have achieved a glory that much stronger line-ups that toured here earlier failed miserably.
South Africa has so far taken the points in both the verbal stoushes and battle on the field. Jacque Kallis has fulfilled the pre-series promise that his team was capable of overturning the world champion. They will now be aiming to put their long years of suffering at the hands of the Aussies to rest by ramming home a clean sweep in the series with renewed vigour.
In a post match interview, a jubilant Kallis described the victory as "The icing on the cake to beat the Aussies in a boxing Day Test in Melbourne". He said it was hard work and mainly self belief by the younger members of the squad in particular that delivered them an unexpected reward against a team they have never beaten in a series in Australia. His sentiments were echoed by an overjoyed skipper Graeme Smith who appeared to be in disbelief at what he team had achieved. Smith was however quick to point out that the Aussies though beaten were still a potent outfit and could be never written off.
Celebrations broke out in the South African camp no sooner the victory was achieved and a surprisingly large fan base emerged on the final day to egg them on to their historic victory.
With the pride of the Aussies heavily dented, they will be desperate to save face in the final Test in Sydney where a loss will push them down to second spot in Tests after a marathon rule for a decade and a half.
It will be no easy task to re-group as injuries to key players and an acute lack of form by their batters will put a heavy onus on the remaining squad to lift their game.
Australia are currently without both fast bowling spearheads, Brett Lee and Stuart Clark, the latter whose swing and masterful ability to extract wickets from an impossible situation, a crucial reason for the Aussie slump. Clark slotted in well as a replacement for Glenn McGrath but injury forced him out of contention for this series.
Lee who has stress fractures on his left foot may be sidelined for the rest of the tour as his form appears to have deteriorated alarmingly after a successful New Zealand onslaught and clearly does not warrant selection.
Yet it is not the end of the world for the Aussies with several other leading speedsters pressing for selection with Tasmanian Ben Hilfenhaus, South Australian Shaun Tait and Queenslander Doug Bollinger in frontline contention to grab the vacant spot.What has been most perplexing through this series was the lack of raw aggression usually associated with Australian cricket. This must be the first series for as long as anyone could remember that not only the Australian team but spectators were unusually quiet and subdued as the Proteas ran riot among them.
It could well be the psychic vibes that seemed to appear when the first Test was lost and many here believe that an end to a glorious era is not a bad thing after all because it has helped breathe new life into a format that many believe would have slipped into obscurity if the Aussie dominance continued on.