Visiting Maldivian President Mohamed Nasheed who met the business community last evening requested Sri Lankan investors to diversify their portfolios into other areas apart from tourism such as infrastructure, transport and the social sector in the Maldives.
"The Maldives is open for business," President Nasheed told the SME sector and members of the Sri Lanka Maldives Bilateral Business Council (SLMBBC) when he met them at two separate events organized by the Federation of Commerce and Industry of Sri Lanka and Ceylon Chamber of Commerce respectively.
The Maldivian President said that his country intends to relinquish its ownership of a number of State owned institutions, acquired over the years, to the private sector.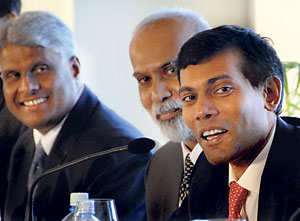 President Mohamed Nasheed (R) with Ceylon Chamber of Commerce vice chairman Dr. Anura Ekanayake (C). Also in the picture is the Maldives Minister of Economic Development Mohamed Rasheed (L).
Some of the areas identified for privatization are ports, airports, several transport, trading and electricity companies, water and sewerage system in North and South regions, waste management, several hospitals, schools and housing development projects.
He invited Sri Lankan investors to explore such areas and others including development of infrastructure facilities and investment in projects relating to the environment.
There are already several Sri Lankan investments in the Maldives and a number of bilateral agreements have been signed between the two countries over the years. Areas in which joint ventures have been pursued include air services, cultural and educational cooperation and economic and technological cooperation.
Citing a project carried out by the Galle Face Hotel management, he said, "The hotel owners are investing in a hotel in one of the islands in the Maldives where there is an airstrip that also needs to be developed. My question to you is this. Are you interested in the development and management of the airstrip?"
However corruption would not be tolerated, he warned. "This is a government that wants openness and transparency. Only thing we cannot tolerate is corruption," he said.
Of past claims of corruption and nepotism, the President admitted that some of the contracts have been irregular. "But if we try to untangle this web, we don't know where we will end up. My intention is to move forward," he said. SLMBBC president Jayatissa Kehelpannala said that Sri Lanka would look at strengthening ties with the Maldives through joint ventures in a range of areas.
"We hope to look into tourism promotion, education ventures, skills and human resource training and investing in the agricultural sector. In all this we want to explore new methods and techniques. The Council staff has diverse areas of interest and we could work together to create more opportunities," he said.
On Friday, the Maldivian President who met President Mahinda Rajapaksa pledged to fully support Sri Lanka in the fight against terrorism.
He also expressed his appreciation of the efforts being taken by President Rajapaksa to restore peace in Sri Lanka and thanked the Sri Lankan government for the long standing support extended to the movement of good governance in the Maldives.
The two leaders also agreed to arrive at a mutually beneficial solution in relation to the problems faced by Sri Lankan fishermen who have to cross Maldivian territorial waters in sailing to the Arabian Sea.
President Nasheed said that he expected assistance from Sri Lanka in areas such as the establishment of a good civil service and added that he looked forward to assistance in carrying out an archaeological survey of the Maldives, the first to be done after 1922 and which was also led by an archaeologist from Sri Lanka.