An LTTE attempt to cause mayhem and destruction within the premises of the old Sri Lanka Air Force Headquarters in Slave Island, Colombo was thwarted by two alert airmen who were on sentry duty on Friday afternoon. A suicide bomber who had tried to get past the main gate blew himself up while being checked. The two sentries were also killed in the blast.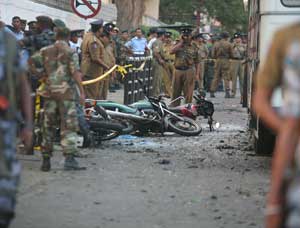 The scene at Chittampalam Gardiner Mawatha after the suicide bomber blew himself up. Pic. by M.A.Pushpakumara
Police said eyewitnesses saw a man crossing the road and rushing towards the gates of the Air Force premises.
It appeared that the man was attempting to charge into the complex when he was intercepted by the two sentries. Earlier reports suggested the suicide bomber had arrived on a motorcycle, but it has been confirmed that he had arrived on the scene on foot.
Police have not yet identified the man, who had no ID card, mobile phone or other clues to his identity on his person.
The bomb blast killed at least three persons and injured 35, including 16 Air Force personnel. At least five of the injured are in critical condition, according to National Hospital director, Dr. Hector Weerasinghe.
The suicide attack came barely 20 minutes after the TV broadcast of President Mahinda Rajapaksa's announcement to the nation that Killinochchi, the LTTE's main stronghold in the North, had been captured by the security forces.