As the government formally announced the capture of the LTTE-stronghold of Kilinochchi on Friday, celebrations broke out islandwide.
In Nuwara Eliya, residents and religious leaders of all faiths gathered in town and set off a 150m long line of fire crackers. They then took to the streets chanting slogans paying tribute to the soldiers. Later everyone gathered at the Post Office where the Maha Sangha invoked blessings on the soldiers.The business community of the town also expressed their loyalty by hoisting the national flag.
Meanwhile residents of Anuradhapura gathered in town to light fire crackers with North Central Province (NCP) Chief Minister Berty Premalal Dissanayake and other ministers participating in the main event.
Celebrations were also held in the Kahatagasdihiliya town in the Anuradhapura district attended by residents from the border villages in the Horowapathana Electorate. Nation Building Minister S. M. Chandrasena and the Kahatagasdiliya Pradeshiya Sabha Chairman Gamini Jayasekara also attended the celebrations.
In Colombo too there were celebrations. A manager from a fire works store in Pettah told The Sunday Times that he sold about 5000-6000 fire crackers on Friday following the announcement of the fall of Kilinochchi.
M.. G. Punchihewa, a fire cracker vendor along Colombo Street, in Kandy said there were more fire cracker sales on Friday than there was on December 31. He said he ran out of stocks adding that he would stock up more crackers for the capture of Mullaitivu.
Firecrackers were also heard throughout the Ampara District and the Digamadulla Young Men's Buddhist Association organised a threewheeler parade to congratulate President Mahinda Rajapaksa and Army Commander Lt. General Sarath Fronseka. Twenty-metre long lines of fire crackers went off in the town while in Uhana, the Pradeshiya Sabha Chairman, Ranjith Ekanayake served 'kiribath' (milkrice) to all those who attended the celebrations in the area.
The people there also put up a giant bill board to mark the occasion.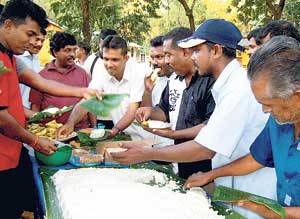 Ampara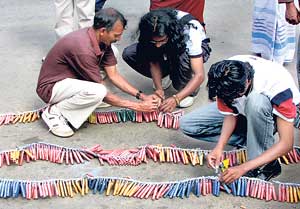 Nuwara Eliya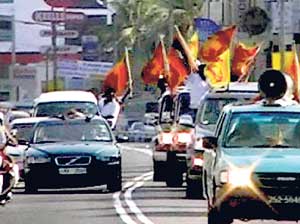 Kalutara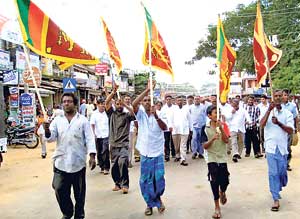 Anuradhapura
Army Commander Lieutenant-General Sarath Fonseka flew to Vavuniya yesterday to discuss ongoing military operations in the Wanni. He was accompanied by senior Army officers. Pictures courtesy of the Sri Lanka Army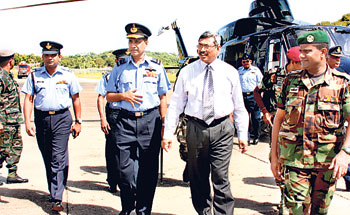 Defence Secretary Gotabhaya Rajapaksa visited Sri Lanka Air Force bases in Hingurakgoda, China Bay and Katunayake yesterday to express his appreciation of the SLAF's contribution to operations in the Wanni.