Australia has a dearth of skilled people and therefore need skilled people. The processing of applications of people who have the skills required by Australia is done quickly as the need is now great, said Registered Migration Agent Sanath Vidyananda.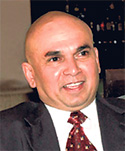 Sanath Vidyananda
Vidyananda handles the processing of applications for business skilled migrants and General skilled migrants while plans are under way to start student migration as well in the future. "I don't undertake to process an application for migration unless I am confident that the applicant will be successful," said Vidyananda.
A person who applies for permanent residence if successful gets a family visa, free medical aid for the family and free education for the children. The basic requirements to apply for a Australian visa are educational qualifications, relevant work experience, good command of English and below 45 years. The processing of an application takes 6-12 months.
There are two main categories under which a person can apply for migration and these include business skills and general skills. There are many categories under the general skills which include trade, professional and managers. Trade skills include hair dressers, air-conditioning mechanics and over 800 occupations are listed.
Under the professional category too accountants, engineers, architects and a host of other professionals with a relevant degree or diploma can apply for permanent residence. General Managers as well as Distribution managers can also apply for permanent Australian residence, said Vidyananda, the owner of Australian Migration Consultants Battaramulla.
A person applying for permanent residence under the business skills should have the requisite finances, the experience and the age limit is below 55 years. Vidyananda who has been in Australia since 1989 is a qualified and registered Migration consultant.
He said that the migration laws change constantly and it is necessary to be abreast of the rules and regulations as well as the laws to advise customers. Sri Lanka has only a few registered migration agents.
Vidyananda left Sri Lanka in 1989 for higher studies in Australia. He studied for a Bachelors Degree at the Swinburne University. He has also completed a course on Australian Migration Law to become an accredited migration agent. 0714747524.