By Ranmalie Peries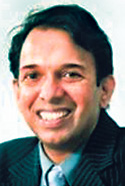 Sanjeev
Each and every one of us comes to that critical crossroad in life where we have many questions and several answers to those questions regarding the direction and future of our life. And deciding to pursue a higher education is one of the most important decisions you make in life. And the choice you make will determine your future. It is natural to seek advice from our parents, teachers and friends in taking such a vital step. However, we also need to be knowledgeable of the needs of the modern world and be conscious of our own strengths and aptitudes; this helps us to match our internal strengths to opportunities available in society and select an appropriate study programme. Having identified this need Universal Student Consultants was formed. Thus their guiding philosophy "Our Guidance…..Your Choice……..A Secure Future".
With its main office located and operating from the heart of Colombo City, No 11, Level 5 Arthur's Place, Colombo 4, Sri Lanka, Universal Student Consultants (USC) is an overseas educational consultancy dedicated and committed towards providing educational services to any student in Sri Lanka or its sub continents and in making educational avenues abroad accessible to them. Globally Universal Student Consultants (USC) also has their local partners / Offices in the respective countries they operate to ensure a personalized and customized service to their clients.
Universal Student Consultants (USC) is a premier esteemed and highly professional consultancy engaged in career counselling and providing dependable guidance to Sri Lankan and International students seeking higher education overseas.
Universal Student Consultants (USC) takes care of all application concerns that are entailed in overseas education. "We ensure that you are applying to the educational institution that best fits your profile and that your application is complete. Our personalized services include and are not limited to student counselling and career guidance, Guiding you to find the right choice of study for an employable future, student visa counselling, Language Preparations, Educational loan assistance and student financial support, Essays and SOP (statement of Purpose) writing, Visa interview preparations, Airport Pick Up / Accommodation / acclimatization into the system" commented the CEO of USC; Sanjeev Ganeshan.
Furthermore, the CEO of USC mentioned that what makes them at USC different from the others in the market is that firstly they have a solution for any student who walks through their door - Whether it is for a Degree or a specific vocational programme. Your choices of overseas destinations comprise USA, Canada, Australia, UK, Malaysia and India at present and further countries to be added to the portfolio in the near future. "We give them a solution and fulfill their aspirations and dreams; secondly our competent and experienced staff will actively listen and then counsel you, thirdly our responsibility does not end once we send you overseas for higher education but in shaping and providing you a successful future and for this we will monitor your progress and successes abroad" commented the CEO of USC.
To be able to deliver these services to the prospective students they have recruited competent and dedicated staff with experience in the educational sector and excellent local and global networking to ensure that you get nothing but the best when you select USC as your consultant for your overseas education. In short at Universal Student Consultants (USC) you are provided with the entire gamut of procedures and processes with regards to your overseas higher education. Providing the named services all under one roof makes Universal Student Consultants the one stop shop to a planned, secure and successful future.
USC, Universal Student Consultant's counselors can guide you and your parents through the entire process of arranging your studies abroad from selecting an area of study, an educational institution and ensuring that you arrive safely at your chosen destination. They also offer very affordable prices for Overseas Education and Immigration services.
"At Universal Student Consultants we consider client's satisfaction as aur prefence declared Sanjeev Ganeshan, the CEO of USC.
For further information or an appointment with USC call their Career Counselors
Sathna 077 2830 919 Yasha 077 2830 902
A Visit to USC will be an assured step towards a successful future.