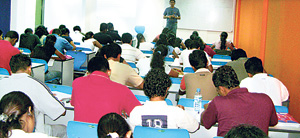 NEXT School of Business, the premier Chartered Institute of Marketing (CIM UK) education centre in Sri Lanka celebrates its 1st year anniversary this week. Within a few months of commencement NEXT was able to attract more than 400 students for the Dec 2008 intake and create history in CIM education in Sri Lanka. The 1st year anniversary will be celebrated with religious observances to evoke blessings on the students and the staff at NEXT School of Business.
Speaking to Education Times, the General Manager of NEXT School of Business Ms Kumudu Abeyawardane said 'we are overwhelmed with the response we got for this study session. We had over 400 students for the Dec 2008 exam session. This is a record in SL for CIM education to have such a student number in one single intake. We are completely full for stage 2 weekend classes and we had to start a second batch to cater to student requests. We like to thank our students, their parents and employees for placing such confidence in us'.
She went on to say that 'this record breaking success is purely because of the expert lecture panel we have at NEXT, consisting of Dusty, Bertram, Ravi, Tharanga and Jeffry. They have proved their success in both academic field and in their professional careers. They are CIM & MBA qualified and hold heads of marketing & CEO positions in leading multinational and local companies. That international and local exposure makes them ideal lecturers to guide students through a practical programme like CIM. They are trained by CIM UK and have produced world prize winners and many Sri Lanka prize winners during their long lecturing career'.
The Director NEXT School of Business, Ravi Jayawardena added 'we will commence the June 2009 CIM intake on November 15th 2008. NEXT was one of the few institutes who had the competency and resources to conduct the CIM new syllabus during this session to prepare students successfully for the Dec 2008 assignment submission and exam. We have fully developed the study material and lecture programmes for the CIM syllabus and have our own series of student publications to guide students. We longed for this new syllabus with two assignment modules which help students to understand marketing fundamentals in a practical manner. The full time batch we commenced last May targeting school leavers has been a success. We will continue with this weekday day time batch at a concessionary rate for school leavers who are eager to start CIM after completing A/Ls. Apart from this weekday evening batch and weekend batch will continue as usual'.
Apart from the expert lecture panel, NEXT School of Business has a state of the art modern learning facility conveniently located at Havelock Road. Ample parking and easy access through public transport are benefits students find at NEXT. Within a year of operation NEXT became the leader in CIM education in Sri Lanka and achieved recognition as a CIM Accredited Tuition Centre.
NEXT School of Business was set up by a group of professionals who are holding senior management positions in the Corporate Sector and who have in common the passion of empowering young executives with the knowledge, skills and competences required for career advancement and personal development. Apart from marketing education, NEXT has ventured into corporate training and consulting, language studies, recruitment and graduate & postgraduate studies.

For more information contact:
Ms Kumudu Abeyawardane
General Manager
NEXT School of Business
327 Havelock Road
Colombo 6
Tel 5765405 /4
Fax 2554040
Email info@next.lk
www.next.lk