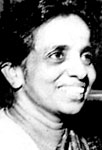 Susan Pulimood
Susan George Pulimood (nee Joshua), a revered Principal of Visakha Vidyalaya, was a stern disciplinarian, but a gracious and compassionate lady with an infectious sense of humour.
Principal of the school for 22 years, she built an edifice of scientific discipline from where pupils went on to achieve eminence as doctors, engineers, lawyers, teachers and arts graduates.
Susan Joshua was born in Travancore, (Kerala) India on July 23, 1907. She graduated from Queen Mary's College, Madras where she obtained a Master's degree in Botany and then obtained a Licentiate in Teaching from Lady Wellington Training College, Madras. She also trained as an English language teacher in the UK.
Her invaluable book 'Textbook of Botany' written with the collaboration of her sister Anna K. Joshua was a standard textbook for many years. She retired as Principal at the age of 60 in 1967.