Chitra Jayathilake was appointed Principal of Buddhist Ladies' College & BLC International, Colombo 7, recently. Prior to that she was Principal, Anula Vidyalaya, Nugegoda. She is the eldest daughter of a well known Buddhist family from Gampaha. Her parents were both school Principals.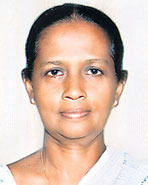 Chitra Jayathilake
A past student of Rathnawalie Balika Vidyalaya, Gampaha, she claims with pride that her education at Rathnawalie and the co-curricular activities she participated in, have contributed to her success. From Rathnawalie BV she entered the University of Peradeniya in 1965, graduating in 1969 with a Bachelor of Arts (Special) in Ecomomics.
She started her teaching career at Bandaranayaka Maha Vidyalaya, Gampaha in 1970 and moved to Visakha Vidyalaya, Colombo where she taught Ecomomics and was also a Sectional Head. After qualifying in the S.L.E.A.S. Examination, she was appointed Assistant Commissioner, Educational Publications Department. She was then appointed Deputy Principal, President's College, Kotte, after which she was Deputy Principal of Devi Balika Vidyalaya, and also Acting Principal for over a year. In 2001 she was appointed Principal, Anula Vidyalaya, Nugegoda, and was Principal, until retirement in February, 2007.
As Principal, Anula Vidyalaya, she effectively initiated several projects with the support of the Education Ministry. With contributions from past pupils, both local and overseas, she completed and developed a number of school facilities. Among these were: modernizing and upgrading the science labs and getting a new computer lab. During her term as Principal, Anula Vidyalaya achieved its highest and best ever results at the GCE 'A' Level and 'O' Level Exams in 2005.