Most South Asian women have curvy figures, be it a voluptuous derriere, love handles, thunder thighs or angel wings, but with the influence of the west most often we try to hide these aspects of our bodies. But when you really think about it, what is wrong in having a shapely figure?
Look around you and you can see how, the billboards, the advertisements, the clothes –all seem to depict an image that is almost unreal. But things are changing, it seems. Take the international fashion scene, for example – where there is a move away from the size zero model to a healthier look. And here too, popular clothing store Cotton Collection has taken the initiative in portraying a more real image.
In December last year, Cotton Collection launched their campaign Celebrating Real Woman which featured three contemporary women: Anitra Pieris – dancer, mother and free spirit, Shyamalee Tudawe – editor, wife and total diva and Minoli Ratnayake – publisher, friend and 'it' girl.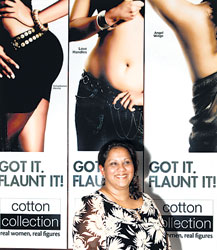 Niloufer Anverally, Cotton Collection's MD
The second leg of this campaign highlights Real Curves under the theme 'Got it.. Flaunt it!' Cotton Collection's new message is that no matter what your body type is, they have the clothes to suit you. The idea is for women to be comfortable in their own skin.
Women all play varied roles in their day-to-day lives – they always have the need to balance a number of tasks and duties and in fact, they must be celebrated for being women. And as Niloufer Anverally, Cotton Collection's Managing Director said, their summer collection focuses on this femininity with a range of "bright colours from sunny yellows, to sugar pink and turquoise, eye catching prints and embellishments," in order to, "evoke the spirit of summer."
"We stock clothes for real women," she said at the press launch of the new campaign, going on to explain the reason for the campaign. "We wanted women with real bodies, real personalities, real figures," adding, "you don't have to be a size zero to be perfect." The idea is to make real women link with Cotton Collection."
Said Anitra Pieris, "I hope it makes women realise that to be bigger is ok," adding, "You must highlight the positive in you.""It's nice to see the stereotypical mould is broken," said Minoli Ratnayake.
Talking about herself, she said, "I am coming to terms with the fact that I am never going to be skinny. Cotton Collection is saying love yourself and accept yourself and embrace yourself, don't be what you are not."
"I think it's a very logical step because real women have real curves," said Shyamalee Tudawe. "Curves are natural and as long as you dress appropriately, you will be able to carry it off. It is a matter of "showing your individuality, your self worth and self confidence," she smiled adding, "I am a great believer in if you've got it, flaunt it!"