A woman, who lost her seven sons during the 1983 riots, now living in Polonnaruwa with her grandchild, still not losing hope… A Tamil man, who was once a writer, his work burnt with his house in 1983, now living in Nikaweratiya, sculpting statues of Lord Buddha conveying the message of peace…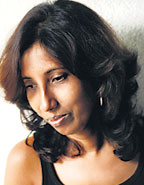 Anoma Rajakaruna
Another woman who lost the place she called home 16 times, now living out of a suitcase, its precious key hanging from her neck…. Three stories of altered lives, broken homes, fear and hope…
July: Life After 25 Years, an essay of photographs by Anoma Rajakaruna, photographer, film maker and poet, tells their stories and with it the story of a countless number of others affected by the riots of July 1983. The exhibition which features portraits as well as symbolic photographs, is a real eye opener and serves as a reminder of events which continue to affect thousands of people even 25 years after.
Anoma was still in school in Panadura in 1983. It didn't matter whether they were Sinhalese or Tamil in her neighbourhood, they were all friends, Anoma recalls. Also, just opposite her school was a Hindu Kovil, which Anoma passed daily on her way to school and home. Then dawned that fateful day in July.
"The kovil was burnt down, so were a lot of the shops and houses. The landscape changed forever," Anoma says.
As she grew up, she travelled around the country, meeting different people who had their own stories to tell of the 1983 riots. "I met people who didn't have a place they could call home. Some of them didn't really like to talk about their original homes because that brought back sad memories. I met children who were born in temporary shelters. I wanted to do something and as a photographer, I have documented their lives for the past 17 years," she says. "It's time for me to share their stories with you. This is my way of honouring these people," she says.
Explaining the first section of the exhibition, titled 'her story', Anoma says, "This is about a woman who has lost her seven sons. But she still has hope, she's waiting till they return."
Explaining the second section of the exhibition titled, 'his story', depicting pictures of a Tamil man who was once a writer, she says, "Here is a man, now a sculptor, who conveys the message of peace and unity. He lost all his work when they burnt down his house. Ever since then he didn't feel like writing, he told me when I met him in Nikaweratiya. So he became a sculptor and he now carves Buddha statues. Everything he loved and owned was destroyed, but he didn't give up. He is not doing it for the money either. This is a healing process for him," she says.
Some of the photographs are symbolic and each photograph tells a bigger story. Anoma, who has held many solo and group exhibitions before, asks one thing of those visiting the exhibition. Look at the photographs closely, she says.
"Take a moment to think when you look at these pictures. Think of all these things we take for granted and think of how we spend our lives. There is a message in these photographs,"she says.
July: Life after 25 years will be held at the Alliance Francaise, Colombo from July 18 to 24 and at the Alliance Francaise in Kandy from August 8 to 14.