---
Surprise for Maalyn Dias
By Udena R. Attygalle
For Maalyn Dias an old Royalist and sports enthusiast, the news that his grandson Rehan had won a "Maalyn Dias sports scholarship" had come as a big suprise. He had come home after a YMCA

carol service to find his son say, "Thathi Rehan has won one of your scholarships".
A little while later Rehan himself rings up his grandfather and says, "Seeya I won your scholarship". He had wanted to make it a surprise and had not told him earlier! So recalled Maalyn Dias who was visibly proud of his grandson's sporting accomplishments.
Rehan at only 12 years has already represented his country at international level. He was a part of the Sri Lankan sailing team at the 9th Asian Sailing Regatta in Karachi this year. His father Ranil meanwhile represented Sri Lanka at rowing while still a schoolboy at S. Thomas'. Maayln reckons this the "first father son combination who have represented the country while still at school. And there seems to be no evidence to prove him otherwise. Maalyn also suggested that he might contact the Guinness Book of World Records authorities, to find whether this feat has been accomplished in any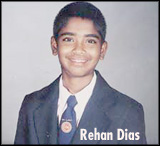 other part of the world.
Ranil, after taking part in rowing while in school, later took up sailing and represented the country at the 1984 Olympic Games and the Asian Games of 1982, 1986 and 1990.
Rehan meanwhile was also a part of the winning team at the recent Caltex Sailing Championships together with W. P. K. Janaka of the Navy.
The "Maalyn Dias Sports Trust" was started in 1991 by Maalyn Dias in order to promote sports and encourage promising sportsmen who are "knocking at the door". The trust gives away 3 to 4 scholarships to deserving Royalists each year.
It's quite a coincidence that the father and son started their international career at the Karachi Harbour.
---
Promoting themselves?
Some officials in some sport bodies are more interested in promoting themselves than promoting the game. They want to hang on at all cost. Apparently, they have perks to enjoy on the longer run.
No official in any sport should be allowed to hang on too long, even with political machinations. This is where the Ministry of Sports must address their mind and stick to a policy and not succumb to pressure from whatever quarter.
Today, most sport bodies are plagued with problems, as a result and end up in law courts fighting tooth and nail to be in the seat of power at much expense.
To overcome this ongoing setbacks in sport bodies, it needs a fresh blood transfusion. The Ministry of Sports must act according to the sports law. If there are loopholes then it must bring in new amendments to the sports law and not only restrict officials holding office for too long, but also make way for those with administrative skills and know-how to run its affairs.
Today apparently there are mere figureheads with hardly any knowledge to make any meaningful contributions for the development of the sport. As a result the players knowing their weaknesses infiltrate the administration, rather than concentrating on the field. Believe it or not, in some quarters players go to the extent of voicing their opinion, who should manage the tour party on an overseas tour.
There are silver linings in every dark cloud. At the same time there are lessons to be learnt. But how many of our power hungry officials take remedial measures or make way for others to infuse new blood?
The late legendary Duncan White, who was in Sri Lanka on a special invitation extended to him by the Duncan White Foundation in March 1991 had this to say about officials hanging on for too long:
"Sri Lanka is not short of talent, but officials must work with dedication and put the game and country before self.
They must work with devotion and dedication if Sri Lanka is to go further in the world of sport." A meaningful statement by White, who had to work hard all by himself without outside assistance. White is the only Olympic Medal winner for the country since 1948. The present Minister of Foreign Affairs Lakshman Kadirgamar will testify to this effect. Like White, Lakshman, too is a Trinity 'Lion' in athletics.
The late Duncan White was in the company of yet another Trinitian and rugby legend Kavan Rambukwella, when he was interviewed.
He also queried, how could officials hold office in more than one body and deliver the goods.
White, may not be in our midst today. He knew what he was talking about. It's simple. If the individual holds office in the sport he knows best, then he could deliver the goods. Otherwise it's a daunting task with nothing done methodically and the respective sport will suffer. How many of them are there in some of the present sport bodies. He also emphasised that officials should rotate for the greater good of the sport concerned. He further commented unlike during his time he found individuals get involved themselves into position of 'power'. This he felt is not going to help the game in general, but only further their aspirations.
To overcome this, the Ministry of Sports must bring in amendments and restrict officials holding on for too long and make it an exclusive club.
Today it's a 'Carry On' Series to be in office at all cost, and no remedial measures taken by the powers that be. In some of the controlling bodies there is big money at stake.
In 1993 the Sports Act 47 amendment was passed in Parliament. All accounts of national associations should be audited by the Auditor General of Sri Lanka. But six years have lapsed but no action has been initiated.
The journalists should be more investigative and spotlight shortfalls for the Ministry to take remedial measures, Duncan White added.
Sadly, when some journalists bring to light these shortfalls, they are humiliated for no sins of theirs.
In some quarters apparently some officials want the media to help build their ego, which will help them to continue in office.
The best should be to have an independent sports authority, who will be in a position of strength, and not succumb even to powerful outside pressure. If this happens even in the future, then it will harness men with professional skills, who will act without fear or favour and bring forth dignity to the respective bodies. This will be the ideal panacea to overcome the prevailing ills in some sports bodies.
B.W.
---
Many positives from Zimbabwe
The second Test series since the World Cup ended in another triumph for Sri Lanka. There were many changes, new blood introduced for the Australian series at home. Although not in charge the two stalwarts Arujuna Ranatunge and Aravinda de Silva were dispersing their influence on the juniors. De Silva's performances held the batting together and was the solid foundation for the team's success.
Minus the two stars Zimbabwe was an opportunity for the new faces. It was a real shame that both series were affected by rain. The Australians at home was a perfect platform for team building first up. Then, Zimbabwe, weakest of the International Cricket nations - was the ideal tour to expose the inexperienced. Those lost hours meant missing on obtaining more valuable experience.
The batting highlights were the knocks played by Marvan Atapattu, T.M. Dilshan, Russel Arnold and Mahela Jayawardena. Marvan's big double century set the stage for the others to concentrate and bat without sacrificing their wickets. This was often lacking during the series against the Aussies. Atapattu then got himself run out twice thus losing out on more scoring opportunities. On his way to the 37 he made before going for the not so necessary third run he displayed total confidence. Another massive innings was thereby cut short.
T.M Dilshan took over from there. Of the younger batsmen being tried out Dilshan displays the most correct technique. Should he not spoil himself and also let others not spoil him, then the future is bright. He could play the role that Aravinda de Silva has played so well, for such a long period of time.
Russel Arnold played well right through the series. That marathon effort in the final Test brought the best out of him. Not a lavish stroke maker Arnold plays well within himself. He also does not move his feet too much against the quicker bowlers. That is compensated by being balanced, head still and bringing the arms at the correct point of time to meet that ball. A good all-round batsman to open the innings.
Mahela Jayawardena had one good innings. He is still playing below par. When in full flight he executed some glorious strokes. Jayawardena has plenty of time to do this but time and again commits a mistake to get himself out. He needs to play some very long innings in the domestic competition when he returns.
The performance of the bowlers was very satisfying. Chaminda Vaas, Nuwan Zoysa, Pramodaya Wickramasinghe, Ravindra Pushpakumara all performed their tasks admirably. The pitches used for the games assisted the quick men. There was a lot of movement on each of the opening days. Jayasuriya winning the toss thrice and putting the opposition in gave the bowlers the initial advantage. Throughout each game the ball moved off the seam, getting lesser with progress. It was an ideal experience, extracting movement and bounce off the pitch.
Although somewhat variable there was always good bounce. For bowlers to learn to move the ball they must be given the conditions. That is the reason why all the Zimbabwean bowlers are able to wobble the ball around. Add Suresh Perera, Indika Gallage and Sajeeva Silva into the quartet of Vaas, Wickremasinghe, Zoysa and Pushpakumara and the pace bowling department looks healthy. They all have a fair bit of cricket behind them now. Should they continue with purpose, looking to improve then they will combine to trouble batsmen around the World.
Muttiah Muralitharan did not have such a major role to play in this series. A very uncommon feature. He had to bowl some long spells and struck to the task of containing the batsmen. On few occasions he was unlucky too with chances going abegging. He is still the potent bowler who is bound to pick more bags of wickets in the future.
Sri Lanka can feel satisfied with their showing on this tour. Once the one-dayers are played then they will have to start thinking of the big show against Pakistan next February. All guns will have to be firing then. It will be no learning experience. That will be the real testing time.
---
Let rugby flourish
In 1970 rugby became a craze in Jaffna with the youth of the north taking a great liking to the game and their parents wondering what their children were upto with an odd shaped ball. They had never seen a rugby game where the ball was mainly handled and run unlike soccer, which they were very familiar with, and handling the ball was a penalty.
To give a real taste of rugby to the Jaffnese it was decided to stage an exhibition rugby match and a team from the Army and Police were invited from Colombo to Jaffna. This match was played in September 1970 at the Jaffna esplanade in front of a very large crowd. The goal posts were from timber felled in the jungles of Kilinochchi which then came under the administrative jurisdiction of the Government Agent, Jaffna with a special permit.
The "Daily Mirror" which was a very popular newspaper in the north under the Editor Reggie Michael, a legend who was famous for his unbiased comments in journalism sponsored this rugby game.
As special committee consisting of Alfred Duraippah, Mayor of Jaffna, Vernon Chanmugam, Regional Manager, Bank of Ceylon and R. Rajasingham, a leading businessman who also ran a "Bharatha Natyam" dancing school in Jaffna, were appointed to make the necessary arrangements with yours truly giving them the guidelines.
The rugby game got off to a rousing start on a Sunday with one of the biggest crowds ever present at the Jaffna esplanade which was then famous for election rallies addressed by G.G Ponnambalam who was affectionately called as "Ponna" (Gold), S.J.V. Chelvanayagam, a fatherly figure called "Chelva'' meaning wealth and the famous L.S.S.P. leaders Dr. N.M. Perera and Dr. Colvin R. De Silva who were greatly admired by the Jaffna populace for their education and professional standing.
The vast crowds that were at the esplanade were ignorant of the rules of rugby and Inspector W.T. Sunders gave a running commentary both in Tamil and English for which the crowds were appreciative.
The chief guest for this historic match was I.M. Ismail the District Judge, Jaffna. I refereed this game and the match ended in a 8-8 draw. After the match the teams, police and army were entertained to drinks at the Fort Tennis Club and thereafter to dinner at St. Patrick's College by Rev. Fr. Mathuranayagam, Rector of the College. The two teams which played at this match were: Army - K.B. Perera, Wijeweera Bandara, B.M. Perera. M.L.O. Ghouse, K.P. Weerasinghe, K.S.Perera, M. Ratnayake, J.K.J. Perera, P.L. Jayaratne, A.G.J.C. Dias, R.J. Gnanasiri Wimalaratne, Bandusena Jayasooriya, J.T. Ousmand, T. Sinnen, T.E.M. Brohier. Police - S.K. Basnayake, S. Sahabandu, Lakshman Silva, Savangan, S.Khan, Abdeen, Kandasamy, Herath, Hameem, Bahardeen, Walter Goonawardena, Dharmapala and Bohoran. The "Daily Mirror" of 23.9.70 had the following story on the match.
They came from all parts to relish rugby football
They were all there. From the District Judge and the Parish Priest down to the ordinary verty clad man in the street and they all had the time of their lives. Yes, they had the right to be there for they were watching the first ever rugby football match in the history of sport in the north. The mammoth crowd was really taken by surprise. First they appeared amused at the egg shaped ball, then settled down to lap up the game as it unfolded in its various stages.
Bursts of laughter
Scrums brought on loud bursts of laughter, lineouts had the girls giggling while crash tackled brought the winces and 'aaghs' from the crowds that thronged the touch lines. Even the queer looking goal posts came in for surprised looks but once the first conversion was made the first time spectators accepted them as a vital complement for this strange sport.
Bright future
And so it went on, the spams of laughter and uninhibited cheering as several running commentaries done in the language of the north made them wiser with the minute. And mind you, the crowds were quick to take to this sport and knowing the Jaffna sportsman, it's safe to predict a bright future for the game here. Purely for the record, the two teams that gave Jaffna its first lesson in rugby football the Army and the Police drew the match-8 All. Each side scored a goal and a try. Inspector Sivendran who handled the game was a proud man and his dream of forming a Jaffna Rugby Football Club must have taken shape.
Ellis remembered
All in all it was a great and grand day for rugby in Jaffna as well as in Ceylon. It seemed that what William Webb Ellis at rugby school did in 1823 was happening all over again when people saw thirty youths catch a ball and run with it a far cry from the game of football which has become a part of life with the Jaffna inhabitants. This historic game couldn't be a better example of the Rugby Football Union's motto: Let rugby flourish everywhere.
---
Emmanuel celebrates golden jubilee
A.V. Emmanuel, the popular wrestling coach celebrated his golden jubilee last week. He is the brother of wrestler Gorgonis of Armstrong WC.
Emma was the co-founder of the Armstrong Wrestling Club who had produced many national champs, since its formation in 1947.
He was appointed chief coach after the unfortunate death of his brother Gorgonis. Emma was appointed national coach by Major General P. A. Karunatilleka, the then President of the Wrestling Federation of Sri Lanka, and on his appointment he conducted a successful clinic for sports officers who followed a diploma for grappling held from 1980 to 84.
He was responsible in promoting the young wrestler M. F. M. Izzamudin as a coach who today holds the distinction of a double diploma as a International judge and referee.
Izzamudin today holds a licence to coach in any part of the world while another of his pupils Shanthilal Obeysekera also has a licence to coach in any part of the world.
Emma represented Sri Lanka against India in 1960 and in 1963 he was appointed a judge referee in the four Tests at the Indo-Ceylon meet.
He also represented Sri Lanka as a judge/referee in the triangular contest between Sri Lanka/Malaysia/Singapore in 1970.
Later on Emma went as chef-de-mission for the first Asian Wrestling Championships in Punjab, India in 1979, where Sri Lanka won seven diplomas.
Emma today is the Vice Patron of the Sri Lanka Coaches/Referees/Judges Association.
---
Fluctuating fortunes at Harare
By Dr. Baptist Croos., FSC.
Hearty congratulations to Sanath Jayasuriya and his formidable team for having won the second Test at Harare.
A gem of an innings from the Zimbabwean captain Andy Flower who defied the Sri Lankan bowling and delayed the victory, came to an abrupt end when Sanath lured him to make an uncharacteristic stroke. Subsequently Sanath polished off the tail taking all four wickets in the process.
Magical moments:
Nuwan Soysa's exhilarating performance in the second over of the first innings when he captured the first three crucial wickets in the first three balls of his devastating spell, will stand as an indelible record for a long time to come.
Those were magical moments, the experience of which was really heart-throbbing and only Nuwan could describe it better. Incredible as it seemed, cricket pundits were frantically fingering through record books to find a parallel. Of course, their is none! Nuwan has created history and we should be genuinely proud of his brilliant performance. To be counted among 23 eminent bowlers in the whole cricketing world, who have taken hat-tricks, is indeed an extraordinary accomplishment.
Impatience
Undoubtedly Sanath Jayasuriya, the flamboyant Sri Lankan circket captain is a remarkable bastsman. His record-breaking feats both in Tests and one-dayers are impressive and of late however, his batting has gone from bad to worse. Time and again he has been advised not to flash his bat unnecessarily at balls outside the off-stump. But he keeps on ignoring those timely warnings and resorts to the same old tactics. Impatience and irresponsibility caused his downfall both in the first and second innings. He should know that "prudence is the better part of valour."
Costly
Marvan Attapattu's pathetic run-outs in both innings were due to complacency. Vigilance, alacrity and alertness are essential ingredients that would assist a player. When a player is trying for a second or third run, he must be agile and swift. Nowadays fielders are specialised in accurate throwing. They have the ability to knock down a wicket from far. I can understand 'run-outs' in a one-day match when batsman hurriedly scamper for runs to keep up the scoring rate. But in a Test match, when there is plenty of time to plan one's strategy, to scamper for a run when it is not there, is suicidal.
Russel Arnold who was batting superbly yet cautiously, got out in the same inglorious way by chasing the ball outside the off stump. After scoring a painstaking and polished 91, the vice captain Mahela Jayawardane unwittingly missed his century by flashing at a ball that was well outside the off-stump. I wonder whether the players watch the replays of their sad demises. They will master their techniques just by reviewing them.
Delightful century
To have scored a century in only his second Test is highly commendable. That's what the man-of-the match Dilshan did and carved a name for himself in the annals of cricket history. Patiently waiting and punishing the loose deliveries, enabled him to notch up his first Test century. If he keeps up his cool temperament, his future will be assuredly bright.
A lesson
The fighting spirit of the Zimbabwean team is admirable. They made the Sri Lankans toil and sweat for every run in the second innings and made a mockery of the so-called powerful batting prowess of the Sri Lankans. Their sizzling performance in the first innings was obliterated by their miserable show in the second innings. If the Zimbabweans had had a lead of hundred runs, Sri Lanka would have been under terrible pressure and perished ignominiously. Andy Flower and Guy Whittal had taught the Sri Lankans a lesson in determination.