---
Freedom fighter to healer
A priest on a journey of healing through the trouble spots of the world
By Renuka Sadanandan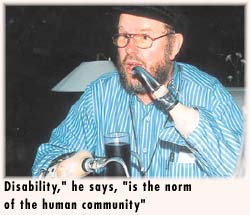 The letter bomb that irrevocably changed Fr. Michael Lapsley's life, came hidden within the pages of two religious magazines. The blast cost him both hands, one eye and damaged his hearing among other things, but also set him on a journey of healing, not only of himself but of others similarly traumatised by the brutality of war.
The New Zealand-born Lapsley, 50, became a freedom fighter, part of the struggle against apartheid, when as a young Anglican priest he was transferred to Durban, South Africa. His journey now takes him to trouble spots and conflict areas around the world, this year alone to Rwanda, East Timor and Ireland, 'healing the memories' and teaching people to confront and cope with the scars, emotional, psychological or physical of violence.
He has been here these past two weeks on the invitation of the Presidential Task Force's National Programme on Human Disaster Management conducting workshops not only for doctors, psychiatrists and NGO workers but also those directly affected by the on-going war.
"Members of the Task Force came to South Africa in April this year and seeing the work that our Institute for Healing of Memories is doing thought there might be lessons for Sri Lanka. "A grant from Sweden's SIDA made his visit possible.
Fighting apartheid was not a childhood ambition for Michael Lapsley, growing up in New Zealand. He recalls reading a book by a priest of his experiences which opened his eyes as a youngster to its evils. But little did he realise what his own choices would be till he was sent to Durban, after training as a priest of the religious order Society of the Sacred Mission (SSM) in Adelaide, Australia.
"I thought there would be three groups of people in South Africa," he recalls, "the oppressed, the oppressor and the rest called the human race, to which I might comfortably fit in." The reality, he soon found out, ('in ten seconds' he smiles) was harshly different. "There was no fence to sit on, either you joined the oppressed or you were the oppressor."
He chose the former.
His position as chaplain to three (two black and one white) campuses in Durban gave him unique insights, whilst studying himself at the University of Natal. He was forced to look again at the Bible and find new answers, among them, that God IS partisan, that he is on the side of the oppressed.
After the Soweto uprising in 1976, he found himself expelled from the country - "I was not given reasons." Moving to Lesotho to complete his degree, he functioned as chaplain to the National University and also trained priests there. It was during this period that he joined the African National Congress and became part of its underground movement and also worked as chaplain to the ANC.
"For many years I was on the government's hit list,' he says matter of factly. He lived with the constant threat of death, at one time being forced to flee Lesotho when church authorities felt he was a target, but for the bomb that came when it did, in April 1990 when he was living in Zimbabwe, maiming him dreadfully – there was no preparation.
"There were times when I thought it would have been better to die," he says. "Being disabled, you grieve for your loss. I felt, would life be life again? Would anyone ever love me? But I realised that humanity transcends all disability."
Was it his deep faith that sustained him?
"Being bombed took me back to the faith of my childhood." That and the outpouring of love and support he received, he says, not just from Christians but people from all faiths and communities.
"My pain and suffering was acknowledged and reverenced, so I could make the journey from freedom fighter to healer." He stresses that faith, need not necessarily be only the Christian belief, but any belief that one has is the key.
The support, he received was indeed amazing. The New Zealand government by an unanimous Cabinet decision paid his bills for the six months he spent in two Australian hospitals and went on to award him the Queen's Service Medal in 1991, for service to the community in countries of Southern Africa.
Though disabled, he was not to be silenced. "I realised I was a victim, but I could be a victor." Returning to Zimbabwe, Fr. Lapsley also visited several countries, sharing his experiences and raising awareness on apartheid. In 1993, he joined the Trauma Centre for Victims of Violence and Torture in Cape Town and also founded the Cape Town Refugee Forum.
His recent work has been focused on the Institute of Healing of Memories in cape town which has sought to develop a methodology to help people and communities come to terms with and heal the psychological, emotional and spiritual wounds of apartheid in South Africa, and the wounds of war in other countries.
Its premise is simple. "The past doesn't go away. You can try to bury it, but it keeps coming back to haunt you. Instead if you confront the pain, you can heal it." The same methodology can be used in cases of family violence, rape etc.
But there are no quick fixes, no magic solutions through his workshops, he emphasizes.
"It may be only the first step on the journey." But he strongly believes that in a war, everybody has a story to tell, and that needs to be deeply listened to, reverenced and recognised. For many, he says, there are choices to be made in a war situation, actions some heroic, some shameful which can leave lasting scars and by facing them, people are able to move on. At his workshops people are encouraged to speak of their experiences, to bring out all those hidden burdens they have carried within safe confines.
The means used to help people open up are often simple. At times they are given crayons and paper to draw on. "When I first was given a paper at a workshop and told to express my feelings, I thought 'I have no hands, how can I draw?' but I did," he says.
His very own suffering places him, in a unique position, of being able to empathise with the wounded in body and spirit. "It's not easy for them to say or feel, for instance, 'you don't understand' as they would with other counsellors, because I know the pain, I've lived with it."
What he is doing in Sri Lanka is also training facilitators, who will be able to carry on such programmes, adapted to suit the country's needs, to fill the enormous void that exists in the field of rehabilitation of the disabled and traumatised.
"Disability," he says, "is the norm of the human community, not the exception. People with disability tell the human family something about themselves." And then he makes a statement. "The rest of the community are TABs, Temporarily Able-Bodied. Your turn will come. We all have our disabilities. The Hollywood image of the perfect body is all nonsense, if you consider how messed-up we all are, at different levels."
What societies like ours, need to focus on also, is the acceptance of the disabled and getting rid of the deep-rooted prejudices that we have towards anyone with a physical or mental disability. More so, he says, because someday, the conflict will end and the path to healing will have to be travelled. "I just pray the day of peace and reconciliation will come soon." For the man whose hands are only hook-like appendages, but whose warmth and humanity are so compelling, there is only one way to peace...the negotiating table.
"The more I do this work I realise there is only one human family and we can live together in justice and peace."