Sporty 'Jim'
He backs his Australia in everything but cricket...
Text and pic by Rangi Akbar
Mano 'Jim' Amarasin-gham cannot be classed with the 'Lion' or 'Ryde' Gold medal winning types at Trinity but he certainly made a deep impression with his own unique style of living, which made him a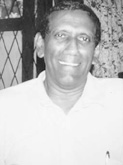 very popular figure from 1961 to 1965, the years he attended the Kandy school.
He joined Trinity in 1961 after having won a scholarship from St.John's College, Jaffna. The shy awkward lad with his belongings packed into a trunk, entered Trinity with a lot of hope. Whether he lived up to his hopes or not is left to be judged. But he certainly made the school sit up and take notice of him in the field of sports, studies and extra-curricular activities.
Jim, now domiciled in Sydney, Australia, the place where the next Olympics is to be held in the Year 2000, has already booked his seats for his favourite sports - hockey and athletics - and advises those who are hoping to be in Sydney to book their tickets and accommodation early for the Games.
He was on a brief visit to Sri Lanka and of course he was caught up in a whirl of activity amidst which his batchmates at Trinity were still able to give him a warm-hearted reception at the Capri Club in Colombo.
Proud
He is proud of his adopted country and speaks volubly of the way the Aussies won the world championships in rugby, cricket, netball and women's hockey and the runners-up title in men's hockey. Their plums include bagging the world limited over cricket title in England and the Wallabies' awe-inspiring win over giant-killers France in the World Cup rugby final in Wales this year.
The Trinitians put Mano through his paces when he first entered Alison as a boarder. His rendering of the Jim Reeves songs, specially 'I like to be,' at his maiden speech and song, which every boarder had to do cast him in a special mould. Very soon everyone was calling him 'Jim'. That name stuck. He is still Jim!
At Trinity Jim was simple, loving, witty and very clever.
He found that he could never play rugby, except at junior level, but was an instant hit at hockey. He recalls to this day how coach and mentor Paul Jeyraj took him under his wing with hockey great Baskharan Sahayam too chipping in to mould Jim's hockey ways.
He played with greats such as M.H.M. Navavi, now a key political figure in Puttalam, Molligoda, Sunil Jayatunga, Ian Geddes, D. Perianayagam and Devarajh Sivalingam to name a few. He played a major role in the school's social service calendar by serving as the leader of the Hospital Patrol, where he did yeoman service, together with a band of loyal supporters, in bettering the living conditions of the downtrodden at the Kandy General Hospital. In dramatics too Jim held centre stage and to this day colleagues recall his acting as a pirate chief with others such as Russel Tennekoon, Nihiri Sulaiman, Tilak Gunasekera, Sivayogasun-deram and Tony Marshner to name but a few.
Disaster
Jim left Trinity in 1965 to further his studies in Law and passed out with honours as an attorney-at-law. Just when life was shaping up for him disaster struck. His house at Sri Saranankara Road, Dehiwela was gutted by fire during the 1983 riots and his family scattered after suffering traumatically.
Jim and his family sought shelter in Croydon, England with great difficulty while the rest of his family sought refuge in various countries whilst a few remained to brave the atrocities in the country they loved so much.
How Jim wishes things would be like at Trinity where lads of different castes and creeds got together freely without animosity. The world outside Trinity was angry and hostile.
In England he moved from one law firm to another and after braving the cold English weather for several years, moved over to Sydney, Australia with his family.
He has been in Australia for nearly 15 years now and careerwise he is doing very well as a solicitor to the leading law firm MMI Insurance in Sydney, attached to their legal branch specialising in worker's compensation law. "The work is thoroughly absorbing and I enjoy it," he says with relish.
Even though he lives in Sydney thoughts of Sri Lanka and the days at Trinity remain warm as ever. Whenever, time permits, the call to return is great and so he keeps coming back. But he knows that things will never be the same again in Sri Lanka and so he has decided to cut himself off permanently from the country he loves so much for greater security.
Comptometer
His father Chittampalam Amarasingham made a name for himself as a successful salesman and trainer of comptometers, the machine which has developed into the modern day calculator. He was so successful that Lever Brothers at that time (in the 1960s) took him and the comptometers under their wing. He had a lot of faith in Mano (Jim) and knew that he would reach the top rung some day.
Jim lived with his family at the Bambalapitiya Flats at one time, before moving on to Sri Saranankara Road and like at Trinity, he was extremely popular there as well. There was not a person who could not point out the flat the Amarasinghams lived in at the time, or his house at Sri Saranankara Road.
Amongst his favourites sports personalities are Harendra Dunuwille, the present Mayor of Kandy, who captained Trinity at cricket and who was selected to play in the Ceylon team for the Gopalan Trophy whilst still at school. He also classes Hemendra Ranaweera, another famous Trinity cricket captain under whose leadership Trinity beat S. Thomas' in the 1960s, a feat which is still talked about in sporting circles, also in the same mould.
Muralitharan
Jim says that he supports his adopted country in all sporting activities except cricket. "I just didn't like the way the Sri Lanka cricket team was treated in the 1995-96 cricket series where spinner Muttiah Muralitharan came under fire from umpire Darrel Hair. It was thoroughly uncalled for. "It was then that I decided to back any opposing team when Australia played and plays cricket. Now I always back the opposing team, be it India, Pakistan or even Bangladesh."
Speaking about the sporting personalities that he meets in Sydney he says that former Trinity rugby centre and BRC hockey star Ian Geddes still plays hockey at the veterans level for Quantas Airways and Russel Geddes, the mercurial former Trinity centre-three of the 60s is a school- master and has also coached a school in Sydney at rugby with great success.
Trinity has produced several outstanding personalities and 'Jim' Amarasingham certainly stands out amongst them like a beacon.
---
Assigned umpire withdrawn from crucial game. Why?
By Bernie Wijesekera
Are the teams and the players going to decide, who should umpire their cricket matches? It did happen in one of the Premier Trophy matches played recently.
An umpire ruled out the captain leg before in a Premier Trophy match. Well, according to the rules when you are given out just walk out, but not make any gesticulations. As for a leg before the head umpire is the best judge. At times the umpires, too make human errors. The captain concerned walked out.
But ironically the following week-end the same umpire happened to officiate in a match where the same captain's team was playing in this tie.
The captain concerned seeing this same umpire officiating in this match, who ruled him out in the previous game promptly contacted the assignment secretary F. R. S. De Mel said, "he was protesting against this particular umpire."
Believe it or not De Mel, immediately sent the stand-bye to officiate in this match requesting the assigned umpire to report to the Cricket Board headquarters.
The talking point among the umpiring fraternity, why De Mel should have agreed to withdraw the assigned. umpire, who was there at the grounds to adjudicate this match. Did he succumb to pressure. A senior umpire who has officated first class cricket told The Sunday Times, it was an insult to the umpiring fraternity, and loss of confidence, if they are going to allow the players to decide, who should stand in their matches.
If the particular umpire was found wanting then the captain should have made an official report, but not requesting the secretary to change the umpire. The umpiring fraternity is plagued with problems and its newly elected president Lakshman Kiriella, is striving to improve their lot. He should also strive to bring forth dignity to the ACUSL. To achieve this objective the umpires, too must try to improve the standard of umpiring.
In this instance apparently De Mel faulted by agreeing to change the umpire at the behest of the captain concerned.
It did happen in a Test match between Sri Lanka and New Zewland in the past. That, too due to outside pressure. In this instance the umpire was getting ready to walk out, whilst donning his white coat. It surprised the touring team and its management, who made severe strictures cricket.
---
Radiesha's record
We thank you for all the support your newspaper has provided in promoting sports in Sri Lanka, especially in swimming.
This letter is to bring to your notice of an error made in the article "Radiesha: Champ at 15", featured on page two, of The Sunday Times Sports Plus, on Sunday, December 5,1999.
It mentions that Radiesha had bettered, Deepika Chanmugams 100 m Back stroke record at the SAF Games. According to the information we have Radiesha had swum a 1.15.61 at the SAF Games.
It is good to note that Deepika's National record stands at 1.09.84 established on September 30,1990 and the Sri Lanka record is also held by Deepika at 1.11.07, established at the 1991 SAF Games in Colombo.
The only national record broken at the Kathmandu SAF Games was by Jayamal Wijeratne in the 100 m Free Style, where he bettered the existing record of Inthikab Sikkandar twice in the same meet and further reduced the record two weeks later at the 1999 national championships. - Julian Bolling.
---
Iraq roars
Victories over Oman, Kyrgyzstan and Tajikistan saw 1996 Asian Cup quarter-finalists Iraq for their fourth Asian Cup finals, booking their place in the next edition of the competition with a 100 per cent record.
A goal in injury time from Habib Ekal in the opening game against Tajikistan saved the Iraqis some embarrassment, and gave his side a 2-1 win. A comfortable 2-0 victory over Oman, who lost coach Badu Vieira several months before the start of the competition, and a 5-1 demolition of Kyrgyzstan in the final game saw Iraq safely through. Tajikistan took second place, with Oman in third.
Iraq's qualification signals the start of the frenzy for places at the Asian Cup in Lebanon next October. Nine more groups will kick off over the coming months to decide the final list of qualifiers who will join holders Saudi Arabia and hosts Lebanon in the finals.
Turkmenistan, meanwhile, will be Kuwait's major threat as Group Five kicks off in October, when the pair are joined by Nepal, Yemen and Bhutan, who are making their first-ever appearance in the competition.
Kuwait finished fourth in the last competition and have been one of the most successful sides in Asia over recent years. In 1996 they lifted the Gulf Cup, a feat they repeated two years later, while also finishing third in the Arab Cup, and claiming the silver medal at the Asian Games in Thailand last December.
However, since then the man who steered the Kuwaitis towards their vast success, Czech coach Milan Macala, has left to take over the reins of Asian Cup holders Saudi Arabia. Macala has been replaced by his compatriot Uhrin Dasan, who led the Czech Republic to the final of Euro 96 in England. But Turkmenistan will not be a pushover. The former Soviet republic have been improving over recent years, reaching the quarter-finals of the Asian Games at international level, while club side Kopetdag made the semi-finals of the 1998 Asian Cup Winners' Cup and the quarter-finals of this year's Asian Club Championship.
Also making a start during October is Group Seven, comprising just three teams - Hong Kong, Cambodia and Indonesia.
The grouping offers Hong Kong their best chance to qualify for the tournament for the first time since 1968, when they finished fifth, although Indonesia will be many people's favourites to qualify.
Things have not been going so well for Indonesia, though. After several impressive displays at the last Asian Cup, when they almost caused a major upset before drawing 2-2 with Kuwait, the Indonesians have had a difficult time as social and political strife at home means football has not been a priority. A bronze medal winning performance at the South East Asian (SEA) Games in Brunei in July was a perfect warm-up for the team, and coach Bernard Schumm is convinced the team is good enough to qualify for Lebanon.
"After this tournament we are well respected again and this, to me, is more important than a medal," said the German after the SEA Games. "We are respected again in South East Asia and now we are trying to achieve something in the Asian Cup.
"We have more young players to come. We are working hard and this team has a future.
We have to go on and not change things after every event. This is what was happening in the past. There was no continuity and that is the most important thing in Indonesia."
Cambodia are unlikely to cause too many problems after a disappointing SEA Games in which their best result was a 3-3 draw with hosts Brunei.
---
Hutton's negative tactics
By Bruce Maurice
(Continued from last week)
While Bailey and Laker were there it seemed as if they had a good chance of saving the game. But at 2.25 Laker was caught by Benaud off Davidson for 48, and seven were down for 239, It was obvious at this stage, that Hassett did not know what he was to do. Benaud had made the ball turn in the morning session and was rather fearful as to what Lock and Laker will do, if they operated on this same wicket. He was in a quandary as to whether he was to get England out as fast as possible and try and force a win, or take his time and wait for the wickets to fall. In the meantime Bailey was annoying the Australians with his negative tactics which was proving effective to England and irritating to the Australians. One particular delivery from Miller hit Bailey on the pads and all the Australians went up in an appeal for L.B.W. But umpire Lee turned it down and the very next ball almost parted Bailey's hair as it went through to keeper Langley, and the crowd jeered. Bailey seeking the sympathy of the crowd noved away from the wicket, and Miller to show his disgust sat down on the ground. It looked as if there was going to be an ugly scene. But Lindwall went over and spoke to him and the game continued. England were all out for 275 and this left Australia to chase 177 runs in 115 minutes.
If Australia were going to 'give it a go' it was going to be a desperate race against the clock. But this was not Hassett's original intention, as he and Morris took five minutes to come out. But Hutton helped Hassett to make up this mind by giving the new ball to Lock. Morris really made hay while the sun shone.
Morris made a blazing 38 before Evans stumped him off Laker and Hassett made only 4.
Harvey and Hole continued the run chase, until Hutton realised his folly, brought on Bailey and got Bedser to drop his length. These un-cricketing tactics reduced the scoring rate to a great extent. Harvey was L.B.W. to Bedser for 34, and Hole who was on 32 was joined by Alan Davidson. Most people expected Miller, who was the biggest hitter in the side to come in. But with Hutton adopting negative tactics, Hassett knew that it would only be a waste of Miller's energy. For example if a ball was played to mid-on or mid-off, it would be thrown back to Evens and then it would have to go back again via every fielder to the bowler. And Bailey would wait for the ball to be thrown back to him before he walked back to his bowling mark. Bailey was taking seven minutes to bowl an over. So with only one captain trying to make a game of it, it was only natural, that Hassett did not waste Miller's energy.
A few minutes after Harvey was out, Hole was also dismissed for 33 and Davidson and De Courcy tried to gain victory, but they had no chance against England's tactics.
So a game that promised so much excitement in the last 115 minutes, ended up like a damp squib because of Hutton's negative and unsportsmanlike tactics. When stumps were drawn, Australia had made 147 runs and were only 30 runs off target.
---
CRC overall champs at Far-East regatta
Colombo Rowing Club emerged overall champions defeating defending champions Royal Hong Kong Yacht Club at the Far-East Amateur Rowing Association (FEARA) Regatta held at the Beira Lake last Sunday.
The Colombo Rowing Club aggregated 38 points, clearly dominating the proceedings in this three day meet with Hong Kong Yacht Club and Pissau Boat Club with six points each.
In the FEARA Fours event which was the main boat race saw a battle between the two Colombo Rowing Club teams, where they obtained maximum points 15 and 7 in coming first and second.
D. Maurice and D. Aluvihara helped the Colombo Rowing Club to pile up the points by winning the FEARA Pairs event in a home and home battle.
The sisters' combination of Mithila and Minoli Gunawardena further helped the Colombo Rowing Club team to further their points by winning the Ladies' Pairs event, while Mithila beat her sister Minoli in Ladies' scull event.
Amalka Premaratne (B), Shenea Mendis (2), Chammi Wickremasinghe (3), Sarah Gafoor (S) Mayanthy Amarasinghe (Cox) won the Ladies' Fours event.
The Colombo Rowing Club winning Fours team comprised, K. Jeerasinghe (B), D. Seneviratne (2), C. Wickremasuriya (3), D. Devasagayam (S), K. Keerthisinghe (Cox) bt U. Hettiarachi (B), C. Thalpahewa (2), D. Maurice (3), D. Aluvihara (S) Shehan Edirisinghe (Cox).
---
Winners take wing to Singapore
Paul Goh who heads Singapore Airlines in style has been identified as a man for 2 seasons - The Golf Season and the Santa Claus Season.
The Golf Season is his first speciality and pet preserve and he combined superbly with wife Tracey, the indefatigable Maya and a pretty bevy of Ashani, Shiroma and Jeevanthi to arrange, present and sponsor a splendid Golf Tournament through the courtesy of Singapore Airlines at the Ridgeways of the Royal Colombo Golf Club. His second Season is at X'Mas time when he plays Santa Claus in lavish style closer to the joyous day. 'Stick around' he says 'my hamper bag is brimful'.
Happy golf
Maya evidenced tremendous organizing skills and when she moved in with Haris Serasinghe you saw much method in their planning as soon as the shotgun start at precisely 7 a. m. took off. The weather was brilliant, the fairways receptive, and most of the greens happily responded to positive putting. 105 golfers revelled under a cloudless sky and the winners fly to exotic destinations as guests of SIA.
Kenny excels
Joseph Kenny comparatively new to the game struck an extradordinary 39 points to be judged the overall winner beating 104 competitors. He played well within himself, miserly with his strokes and quite extravagant when the opportunity demanded he finished with a flash and a beaming smile to collect a classy ticket to the Lion City.
'A' Division
Michael Perera now Mangala once again struck victory beating the much fancied Laksiri de Mel 35 points to 34.
'B' Division
Anil de Silva a regular winner in stableford competitions obliged with an excellent score of 38 points. He was long off the tees and comfortingly accurate in his approach shots. He was all smiles throughout the lunch session following the award ceremony. V. T. Sunderalingham another bright spark played an exceptional round of positive golf. He slipped once, and skidded twice or else he would have had 40 points in the bag and not 37.
'C' Division
S. V. Jayakody went round in grand style. He used his strokes wisely and looked thrilled at the end of the day with 37 points and a ticket to Singapore in business class. Sunimal Salgado played well too and was just unfortunate to be beaten by one stroke.
Seniors
The well preserved Dr. K. K. U. Perera with his old waltz swing was in great shape. He carried the water hazards, kept away from the neighbourhood and came out of the bunkers comfortably to collect 34 points, beat Cris Candappa and fasten his seat belt for a trip to the splendour of a gorgeous concrete jungle. Candappa should have been on the same trip except that exhaustion captured him in the 2nd half and he wilted under the strain and his recovery was a trifle too late.
Gymkhana events
Dr. S. Abeywardena was deadly accurate off the tee on the 9th and he got closest to the pin to collect a handsome award and a resounding round of applause. Podgy Senadhira a regular award winner this time switched gears to strike the longest drive and collect a good looking prize typical of SIA lavishness. Among the latest 'Duchess' Yvonne Abhayaratne was outstanding. Smart and still elegant in style she moved into an excellent score of 34 points beating the rest of the field comfrotably. Shannon Kern drifted from her studies to relax over her pet hobby.
She was not so hot over the course but she was quite long and accurate to take the award for the longest drive and collect the loudest applause.
19th hole
The pre-lunch period was a hive of activity with Paul and Tracey Goh doing the rounds accelerating the pace and spirit of camaradarie. Unfortunately the music was far too loud and here I must remind musicians that on occasions such as these if you want music you do not listen to but you hear. There was a galaxy of star performers who raised hell.
Lester Weinman could not move straight but went East-West with glee. Balaratnarajah failed to bank on any shot with security, Hemal Fernando disappointed himself and Ray Lapsley strayed out of bounds with covincing stroke play. The award ceremony was fun filled with 'Bounasera' Serasinghe handling the mike with absolute competence.
Then the mutual admiration society got into action - one complimenting the other in style. Goh says "Thank you", Shiran de Sozsa says "More thank you" and the participants responded with "Thanks for the intoxicating hospitality and a superbly organized and sucessful event in a tremendous spirit of frendliness." Sad to conclude with the news that Maya retires soon after 360 months of dedicated attachment to Singapore Airlines. A tremendous personality in the Airline Industry she will be much missed and we wish her every happiness and success which she richly deserves.