Deloraine Beryl Brohier
Down Memory Lane
My father, my leader
By Roshan Peiris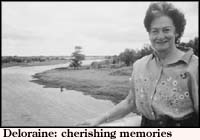 Deloraine Beryl Brohier describes herself as a rural country person because "my greatest relaxation is to get away from the city and head for the open spaces."

She was born in the sleepy town of Tangalle and her early memories are of constant shifting with her mother and father from Province to Province as her father Dr. R.L. Brohier, a Civil Servant was in the Survey Department which was a transferable service.

So having grown up outside the cities, Deloraine is a soft-spoken, mellow person and as she walks down memory lane one can see that behind her lurks centuries of our country's civilization to which she had been introduced from a very young age by a father, who saw that she, the youngest of his three children loved nature, legend and history.

Her older sister Yvette was studying medicine and she had a brother too, Lucian, both much older than herself, so she could not have much of a dialogue with them.

Talking to Deloraine, reminds us that man has a soul as well as a mind. Her father was not only an eminent personality but a potent influence, helping her to cultivate a happy rapport with nature and with those who lived in rural communities.

She recalls with much mirth some of her father's stories about customs in the rural areas.

"If a gecko should make a noise before departing for a journey, one promptly stopped for a while before resuming the journey. If a lizard thought of jumping on to the path when one was setting out on a journey, the journey again was postponed for awhile," she smiled.

On the contrary she said, "I would say that the rural people were thrilled if a pregnant woman accosted them before a journey."

As a young child she first went to the Convent of the Christ Jesus, Ratnapura. Her sister and brother stayed with her grandmother and schooled in Colombo.

"During the vacations we would all gather wherever daddy was posted and together with our cousins we had great fun playing paper chase and hide and seek in the paddy fields and abandoned gem pits. We created our own games. There was no TV and radio."

"We also played at chin choru, cooking rice and curry in the open and my mother encouraged us to do so. My brother and sister still on holiday took great delight standing in their pyjamas watching me get into the Convent or school bus. I felt terribly shy about it all."

Commenting on the war years Deloraine recalls, "We did not evacuate since my father was an Air Raid Warden and was one of the first to build an air raid shelter in our garden bordering the railway lines. That amused the railway commuters no end."

"My father's Survey Department job was considered an essential service and we were able to watch the dog-fights between the Japanese and the British planes during the early years of the last World War. My sister helped at the hospital where she was a medical student."

Deloraine's first school in Colombo, where she received her primary education, was Ladies College. But she adds she owes a great deal to "my second school Methodist College for I am the sort of person I am today because of Methodist College, which instilled principles and helped to mould my character and made my horizons wider. I hated maths but I was encouraged to go ahead with Gladys Loos's hands on my shoulder. There was the highly principled Mrs. Evelyn Geddes and Mercy Gnanakan who took those of us weak in maths gently down the path of figures.

"Eunice John taught us drawing and instilled a love for art and needlework. The latter I had no talent for and in class I was often pulled up for chattering and not sewing.

"Leadership qualities were gradually built up in me and I lost some of my shyness, thanks also to my mother who prodded me to take part in drama, debate and music."

One recalls this gracious lady, with her gray hair bobbed and trimmed neatly, always kind to Delo's friends and always with something appropriate to say to each person while serving lavish refreshments.

Deloraine felt she would be remiss if she did not speak of the encouragement given by her mother to rid her of her shyness.

She went on to head her school debating team against their sister school Wesley. "I did pretty well. I also became a prefect and subsequently school captain.

"My father with his kind eyes and deep voice helped me with my writing offering criticism and encouragement though he was upto his eyes with work especially as secretary of the Delimitation Commission.

"School days were full with fun and mischief. I together with two other colleagues was very naughty in class. Once we coached the class not to reply to any questions on any subject on the time table for that day. All of them mesmerized and dictated to by us kept silent. Mrs. Loos, the Principal called us up and said it is good to have leadership qualities but as Principal she would say that there are two kinds of leaders the good like Churchill and the bad like Hitler. She said she would leave it to us to decide," Deloraine recalled.

"We produced Christmas plays during the war and went from military camp to camp to act. I still remember acting out my part in several outstation military camps."

She first taught at Methodist when she left University but later joined Radio Ceylon. "The then principal Miss Robins pulled me up for taking my Ceylon history class to see ruins and getting late to come back since we had no luxury coaches but a ramshackle bus which kept breaking down.

"She pulled me up in front of the girls and I told her that I may be the youngest teacher at Methodist, but I would tell her no one reprimands a teacher in the presence of her pupils. Soon I gave in my resignation and left to join Radio Ceylon. Still later I joined the United Nations Development Programme where I travelled much. Both were Public Relations jobs and I did well, because of my earlier training at home and at Methodist College as School Captain and prefect."

Deloraine feels she has been lucky since she enjoyed the companionship of fine books at home and did not have to visit a library. "My father, God bless him, had a most wonderful library, more than one could ask for, with a mix of the most valuable books one can really come by."

"When I was studying for my University entrance my father made history come alive by taking me around to places of historical interest such as Anuradhapura, Polonnaruwa, Sigiriya, Dambulla etc. This made me love our historical places and made me commune closely with the rural community. Today in my job as Board Member of the Ceylon Tourist Board I cherish those experiences." Presently Deloraine travels extensively with a colleague and a photographer taking pictures of and marking scenic and historical places. "We want to preserve these landmarks of our proud culture from abuse," she said.