Dance championship
The 31st National Amateur Ballroom Dancing Championships of Sri Lanka will be held at the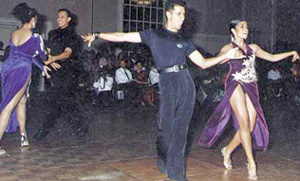 Colombo Hilton on October 31. This annual event is organised by the Ceylon Amateur Dancesport Association (CADA), the controlling body for the sport in Sri Lanka.
International judges Graeme Parsons and Leanne Bampton, the current ten dance champions of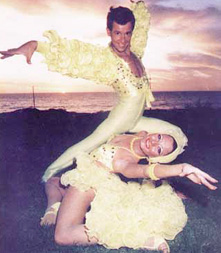 Australia and Neil Gerrans of Hong Kong will adjudicate at the chamionships. Parsons and Bampton will also present some exciting exhibition dances in modern ballroom and Latin American.
A feature of this year's show will be the participation of international couples from Singapore and Hongkong who will vie with the Lankan performers for the coveted titles.
The ballroom section will include the waltz, quickstep, slow foxtrot, tango and Viennese waltz while the Latin American dances will be the rumba, samba, cha cha, jive and paso doble. There will also be an open senior event for those over 35 featuring the waltz and jive. Tickets for the show are available at the Hilton.
---
Scents and styles
By Ruhanie Perera
The husband 'snips' and his wife 'massages'. Ravi Wickremenayake and his wife Sophie are the 'phenomenal' duo who have just opened their own salon Fin-omenal, which specialises in hairstyling and aromatherapy.
Ravi who worked as a hair stylist in Paris and after his return to Sri Lanka at 'Kess' believes that hairstyling is not just a skill, it is an art.
"I don't cut my client's hair just according to their features, but I take into account their personality," says Ravi who also asks his clients for their ideas as well and then tries to balance them with his own.
"My clients are my inspiration," says Ravi and it is clear to anyone watching him tirelessly brushing and combing, styling and cutting hair, that he is dedicated to his job.
Sophie Wickremenayake who studied medicine for two years and then specialised in massaging techniques, is the aromatherapy expert. She mixes her little 'potions', tries out various essences and massaging techniques with the same skill, spirit and dedication as her husband.
Sophie too first worked in France at a fitness centre and then came to Sri Lanka with her husband and worked at 'Kess'.
Sophie, who simply overflows with enthusiasm goes out of her way to make the client as comfortable as possible. Every customer is treated according to his or her needs, thus a new concoction is made for each client and a record of it is kept so that she will always know what her client needs. " Scents are very powerful," says Sophie "as they go straight to the brain and stimulate the necessary emotion or feeling."
If you are feeling tired and depressed, if everything about life irritates you and you want to look and feel different - pop into their shop at Crescat Boulevard, in Colombo and you'll walk out feeling refreshed and relaxed, with a hairstyle that brings out the best in you.
Which aroma for you?
During aromatherapy, the oils enter the body through 'smell' and 'touch'. When the oil is inhaled, the particle goes straight to the area of the brain associated with smell. This calms, relaxes or stimulates you, depending on the oils you use. Receiving a massage helps to boost your immune system and general well-being. Aromatherapy can also increase energy levels, reduce stress-related symptoms, relieve pain and improve the condition of your skin. It can restore balance to the mind by bringing about the release of negative emotions like fear, hate, anger, jealousy, sorrow or frustration. Orange is an oil that's relaxing, refreshing and stimulating. It is used for general skin care. Lemon oil is an astringent. It clears the skin and is especially good for tired and aging skin. It Helps defend the body against infection and stimulates circulation. Bergamot oil is what you need when you're depressed, anxious or stressed out because of its refreshing and relaxing quality. That's not all - Bergamot is also an antiseptic, astringent and deodorizer. Are you nervous or exhausted? Do you suffer from migraine? Then what you need is a Citronella oil massage. Citronella oil is also used to help relieve cold and flu symptoms and for soothing, deodorizing footbaths. Eucalyptus is best known for its strong antiseptic and healing effect on infections of the respiratory system. Its aroma eases breathing and relieves coughing, head colds and blocked sinuses. Since it can irritate the skin, it is only used to heal burns, wounds and abscesses. Sandalwood oil is used for a soothing effect. It is also an aphrodisiac. Frankincense is a thin, clear oil, which is used for rheumatism, arthritis, and menstrual problems. Do you need something that uplifts, refreshes and cleanses? A Grapefruit oil massage will leave you feeling as if you can tackle the busiest day. It also treats fluid retention as well as coughs and colds.
Tea Tree oil is an antiseptic and is helpful in footbaths for athlete's foot. Lavender is the most versatile oil. It is an all purpose for skin care and its effect is antiseptic, antibacterial, relaxing (for stress and tension), pain relieving, deodorizing, calming and rejuvenating. Other than the refreshing and calming effect that Mandarin oil has, it also reduces nervous tension, relieves fluid retention and cellulite. It is best for the skin during pregnancy as it prevents stretch marks. If you are looking for something that is good for insomnia, headaches, nervous tension and nausea, what you need is a Rosewood oil massage, which is suitable for any skin type. Rosemary oil stimulates tissue circulation. It is an age-old remedy for fainting, headaches, and migraines. It is not recommended during pregnancy. Ylang-Ylang oil is used to care for dry to oily skin. Used for a relaxing and sensual experience, it is an antidepressant and an aphrodisiac. Overuse can cause headaches and it is not recommended during pregnancy.