Contents
---

'Hero' brought Devashree alive
By Sanath Weerasuriya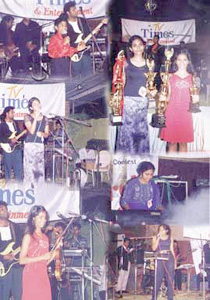 The much awaited final countdown of the TV Times Talent Contest - search 2000 was held at the Airport Garden Hotel on October 9 with the music from Dream Team and the band 'Worlds End'.
From the month of May the Talent contest has moved through many stages with more than 200 entries at the preliminary stage.
'Search 2000' had three prelimarary rounds and two semi-finals, where the contestants were brought down to 38 in four different sections - Senior vocals, Junior vocals, Instrumental section and Group vocals.
The finals were held at the Harbour Bar by the lagoon of the hotel.
Mignonne Fernando was the Chief Guest at the final show of The TV Times Talent Contest.
Swinly Perera won the Instrumental section trophy for her wonderful performances on violin and keyboards. The trophy was presented by Sohan Dissanayake Entertainment Unit.
Ashendra Liyanage, Shaista Ibrahim also performed well in this category.
The 'Views Advertising Trophy' for 'best duet' was won by Naveen Wickremasinghe and Anjelo Sampath. Brother and sister duo Ruth and Ranil Amirthaiah should be mentioned for their effort on strong performance at the finals.
The judges had a time with the contestants of group vocals, where everybody came out with top level performances.
Dilan, Chanaka and Suneth Manaz, Rajive and Gayan, 'Dinith and Friends' and Dulon Kodikara's Team were outstanding on stage.
However finally Dulon Kodikara and his friends - Anton Ramdika, Travis Kurukulasuriya, Surath Nadeeka, Ranjith Edirisuriya, Sasika Perera and Sanath Dehan bagged the Group vocals title. The trophy for this category was presented by Clasp Print & Graphics (Pvt.) Limited.
The competition in the Junior vocals section was amazing. Ruchira Sanka. Jaya Pathirana, Swinly Perera, Ravindra Marcus and Rjive Ponweera gave outstanding performances.
Swinly Perera won the trophy for Best Junior vocals presented by the Airport Garden Hotel.
Rajive Ponweera bagged the Soham Dissanayake Trophy for the Runners-up in Junior vocals.
Among the fifteen final contestants, high points were taken by Rukhitha Nanayakkara, Dilan David, Ranil Amirthaiah, Inshiran Deen, Dinnieth Nanayakkara, Priyanga Fernando, Reezha Kareem, Devashri De Silva, Sanduni Pandikorala, Chadwic Kandappa and Gayani Danushka Wettasinghe. Dinith Nanayakkara won the Best Male Vocals (Senior) Award and Devashree de Silva bagged the Best Female Vocals (Senior) Award.
The title award 'The overal winner of the TV Times Talent contest - Search 2000' was " taken by Devashree de Silva.
Devashree has won the main TV Times Trophy for the song "Hero" by Mariah Carey.
Mignonne Fernando and Aruna Siriwardena of Jetliners fame, Maxie Rozairo, Natasha Fernando of Dream Team Sue Perera of Sue School of Dancing & Music' and Hemal Perera comprised the panel of 'Judges' for the finals.
The music for the contestants were provided by the Dream Team and the Band World's End. Played for a short dancing session.
'TV Times Talent Contest Search 2000' was sponsored by TV Times, Clasp Print and Graphics, "Kodak", Rupavahini-2 and Airport Garden Hotel and organised by Sohan Dissanayake Entertainment Unit.
---
'Eyes Wide Shut' but awake
Tribute was paid to 'Eyes Wide Shut' director Stanley Kubrick by film personnel who gathered at the prestigious 56 th. Venice Film Festival which concluded recently.
As a mark of honour and respect to the late filmmaker ' Eyes Wild Shut' was the opening film at the festival.
However the film did not participate in the competetive section. Had it been so the film may have won a prize was the opinion of many, it was reported.
A galaxy of glittering personalities from film producing countries thronged the venue to have a glimpse of the uncut version of director Stanley Kubrick's last film.
His wife and two daughters were also present at the screening.
Tribute was paid to the late film director by several internationally reputed filmmakers.
Minutes before the screening Italian film director Bernardo Bertolucci said " Kubrick re-invented himself each time in cinema. I consider myself a real Kubrickian".
" Eyes Wide Shut " brings back the dignity to cinema which has been lost for the past two decades. This is the direction that cinema must take " said 'Black Cat and White Cat" director, while the festival's new Itlaian director Alberto Barbera said' A lot of filmmakers have decided to talk about sex. I do not think it's just coincidence, the festival simply mirrors what is going on in cinema"
Hollywood star couple of the film Tom Cruise and Nicole Kidman were the other attractions at the audience.
Meryl Streep, Cameron Diaz, Sean Penn, Kate Winslet' EwanMc Gregor and many other stars were also present.
Meanwhile it was reported that Tom Cruise and Nicole Kidman have promised to help a small based Scottish Theatre, Dundee Reperotery Theatre, trying to raise funds for its activities. The star pair have agreed to give their names as Patrons to aid their fund raising campaign to collect money for a full time cast of actors.
A spokesman of the theatre told pressmen recently that Nicole Kidman gave a phone call from Australia volunteering to lend her and the couple's names to the fund raising mission. This was in response to an appeal made by the theatre's art director Hamish Glen.
---
Abbas makes films for kids
By Kumaradasa Wagista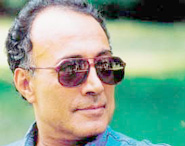 Six films of world renowned Iranian filmmaker Abbas Kiarostami will be screened at the 6 th Iranian Film Festival to be held at Elphinstone Theatre from October 25 to 29.
The retrospective package comprise six feature and seven short films.
For the first time Sri Lankan filmgoers will have the rare privilege of seeing this internationally acclaimed and highly recognised filmmaker's creations.
Although this filmmaker has been making films for the last 25 years or so, he broke into the world festival arena only in 1989.
'Where Is My Friend's Home' was his first film to participate in the European exhibition at Locano Film Festival where it won the awarded Bronze Leopard prize and FIPRESCI Award presented by International Film Critics. His latest film "And Wind Will Carry Us' won the Grand Prix and FIPRESCI awards at 56 th. Venice Film Festival which concluded recently.
He has won much praise and international recognition and is being considered as the most visible film director in contemporary Asia. World wide distribution of his films are handled by reputed major film distributors in Europe.
As late as 1990, before his tour-de-force 'Close Up' opened eyes to his talents.
Although many consider him as a children's film director he quipped "I absolutely do not consider myself a director who makes films for children. My films are about kids, not for them"
The feature films are ' The Traveller' 'First Graders', 'Home Work',
'Where Is My Friend's Home', 'Close Up'' and ' Life Goes On'.
The package of short films are ' The Bread And The Alley', 'Regularly or Irregularly'' 'Colours', Break Time,' 'The Chorus', 'Toothache and Two Solutions For One'.
Asian Film Centre in association with the Cultural Consulate of the Embassy of Iran in Sri Lanka and Farabi Cinema Foundation in Iran have organised this festival.
---
'Seetha Sameere' portrays chefs and lovers
'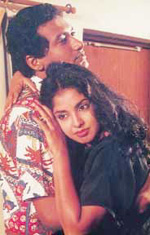 'Seetha Sameere', is a romantic-comedy is to be released in the 2nd circuit shortly. The love story is woven between Amitha (Dilhani Ekanayake) and Janaka (Palitha Silva). while several leading comedians. play chef's roles in a hotel where the climax of the story takes place. Comedian Sunil Hettiarachchi apart from playing a role renders a song also in this film.
"Our long cherished tradition of the wife accepting the husband even if he is a noted culprit is the main theme of 'Seetha Sameere" said cinematographer- director Danny W Pathirana.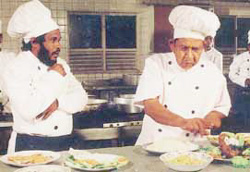 Amitha a town bred wealthy young woman falls in love with a not so wealthy Janaka. Amitha's mother refuses to give her blessings to her only daughter's love affair. Samson (Sriyantha Mendis) her nephew is a crooked man and takes advantage of this situation. He proposes with the sole intention of grabbing her wealth after marriage. Samson who is having an affair with another woman plans to marry Amitha, get hold of her wealth and divorce her and elope with his first lover. However, Amitha and Janaka carry on as lovers amidst all these happenings.
However, Amitha is compelled to marry Samson but swears not to live as husband and wife with him.. .Before honeymooning Amitha feigns to be mad and behaves like a mad woman to the utter surprise of Samson. The manager of the hotel unsuccessfully tries to get down a doctor. As arranged by Amitha, Janaka comes to the hotel disguised as a doctor and treats her.
Amitha now plays a dual role by behaving as the doctor's lover in the absence of Samson and vice versa.
Director Pathirana who started his film career as a cinematographer had later directed "Chandira', 'Ahimi Dadayama' and 'Kauluwa' and a few teledramas. He is now completing work in his production " Rathu Kadathurawa'. " I always make films for family audiences like this film" he said He lamented that the 2nd circuit had no outlets in two main cities Kandy and Negombo. He has cast three comedy artistes Sunil Hettiarachchi, Bertie Gunatileka and Tennyson Cooray to play as chef's in the hotel where the newly weds go for their honeymoon. Granville Rodrigo, Angela Seneviratne and Mahesh Jayasinghe are in the cast.
Jinadasa Palansuriya has produced 'Seetha Sameere Sarath Dasanayaka is its music director. Lata Walpola and Gratian Ananda are the playback singers. Elmo Haliday has edited it. The script is written by Udaya Tennakoon.
---
'Rav Up 2000' & 'Party Zone' from Taj group
The concept is based on the fact that the millennium will be celebrated across the world irrespective of race or country. The millennium represents a chance collectively to celebrate 1000 years of history and to look forward to a future as one world.
It also represents an excellent excuse for THE PARTY of a lifetime or as our millennium logo suggests 'TO REVEL' or 'REV UP 2000'. This is the central theme or philosophy of the Taj millennium plans.
Therefore this millennium the party zones of the world will be recreated at the Taj Samudra - be it the Latino Mardi Gras at the Samudra Ballroom, Champs Elysee Fete at the North Lawns, Down Under Escapades (Sydney 2000) at the My Kind of Place or Times Square at the Lobby Bar. These worldwide parties will serve truly global and trendy cuisine created by our master chefs. Their signature dishes culled out of ethnic integration and mastery of international food will satisfy all nationalities in Colombo which is reflective of our customer profile on the 31st Night.
Bands - Foreign Affairs and Spotlight will be featured at the Samudra Ballroom and North Lawn respectively on the December 31 together with two international bands courtesy of SriLankan Airlines and Balkan Airlines.
Foreign Affairs from UK which is the best SriLankan band in the UK and the backup band for all the famous bands will be here to enthrall audiences having performed in the best hotels in London such as Grosvenor Hotel, Park Lane, Marriot Hotels.
Spotlight was the first ever band to leave Sri Lanka and has been mesmerizing audiences in Europe and are back to satisfy the most demanding of music fans. Their musical repertoire ranges from Pop funk, hip hop, soul reggae to top chart hits from around the world. The core team for the millennium celebrations formed by experts in the field of entertainment, food and beverage, party design, guarantees our customers the best ever 31st Night to step into a new year.
At the Airport Garden, the main new year dance 'Galaxy 2000' will come alive at the main banquet hall with 'Rajive & The Clan' and Chandani and Chaminda (C&C)
"Our Millennium celebration will include the following:
For every table of 8 guests -
'A bottle of scotch, a bottle of sparkling wine, a bottle of wine, six bottles of beer, six bottles of soft drinks, free BBQ bite corner, International Gala Dinner Buffet' said Ranjan Stanislaus at a press conference held at Taj last week. Tickets are priced Rs. 5000 nett per person.
At the 'Harbour Bar' of the Hotel, "Party Zone 2000" will come alive with Zone DJS. The tickets are priced at Rs. 1200/= entrance only.
---
Cover Girl walks tall
By Sunil Jayasiri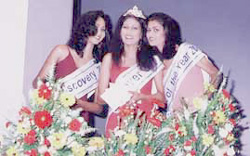 The grand final of the pageant-'The Cover Girl 2000' was held at the Trans Asia Hotel on October 9. Deeshani Kodithuwakku, who is only 24 year, won the title of Miss Cover Girl 2000.
Deeshani Kodithuwakku who also won the title of Miss Photogenic 2000, was given a return air ticket to Sydney by SriLankan Airlines.
About 70 participated in this contest, and 30 entries were selected by the judges. At the semi-final stage of the 'Cover Girl 2000' eleven contestants were selected.
The eleven beauties were Rukshana Miskin, Rukshani Fernando, Vasana Danthanarayana, Cheryil Halaj, Sumithra Amarasinghe, Deeshani Kodithuwakku, Marie Perera, Sandha Fernando, Melani Codipilly, Aruni Iresha Dabare, Rozelle Plunkett.
Rozelle Plunkett won the title of Miss Look Of the Year 2000(First Runner Up) and Miss New Discovery 2000 (Second Runner up) was Melani Codipilly. The prizes were given to the three finalists by Chandana De Silva General Manager of Sri Lankan Airlines.
Miss Body Beautiful 2000 was Cheryil Halaj, Miss Blue Leopard 2000-was Rukshani Fernando, Miss Photogenic 2000 was Deeshani Kodithuwakku and Rozelle Plunkett won the title of Miss Personality 2000.
The main sponsor of Cover Girl 2000 pageant was SriLankan Airlines. The other Co-sponsors were '7-up', 'Nestle's, Milkmaid and Nescafe, CD Lanka, 'Fa', Sterling Flowers, Constance Carrol, Falcon Advertising and Novelty Art. The Media Sponsors were TV Times, Satyn, MTV and YES FM. 'Cover Girl 2000' was organized by 'Her World' and the official choreographer was Senaka De Silva.
The three Judges were, actress Sangeetha Weeraratne, professional photographer Athula Mahawelage and Fashion photographer Kumara Dayawansa Nanneththi. Soma Edirisinghe, Chairperson of the E.A.P. Edirisinghe group of Companies was the chief guest at this pageant.