When stars are born
By Laila Nasry
The date was October 6. The place was the 'Navarangahala'. The time -6.30 p.m. After the Inter-School Shakespeare Drama Competition this seemed to be the next major event in the schools'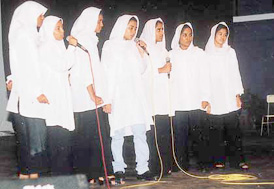 social calendar. And it seemed as if every teenager in town turned up. It was Saturday night and they expected to party. And party they did as the finals of Talent Search '99 got underway.
It was an evening to entertain and be entertained, because Talent Search '99, organised by the Interact Clubs of Royal College and Visakha Vidyalaya, was a competition to bring out the talent of youngsters through song and dance. The atmosphere that evening was electric. The hall was packed to capacity. Some of them came to cheer the participants from their schools while others were there to sit back and enjoy the entertainment. Amidst the thunderous applause, cheering, whistling and squealing, the audience got a glimpse into the future Yes, there were our very own Shania Twains and Backstreet Boys.
The competition was divided into four categories_ the instrumental category, solo singing, group singing and dance segments. What was remarkable was that within each group there was no repetition and each item was essentially different and unique. The instrumental category was diverse in the sense that the four schools that participated used different instruments, which ranged from the piano to the flute.
What was common though was the hard work that had been put in, evident in the high standards displayed. The items were played with professionalism and feeling.
Be it the slight stoop of the shoulders of the piano player swaying to the gentle rhythm, or the extreme concentration on the flute players faces, one thing was for sure _they had given it their all.
The song category was next. The voices were fabulous! It was refreshing to hear a mixture of both Sinhala (Ananda College's Tone Poem) and English songs being sung.
The singers oozed with talent. Not only could they sing well but some of them had also composed their own songs. Though some lacked emotion at some stages, nevertheless, it was quality entertainment.
As the majority of songs were slow numbers like When I need you sung by St Peter's, Unchained Melody sung by both Zahira and St Bridget's, Blue Bayou sung by Sujatha Vidyalaya, one inevitably tended to close one's eyes and let go but not for long.For it was soon time for pulsating, body-shaking music. Yes, it was the dance category.
There were just two finalists -Bishops College and Sujatha Vidyalaya. The dance item by the latter was creative, a mixture of both eastern and western, to the song Sirisangabodhi. Unfortunately this mix could have been better co-ordinated. Bishops College was a treat to watch. Dancing to 'This is how we party', they really succeeded in getting everyone into a party mood. The girls were agile and the crowd just loved them.
Apart from the competition, the audience was treated to a few excellent guest performances. It was heartening to see the soldiers were not forgotten, with one of them being a guest artiste.
Dushyanth Weeraman, another guest artiste performed a Michael Jackson song immediately transforming the Talent competition into a live Jackson show complete with the moonwalk and even screaming girls!
Talent does not only consist of the ability to sing and dance and a competition of this nature does not aim to measure just that. Being able to get up on a stage in front of a packed audience, singing in spite of the sound system failing, all contribute towards real talent.
This was put to the test when in some occasions the mikes tend to fail. As Ms. Hasini Halpe, one of the judges stressed, the technical failures should be at a minimum in order to offer full encouragement to the participant.
Being able to organise a competition of this nature too calls for talent-something that was found during Talent Search '99. It took the committee three months of arduous work (as well as fun) to put the show together. Fittingly they have been rewarded with the highest crowd turnout ever. "Talent Search was a challenge given to me by my President, for in the previous years losses had always been recorded as a result of a poor turnout.
"It feels great to know that this time, it was a success. The hall was packed and people were sitting on the floor," said Ranidu Lankage, the Project Chairperson from Royal College
The evening held all the elements of success _ a packed crowd and great music. Once again stars were born and the entertainment - starved teenagers of Colombo had their fill.
The talent search Every year, Talent Search enables new talent to emerge and this year was no different. The overall winner for 1999 was Ananda College. Sanjay Jayatileke and Vishva Paranayapa, two talented youngsters who played a mixture of tunes from Colonial Cousins and the Nescafe ad succeeded in bagging the instrumental category. They felt it was a great win for they did it without the leader of their band. Ananda also won the group singing category with a song they had composed themselves. The dance category was won by a group from Bishops College who 'love to dance'. It was their first competition and they had 'loads of fun', they said. Hashane Seneviratne from St Joseph's College who sang 'Let it be me' was adjudged winner in the solo singing section. The runner-up was Hafeel Preena of Zahira College singing 'Unchained Melody'. Both of them are team guys and had been wishing their respective groups would win the group singing section. Winning the solo category came as a surprise to both. The participants were unanimous that competitions like Talent Search, gave them a wonderful opportunity to explore their potential and also to witness others' talent and learn from it.