---
It is high time the authorities gave some thought to the fate of patients abandoned in mental hospitals
Out of darkness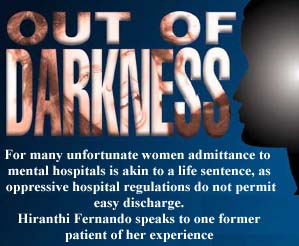 Since she was just two years old, right up to her Advanced Levels, Mala (not her name), was boarded in a convent. Her mother and father were separated. Her father, who had remarried a young wife, was employed abroad. After her schooling, Mala who first lived with her mother was later taken to her father's house in Matara. Since her father was abroad, Mala had to live with her stepmother and her elder brother who had remained with her father after the parents' separation. Looking back, Mala recalled how her problems began.
"My stepmother did not like me," Mala said. "My elder brother and she were very attached to each other and I was like an outcast. They even slept together, while I was left alone.
"There was a student from the campus also boarded at the house. I began to like him and anticipated marriage to him. Although I later realised that his affection for me was as for a sister, I continued to be infatuated."
Mala's memories of this period are not very clear, but she recalls constant problems with her stepmother and her brother. She began to entertain suspicions about their relationship. One day, she apparently ran on the road shouting about it. Her stepmother and her brother caught her and tied her up in bed. She remembers being taken to a doctor at the Unawatuna Psychiatric Ward. The doctor found there was nothing wrong with her. He told Mala's brother, "take her home and love her. That is all she needs."
"Thereafter, I was taken to my stepmother's house," Mala recalled.
"I was happy there. However, they did not keep me there long. One day, my brother told me he was taking me to the Campus to see the boy I was keen on and I happily accompanied them. When we reached our destination, I thought we were at the Campus. There was a lady doctor there who asked my brother what my name was. I replied that I could give my own name. I felt a revulsion for both my brother and my stepmother.
"They left me at this hospital which I later discovered was the Angoda Mental Hospital."
"That evening, the nurse tried to lift my skirt and administer an injection. I refused. However, they tied me to a bed with railings on all sides and gave me the injection. I fell fast asleep. I do not know how long I slept. When I woke up, I found I was lying in my own excreta. I was cleaned up and bathed and given some tablets. I stayed there for two weeks, and was given daily medication."
"During this time, I noticed that my hands were shivering. I was frightened and worried.
"I asked them to send me home. My stepmother and brother came and took me home for two days. When I reached home, I found that my father had returned from abroad. He promised to take me abroad with him. During the two days I spent at home, my hands continued to shiver badly and I felt something was really wrong with me. I was scared and maybe I reacted. I found myself tied up in bed once again. In two days, I was back again at Angoda Hospital."
"My hands were shivering worse than ever by now. I told a nurse at the hospital. They looked at the medication I was on and said that it had been a mistake. Two kinds of tablets were discontinued and I was only given one pink tablet. From then on, the shivering of my hands improved and stopped altogether. Later on, the doctor saw me and I was given shock treatment. After some time I felt I was better."
"One day, my stepmother and brother came back to the hospital and told me that my father was in prison. They said I had to give a statement refuting my earlier accusations about the relationship between my brother and stepmother, in order to get him released. They brought a cassette recorder to record my statement. I agreed to do it because I wanted to help my father. However, the nurses at the hospital did not allow it to be done."
"By then, I was feeling quite well again. It was maddening to stay at the hospital with nothing to do all day. I ate and slept and walked about aimlessly. I could not endure it any more. Fortunately for me, an aunt used to visit me sometimes. I appealed to her to go to the convent and speak to the Mother Superior and ask her to help me to get out of the hospital.
"My aunt went to the convent and the sisters at the convent traced my brother. He finally signed to have me discharged since the sisters had arranged for me to be rehabilitated in a home. After six months I felt refreshed and was able to take up my life again. I am now very happy living with my mother close to Colombo. I am employed in a supervisory capacity in a non governmental organization and travel daily to work."
Mala was more fortunate than many other young women in her situation. She had some one who visited her and whom she was able to appeal to. Being educated, she was also able to draw attention to the problem of her hands shivering. If she had not done so, she would surely have gone from bad to worse.
---
Status is depressing
Numerous women incar- cerated at Unit 2 of the Mulleriyawa Mental Hospital are left to languish in pitiful conditions, unloved and uncared for by their families.
When a woman is admitted to the hospital, she is often totally forgotten by her family, if she has any. Those without families have no hope of ever getting out of the mental hospital. Many families enter incorrect addresses on their forms, so they can never be contacted when the patient is ready to be discharged.
According to regulations, the relative who admitted the patient has to sign to get her discharged as well.
So countless women are left to live out their lives within the confines of the hospital, many of them without even a bed or pillow to sleep on.
At a seminar on Mental Health for the media, held last October, the Health Minister Nimal Siripala de Silva acknowledged that the conditions at the mental hospitals in the country were not satisfactory.
He said he would visit these hospitals and take steps to improve their conditions. He also spoke of decentralising psychiatric care to the provinces so that these women would be closer to their families.
However, as far as the situation at Unit 2 of Mulleriyawa Mental Hospital is concerned, nothing seems to have improved.
There are many women in these wards who would be capable of living normal or near normal lives if only they are given some care and kindness.
It is time the authorities gave some thought to the fate of these women doomed to live behind the walls of a mental hospital.
---
More Plus * Keeping human sharks at bay
Front Page| News/Comment| Editorial/Opinion| Business| Sports | Mirror Magazine