Delhi, Delhi, this Delhi!
Dropsy Delhi
Delhi has been hit by a dropsy epidemic. Adulterated mustard oil have caused the death of 34 people and nearly 1019 patients have been discharged after treatment since 6th August. Argemone Mexicana the adulterant which even grass eating animals reject had been mixed with mustard oil not only for increasing profits but also for adding pungency to it. With mustard prices having risen by 50% this year the traders had resorted to this practice to make a quick buck. The New Delhi government and many other state governments have banned the sale of mustard oil. The government also has moved the consumer court for appropriate compensation for dropsy patients.
Bellyful Delhi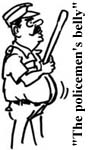 New Delhi has a special new attraction. The belly of many policemen. They are bellyful and we make good belly dancers giving a tough competition to the famed Egyptian belly dancers. However the Indian tradition has associated a generous belly with wisdom if the names of Ganesha and Agastya are anything to go by. Many Indians believe that policemen ought to be denied the luxury of a good belly and policemen are expected to be fit to chase offenders, climb walls and locked gates, make their way up to high rise buildings etc. The policemen's belly stands between all these. People also consider any policemen with a belly as a symbol of corruption. This applies even to senior policemen. The policemen should start regular exercises. India's female super cop Kiran Bedi who is in charge of the police training college must take note.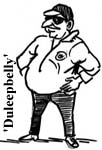 Recently in New Delhi writing a column for the Indian Express our own Duleep Mendis defended some cricketing bellies, Duleepbelly and the bellies of Indian cricketers Kiran More, Kirmani and others. The policemen in Sri Lanka too are bellyful following their big brother. Former Deputy Inspector General of Police Ghafoor never allowed his belly to interfere with his duties. I remember Ghafoor giving chase to many offenders of law and nabbing them most of the time. So Delhi and Colombo have many things in common.
Club Delhi
Number of party clubs have come up in New Delhi. These clubs are chains or network of entertainment services with a nominal membership fee of Rs. 6000/-.
They offer opportunities for single men and couples a drive in the fast lane with get-together, dances, fashion shows, star nights and musical evenings. They mainly target lonely and depressed souls and like minded couples who are looking for others to hang out with. But I think there is some catch here. As one gets suspicious of words like network, word of mouth business and single men only. I remember sometime ago in Colombo a former Royal and CR&FC ruggerite wanted to start a lonely hearts club.
He offered me a life membership. It was frightening. Just imagine becoming a life member of a lonely-hearts club? You will be lonely for life. He never succeeded. But the guy continues to scrum, tackle and hook in Lanka. Maybe he should take a trip to New Delhi and become a patron of sin.
Kushwant's Delhi
Celebrated Indian writer Kushwant Singh played the role of a speciality chef at the Hyatt Regency in New Delhi recently. He thrilled an all-women gathering with a special menu which included prawn tempura, chicken spring, roll, fresh lobsters, chicken crepes stuffed with mushrooms and spinach with ice cream on the hot grill for dessert.
Delhi Diwali
The Delhi High Court has admitted a public interest petition by an NGO seeking a direction to reduce pollution from firecrackers during Diwali this year. It has also directed various government agencies to evolve steps to control noise and air pollution well in advance of the festival of lights. Delhi has welcomed this news with great relief, as the capital is known as the 4th most polluted city in the world. It is reported that every other person in New Delhi is an asthma patient. In the same manner people feel very sad that this beautiful festival of lights which welcomes Lakshmi into their homes has turned to a nightmare, increasing the notice levels to a great extent and causing innumerable problems to the elderly and very young.