Going wild amidst comfort
Night sounds are am plified in the still of the evening. As darkness descends the searing heat of the day is replaced by cool ocean winds. Listen to the waves crashing against the beach and the shrill cries of birds nesting for the night. Surrounded by this wilderness, take a dip in the lighted pool and later dine at the Lobster in style.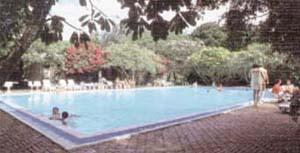 Welcome to Peacock Beach Hotel. Hambantota's first star class hotel, offering a wild experience in civilised comfort.
Although the hotel's enviable ocean frontage is, at most times of the year unsuitable for bathing and swimming, it's great for just "hanging out," a relaxed beach side stroll or a sunrise jog. All the hotel's 112 rooms look out into the vastness of the Indian Ocean. The main restaurant and a first floor Pub also overlooks the sea.
The hotel garden mimics a jungle, much more lush than the arid dry zone jungles that Hambantota has inherited, with large frangipani trees overshadowing the pool.
Several National Parks are within easy reach. Early birds would love the Bundala National Park at sunrise- it takes only 15 minutes to get there.
Yala, of course needs no introduction, but off the beaten track one could explore the Weerawila and Lunugamvehera areas, also known for elephants. Even travel upto the Uda Walawe National Park.
Several ancient Buddhist sites are found in Tissamaharamaya, Kirinda and Sithulpahuwa.
Many people would not consider coming to Hambantota and skipping a visit to the famous temple at Kataragama, worshipped by Buddhists and Hindus with equal fervour.
Then there is always the hotel to come back to. To relax under a sun shade or take a nap after lunch in an air-conditioned room, away from the scorching Hambantota heat. Peacock Beach Hotel has two luxury suites as well.
Peacock also specialises in theme nights, the favourites being the Fish Market and Monaratenna. The Fish Market, as the name implies is primarily sea food- but the catch is- it's a beach barbecue on the stars, lit by flickering torches.
Monaratenna recreates a "game" atmosphere with traditional Sri Lankan fare served in village style- including a bullock cart. The hotel can also accommodate conferences and banquets of up to 60 people. "Personalised service and attention to detail is our strength," says Manager, Gemunu Wickremasinghe.
Rooms are sold at Rs. 1200 nett, double room only/ Rs. 2880 nett, double full board