Manel Abeysekera the Chief of Protocol of the 1976 NAM summit held in Colombo speaks to Roshan Peiris
The lighter side of NAM
The Non- Aligned sum mit concluded re cently in South Africa brings back memories of 1976, when 92 Non-Aligned nations met in Sri Lanka.
Our Chief of Protocol was Manel Abeysekera, and today this very able raconteur with a good memory and a breezy manner related the lighter side of the Conference organised by the office of the Foreign Minister. Manel was Chief of Protocol from 1974-1980.
Manel timed herself to climb the gang plank of aeroplanes every seven minutes, first to receive Foreign Ministers, next the important Presidents or Heads of Government.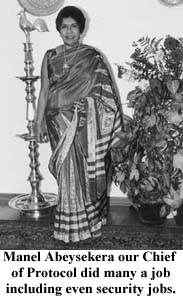 First Manel had an amusing time organising military personnel to act as stand-ins for the VIPs to rehearse the arrival ceremonies. So there was Indira Gandhi, Kenneth Kaunda and other Heads of States being "impersonated" by the Military personnel all standing upright with set faces.
The Conference went on for about ten days. Just before the 'D' Day President Gopallawa and Prime Minister Sirimavo Bandaranaike came to the airport tarmac to watch the scene. They were both appalled to see Manel, all frenzied energy, running around and wondered how she would last the pace.
Oh by the way, she lived those days, mostly on black coffee and sandwiches!
At Temple Trees Ms. Bandaranaike later meeting Manel voiced her concern wondering whether she would not collapse and then what about the facets of organisation.
Replied Manel. "I have two deputies appointed to act for me, one for the morning and one for the night. I also wrote a protocol manual."
Typical of a good mind.
Unabashed the chubby protocol officer told an amused Prime Minister "were I to collapse at the tarmac you would need a crane to remove me."
Along the road there were the road cones placed on sections reserved for the State drives. Manel making her early morning way to the Airport made her chauffer drive on the reserved section since she knew there would not be any state drivers coming, until she organised them herself.
Astounded police watching this, apparently ran to a bewildered IGP and said "Sir, every morning a mad woman makes her driver go pell mell on the reserved section and pays no attention to us. This is her car number."
The IGP roared with laughter and said "she is our Chief of Protocol and without her, how will the VIPs be met and introduced to the President and the Prime Minister."
Manel normally not given to histrionics, shuddered noticeably even after twenty-two years when she said, "I had a narrow shave. You see at the time I was getting information about those coming from airlines and from different countries. I was told that the President of a certain French speaking African country was going to descend on us." As such, of course, the PM and President were informed But Manel having a good memory realised it could not be correct since it was too early for Heads of State to come.
Besides the Foreign Ministers Conference was not even underway. So she checked with Athens Airport from which the plane was due to take off and found it was incorrect.
"And after I telexed the Athens Airport asking for confirmation, I had a reply from the Head of the Delegation getting the reply in French."
Luckily Manel knew enough French to understand that 'Je suis le President de la delegation' meant the VIP was the Head of the Delegation and not the President. Manel was also able to recognize his name.
No one had the guts to tell the PM and President and so our brave woman protocol officer told them both. So much for gender equality.
Manel nevertheless claimed the gangplank of the plane with shivering legs and a palpitating heart, although she was familiar with the name. She was relieved to find she was right.
Next at one of the Prime Minister's banquets Manel sat away from her seat chatting to the army and air force officers with whom in the course of two years of organisation she had forged a rapport. One naughty man or may be more than one, quietly inserted bread rolls into the lady's elegant evening handbag and when she went back to take her place at the table to her embarrassment she found her handbag full of bread!
Also before banquets a lot of time and effort had been expended not to mention money, on flower arrangements. The Protocol Chief found that foreign security men were holding a special light and peering into the flowers. The heat would have wilted the flowers.
She asked them to stop and said that our Head of Security would be responsible. They were quite able to detect any lethal device hidden among the beautiful carnations, roses and the like she told them.
"All delegations," said Manel, "and all arrivals of Heads of State were allocated lounges."
She found three huge foreign men quite imposingly overbearing, waiting in one of the allocated lounges, with cameras etc. They were press men and were asked to leave and occupy the press lounge. They pretended they did not understand but brooking no nonsense she asked them to leave forthwith or she would get the security to throw them out. They left with sheepish smiles.
The Foreign Minister of that country was anxiously watching our protocol lady in full powered action. He went up, congratulated her and said he had been upset since the Head of Delegation due for that lounge was in some ways subject to a security risk and had to be looked after carefully.
And then there was the handsome Muammar Gaddafi who came late for the opening of the conference. When Ms. Bandaranaike heard he was on his way she sent a senior Cabinet Minister the late Badiudin Mohamed to receive him at the tarmac.
The ebullient Gaddaffi used doubtless to having his own way insisted in driving to the BMICH late or not.
But Manel handled it all tactfully and said he would have to go to the hotel instead.
But then there was poor Badiudin sweating away at the tarmac. Manel handled the situation adroitly by telling the driver of the Rolls Royce in Sinhala to first drive to the tarmac and open the door, so that Badiudin could receive him after sweating his way there.
Gaddafi also refused to inspect the Guard of Honour as is usual for all Presidents or Heads of State.
Manel said she was happy to meet Kaunda an old friend and she did confess "I missed Fidel Castro, I was looking forward to meeting him Instead his Vice President came."
She had many a beautiful gift given to her in appreciation of her work by the foreign delegates, all of which sticking to strict protocol she declared to the Foreign Secretary W.T. Jayasinghe, a very touchy man about such niceties of behaviour.
Our Chief of Protocol did many a job including even security jobs. She laughingly told the Army Commander "I sometimes maybe have shouted like a sergeant major but I think you should really have made me an honorary Colonel!"
Manel also said she liaised with and did clearance work for those Missions not involved with NAM.
So, to end let us present Manel a big bouquet not inspected by special electric lights! For delight in her job and two years of work and familiarity did not rob her of great pleasure she got from meeting people from 92 different countries.
Ms. Sirimavo Bandaranaike one of those involved with forming NAM in 1961, however stole the show as hostess and Chairperson of NAM in 1976.