Nalaka's golden toe gives CR&FC victory
By Bernie Wijesekera
It was not a steamy evening for rugby in the Carlsberg Trophy A Division second-leg match between CH and FC and table leaders, unbeaten CR&FC, played in dull, dreary conditions, followed by a torrential downpour midway in the second half with the red shirts leading by six points (a drop goal and a penalty) to 3 (a penalty) when referee Roshan Deen called off play seven minutes before time due to prevailing conditions and the lines were not visible at Maitland Crescent yesterday. At the breather the scores were deadlocked at nil all.
According to the rules CR who were leading 6-3 were able to maintain their winning streak to consolidate their top spot in the table closely followed by Kandy SC who are lying second
With the conditions underfoot resembling a paddy field the team hardly produced any sort of open rugby. In the process the respective forwards lost their basics. They were more interested in their man more than the ball and referee Deen had to constantly warn the players for rough house tactics.
The CH forwards matched the power play of the red shirts with their unyielding approach in the mud which saw the CR back pedalling in defence, where Paul Bennett, Nalaka Weerakkody, Duminda de Silva and Leo and Shantha stood out.
The CH forwards with no let up with Nazim Mohammed, Graham Raux, Sudath Sampath, Asanga Rodrigo, played like terriers. However it was the CH front row that couldn't match the opponents.
In the second half CH played with only 14 players in the absence of Bimal Perera, but stood up well to match the marauding CR forwards, who kept on buzzing at the CH line with the advent of Kapila Silva, Haren Gabriel and coach-cum-player Tevlua Tulagaese, who replaced Leo, Sanitha Fernando and Wijegunewardena.
The CH took the lead in the seventh minute of the second half when the CR line was off side. A 35 metre penalty ensued. Jude Pillai arrowed it beautifully to lead 3-nil.
This inspired the CR forwards who ran amok in the mud.In the 11th minute CR were on the offensive. Against the run of play fullback Nalaka Weerakkody beautifully put over a drop goal to equalise.
Again Weerakkody's 'golden toe' did the magic for CR to take the lead. In the 27th minute the CH line was spotted off-side. Weerakkody, taking a 30 metre spot fired it over to give CR the lead in the match. Ironically it was pleasant to see that sportsmanship went unspoiled when players on either side hugged each other when referee Roshan Deen called off play. All was forgotten with a handshake. That is what sport is all about.
* Today the Petersons play host to Havelocks SC at Longden Place. Kick-off at 5 pm.
---
Army SC go down fighting
By Saif Izzadeen
Army SC went down fighting to Kandy SC 13 -20 in a round two Carlsberg Inter-Club rugby match played in steady downpour at Havelock Park yesterday.
Kandy SC's points were made up of five penalties and one try while the Army responded with two tries and one penalty.
The game started with the Army dominating play. They opened scoring in the fourth minute through a 25 metre penalty put over by D.D.Silva. This gave the Army a 3-0 lead. For the next few minutes Army outsmarted and outplayed Kandy in every department. The Army had the chance of going further ahead but D.D.Silva fluffed a penalty in the 18th mintue. Four mintues later the Army SC shot ahead at 8-0.
Army worked the line after winning a scrum and the wing three quarter Naushad was brought down. Following the ensuing maul, the Army breached the Kandy defence when they scored a try through second rower Maloni Turuwa. However the conversion was again fluffed by D.D.Silva. Kandy SC then played an attacking game and in the 22nd minute Kandy SC reduced the lead to 8-3 through a penalty by fly half Michael Collins. The Army missed a penalty through Karunaratne six minutes later and at the stroke of half time Kandy cut down the lead to 8-6 through a 10 metre under the post penalty by Nilufer Ibrahim. This was after Kandy missed two penalties through Michael Collins in the 38th and 40th minutes respectively.
In the second half Kandy played like terriers and didn't allow the Army to dictate terms. Kandy regained the lead for the first time in the match in the second minute when Nilufer Ibrhim put over a 25 metre penalty. This gave Kandy a 9-8 lead. Kandy kept up their attacking style of play and in the11th minute they were awarded a penalty but Collins fluffed it.
Sevens minutes later Kandy were able to punch a hole in the stout Army defence when they scored a try through wing three quarter Suranga Kodituwakku. However the conversion was fluffed by Nilufer Ibrahim.This gave Kandy a 14-8 lead. Five minutes later Kandy SC went into a 17-8 lead through a 25 metre penalty by Nilufer Ibrahim. The Army were able to reduce the lead to 17-13 in the 30th minute.
The Army won a scrum,10 metres from the Kandy goal line. The ball came Army's way and from a blind side move M.Dharmapala touched down near the right corner flag. But the conversion was kicked astray by D.D.Silva. Then Kandy sealed their victory three minutes before fulltime when Collins put over a penalty to give Kandy a 20-13 win.
Referee S.W.Chang.
---
Seetha Devi, St Anthony's are joint hockey champs
Seetha Devi BMV Kandy and St Anthony's BMV were declared joint champions in the Kandy Schools Under 15 hockey tournament concluded at the Peredeniya University grounds.
In the semi-finals Seetha Devi BMV beat Swarnamali BMV by 3 goals to nil with Chathurani Inosha scoring 2 goals and Imalka Iranthi the other in the second semi-final. St. Anthony's helped by a solitary goal by Niroshan Kolambage beat Pushpadana BMV.
Earlier, in under-19 tournament too, Seetha Devi BMV and St. Anthony's were declared joint champions.
In the run up to the final, Pushapadana BMV beat Swarnamali BMV 3 nil (scorers - Neluka Weerasekara 2 and Nilusha Dissanayake 1). Girls' High School beat Gothami BMV 4 nil (scorers - Dilrukshi Herath and Nadeeka Wijesinghe scored 2 goals each). Sri Rahula drew nil all with Swarnamali BMV. Pushapadana BMV beat Gothami BMV 14 nil (scorers - Neluka Weerasekara 9, Samudri Wijesinghe and Nilusha Dissanayake 2 each and Chandrika Herath -1). Girls' High School drew nil-all with Sri Rahula. Swarnamali BMV beat Gothami BMV 10-nil. (scorers - Anupama Alahakoon 8, Nayomi Rambukkana and Asha Menik Bowela 1 each). Pushapadana BMV beat Sri Rahula 1 nil (scorers - Anupama Alahakoon). Sri Rahula beat Gothmi BMV 2-nil (scorers- Nilanthi Kumari and R.C P. Rathnayake 1 each). Pushpadana BMV beat Girls' High School 3-nil. (scorers - Samudri Wijesighe 2, Niluka Weerasekera 1). Seethe Devi BMV beat Joseph's BMV 7-nil (scorers- Amitha Ratnayake 2, Inosha Ratnayake 4, Dilmi Dilani Kumari 1). St. Anthoy's beat Joseph's BMV 7-nil (scorers - Inoka Priyadarshani 3, Nirishani Kolambage 2, Himali Fernando and Kumudu Basnayake 1 each). Seethat Devi BMV beat Mahamaya 3-2 (scorers - Iroshini Liyanage 2 and Amitha Ratnayake 1, Renuka Manori 2). Mahamaya beat Joseph's BMV 2-nil. (scorers - Manjula Haliyadda 2). Seetha Devi BMV drew nil all with St. Anthony's.
The joint champion team comprised:
Seethadevi BMV - C.I. Rathnayake, I.I. Samarasinghe, I.P. Somathilaka, N.K. Thillakaratne, S.Mendis, A.L. Rathanayake, I.Devasundera, K. Weerasinghe, I.Liyanage, D.Senadheera, S. Marasinghe, I.Tennakoon, Dilmi Dilani, C. Wickramasinghe, M. Jayasena, D. Karunartne, S Premarathne, N. Perera, C.K. Seneviratne, S. Amaradasa.
St. Anthony's BMV - I. Priyadarshani, R. Senaviratne, N. Kolambage, K. Basnayake, H. Dilrukshi, M. Tennakoon, U.Atapattu, K. Weerasinghe, N. Helambage, A. Tennakoon, S. Kulathilake, S. Maliyangoda, D. Wickramasinghe, R. Rajapakse, I. Upeksha, D. Tennage, S. Rukshania, S. Karunaratne.
---
Easy win for Swarnamali
By S.M.D. Sirisena
Last year's under 18 runners up, Swarnamali BMV Kandy scored an easy 25 goals to nil win over Saddhatissa MV in their Milo national Netball championships worked off at the Holy Cross College grounds at Kalutara yesterday.
Results: Ananda Balika MV walk over Mirijjiwila MV; St. Joseph's Kegalle bt Sri Siddhartha 4-3; Ranjan Wijeratne MV bt Sangamitta Kandy 9-7; St.Joseph's Grandpass bt Rippon Galle 8-4; Prajapathi Gothami bt Vangiyakumbura MV 6-1; Marawila BMV bt Dutugemunu MV 15-1
Under 14: St. Anne's Gampaha bt Kegalle BMV 12-6; Swarnapali Anuradhapura bt ST. Grabiel's11-7; Vidyakara MV bt Mahawenella MV 13-12; Terapitiya MV bt Visaka Badulla 11-10; Rajekiya MV bt Sujatha Matara 13-6.
Under 16: Rajekiya MV bt Sangamitta 12-5; Kegalle BMV bt Tissa MV 25-16; Vidyalankara BMV bt Taxila 20-7; Ananda Balika bt Pannala Junior School 13-2; Museus bt Sumana BMV 11-1
Second Round: Maliyadeva bt Ave Maria 18-2;
Anula Nugegoda bt Teraputta MV 12-2.
---
Tobacco through in thriller
Last year's D Division cager champions Metropolitan Group were beaten by Ceylon Tobacco by one point in their Mercantile 5-a-side championships conducted by the Mercantile Basketball Association and sponsored by Union Assurance at the St. Joseph's College Indoor Stadium Courts at Darley Road last evening.
In other matches played in the same division: Ceylon Tobacco beat Landsale 25-13, Metropolitan Group beat Finance & Landsales 15-2; Ceylon Tobacco beat David Peiris Motor Company 13-10; David Peiris Motor Company beat Metropolitan Group 10-9 and Ceylon Tobacco beat Finance and Landsale 24-11.
Union Assurance created a major upset defeating last year's champions Seylan Bank A by 23 points to 18 while Hatton National Bank A beat Union Assurance 19-16 at Seylan Bank A beat Delmege Forsyth 30-13 in their A Division match.
Commercial Bank scored two good wins in the B Division defeating Ranawana Security 17-7 and Seylan Bank B 26-18.
In three other matches played in the same group, Ranawana Security beat Hatton National Bank B 10-8, Seylan Bank B beat Ranawana Security 14-6 and Hatton National Bank B 26-12.
The B Division semi-finalists were also found. They are: Commercial Bank A, Seylan Bank Bank B, Hatton National Bank B and Ranawana Security. Akbar Brothers and Airport & Aviation scored two wins in the C Division. Akbar Brothers beat Sampath Bank B 11-3; Sampath Bank B beat Airport & Aviation 12-11; Airport & Aviation beat Eagle Informatics 19-17, Airport & Aviation bt Akbar Brothers 14-11, Akbar Brothers bt Eagle Informatics 10-3. (AF)
---
Fast pitches will produce top fast bowlers, says Kumar
If Sri Lanka wishes to produce outstanding world class pace bowlers then it must first prepare fast pitches rather than the feather beds that we now have, a former Sri Lankan cricketer and now an Australian club coach has said.
Kumar Ramanathan former Captain of St. Benedict's, the Combined Schools and Colts team, told 'The Sunday Times' that most of Sri Lanka's test venue pitches which favoured bastmen too much would only kill any good fast bowlers.
He cited the case of Chaminda Vaas who has today broken his back in trying to get life out of his country's lifeless pitches.
Kumar Ramanathan on a three-week holiday in Sri Lanka is a coach for an Australian district club. He says Sri Lanka also needs proper infrastructure where talented cricketers moving out of schools could be provided all the training and financial backing they need to pursue the career to the top.
As a preliminary step he suggested that five or six top schoolboy stars be sent to play for three or four seasons in England's Lancashire League or in Australian sub-district teams. Comprehensive details of these and other proposals made by Kumar Ramanathan will be published in 'The Sunday Times' next week.
---
Arjuna, Aravinda to keep posts till World Cup
Underlining the importance that Sri Lanka places in defending the World Cup next year, Captain Arjuna Ranatunga and Vice-Captain Aravinda De Silva have been confirmed to hold these posts until the World Cup in England next year.
Cricket Board President Tilanga Sumathipala told 'The Sunday Times' yesterday that every tour and tournament from now on would be geared towards Sri Lanka's effort to regain the World Cup which it won in spectacular fashion at Lahore in March 1996.
Generally the Captain's and Vice-Captain's posts are given only for a particular tour or tournament and the Selection Committee has the authority to re-confirm or change these positions after every tour. But from now on a basic change is being made with Ranatunga and De Silva being confirmed in their posts at least till the World Cup ends.
Mr. Sumathipala said the Cricket Board's Executive Committee had also backed the decision of the Select Committee for Ranatunga and De Silva to be confirmed in their posts for the next year and they were expecting formal approval from the Sports Ministry soon. The Board President said the Selection Committee was also likely to name a pool probably of about 20 players to prepare for the World Cup.
---
Cager final today
The final of the Basketball Invitation inter-schools tournament conducted by the Old Boys Association of St Anthony's College Wattala, played for the Pathma Fernando Memorial Trophy will be played at the St Anthony's College Courts at 5 p.m. today.
This tournament was played on a knock-out basis which commenced on Thursday.
It was sponsored by Airwork International Private Limited by M.K. Randiwa an old boy of St Anthony's.
Other than the championships challenge trophy, awards will be made to the Best defensive player, Best offensive player and Best player of the tournament. The schools participating are, D.S. Senanayake, St Sebastian's, Alethea International, Maris Stella, De Mazenod, Royal, Ananda and St Anthony's.
---
WP, CP, NCP win one discipline each
By Annesley Ferreira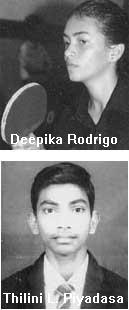 Deepika Rodrigo and Thilini L.Piyadasa of the Central Province were chosen the best women's and men's player at the 24th National Sports Festival Table Tennis championships. Central Province won both the women and men's overall championships over North Western Province and Western Province respectively.
Southern Province beat Sabaragamuwa 3-nil to win the women's third place while Southern Province beat North Western Province to win the mens third place play- off.
Men
Central Province beat Uva 3 nil, North Western Province beat North East 3 nil Southern Province beat Sabaragamuwa 3 nil and Western Province beat North Central Province 3 nil.
Semi finals- Central Province beat North Western 3 nil.
Women
Central Province beat North Central Province 3 nil, Sabaragamuwa walk over Southern Province beat North East 3 nil and North Western beat Southern 3-2.
Semi-finals - Central beat Sabaragamuwa 3 nil and North Western beat Southern Province 3-2.
Badminton
Manjula Sampath Fernando and Renu Chandrika de Silva of North Central Province were chosen the best men's and women's players respectively.
Western Province won the men's title while Southern Province won the women's crown.
The third place play-off was won by Southern Province for men, who beat North Central Province 3-nil, and in the women's play-off for third place by Western Province who beat Central Province 2-1.
Men Western beat North East 3-nil, North Western walk- over Sabaragamuwa,
Southern walk over Uva and North Central beat Central 3-1.
Semi-finals - North Central beat Southern 3-1 and Western beat North Western 3- nil.
Women
Central had a walk over from North East, Western walk over from Sabaragamuwa, North Central walk- over from Uva, Southern Province beat North Western 2 - nil.
Semi-finals-North Central beat Central 2-nil, Southern beat Western 2- nil.
Basketball
Sanjiva Rajapaksa and Premila Fernando of the Western Province were chosen the best men's and women's players respectively.
Western Province won the men's and women's titles over Southern Province and Sabaragamuwa by 106 points to 83 and 83 points to 58 respectively.
Men
Sabaragamuwa lost to Western Province 75-23, North Western Province beat Central Province 50- 45, Southern Province beat North Central Province 108- 35, North East beat Uva 56-23.
Semi- Finals - North Western Province lost to Western Province 152- 55, North East beat Southern Province 152 -139.
Women -
Southern Province beat Central Province 45- 14, North East had a walk over from Western Province, Sabaragamuwa beat Uva- 44 -12 and North Western Province walk over from North Central Province.
Semi -Finals - Western Province beat Southern Province 89- 54, North Western Province beat Sabaragamuwa 83- 58.
---
Horse racing meet at N' Eliya in August
After a very successful April race meeting this year, the President and Members of the Committee of Management have decided to hold a two day meet on August 8 and 9. This will be the first August meet after many years, said Rajah Sinnathuray, Hon. Secretary SLTC.
Most of the owners have requested that a two day weekend meeting be held to maintain the level of Sri Lankan racing which has risen this year.
The old traditional August races will be restored: the Roberts Cup, Madras Cup, a Special Nuwara Eliya Mayors Cup, The Donald's Classic Cup, Hitachi Nicam Cup, The Nuwara Eliya Derby, and if entries permit The Classic Cup for the new class of locally bred horses (Popularly known to be the 3/4 breed).
Entries close on July 25 at the Club's office in Nuwara Eliya and in Colombo with the Chairman of the Board of Stewards Office at 64, W A D Ramanayake Mawatha, Colombo 2.
---
Melder now coaches a celestial team
Former Josephian cricket captain and Josephian 1st XI Cricket Coach Gerry Melder passed away on Wednesday. He was 44 at the time of death.
He represented St. Joseph's College at Cricket from 1970 to 1974 captaining the college in his last two years and was Vice Captain of the 1972 cricket team that last won the Joe/Pete big match 26 years ago.
He also represented the Sri Lanka Schools Under 19 Team player against the Australian schools in 1972.
He performed brilliantly during his five years of cricket at St. Joseph's and was awarded the coverted "Josephian Blue" in 1974 He would have been a certainty to represent Sri Lanka at Cricket had he not taken up a career in planting straight after school. Thus cricket lost to the planting world.
After leaving planting in 1984, he took up to coaching his old school and after a successful tenure as a junior Cricket Coach he was entrusted with the 1st XI cricket Team at a crucial period. This he did in his own brilliant style producing the best results in Cricket in the last few years at St. Joseph's.
His pinnacle was producing the champion team under Trevin Matthews in the 1996/1997 season. Under his guidance St. Joseph's College won the 50 over Coca Cola Trophy in 1977.
He produced champion teams even at junior levels of cricket at St. Joseph's and in fact the present Under 17 Cricket Team coached by him has entered the semifinal of the Inter School Cricket Tournament.
Melder was top cricketer, elegant lefthand batsman, deceptive bowler and brilliant fielder in any position He was one of the finest all rounders ever to be produced by St. Joseph's College or any school for that matter in the last 25 years.
Gary Melder's loss will be felt by all those youngsters who play cricket at St. Joseph's. -
By a Team-Mate
---
Rover pinpoints
Not fair
A leading affiliate of the Table Tennis Association of Sri Lanka is allowed to attend meetings of the federation without being duly elected at a annual general meeting.
This is against the constitution.
Board's lapse
A senior journalist from The Sunday Times was not present to receive an award by the Board of Control for Cricket at a ceremony held at a leading hotel in Colombo.
The invitation sent by the Cricket Board's media personnel was only delivered to him at 2 p.m. on the day of the ceremony, while others from other newspapers and media organisations had been informed about it on time.
No money, no trip
A swimmer picked by the National Amateur Aquatic Sports Union to represent Sri Lanka at a Age Group Meet in Malaysia has been told to find the money required for his ticket if he wanted to be taken.
The amount required is about Rs 43,000/- which he could not find, so no tour for him. What injustice indeed. Cannot the Sports Ministry raise this money for him.
Never before
The head of a local sports Association is said to be holding on to a hotel payment, though being okayed by its Finance Committee, involving the hosting of a Junior International. Meanwhile Rover also learns that salaries are being paid to the Treasurer and Tournament Committee Chairman from the same Association funds.
Seven members holding posts in the association are to send in their resignations soon, Rover learns.
Kalpage cropped
Ruwan Kalpage cannot find a place in the Sri Lanka A pool to play South Africa. Why?
Rover learns that someone else is being groomed to be the captain so how can a senior and capable player like Kalpage be in the squad? Could there be a ring of truth in it?