---
We wonder
What has the government done on the reports submitted by the three commissions? It keeps harping about human rights violations during the 17-year regime of the UNP, but has it acted on the reports submitted by the commissions?
What has been done-tell us, tell all those families who lost someone.
Are the Embilipitiya students' disappearance case, the Waulkelle case and the much publicised Krishanthy Kumarasamy case just for the record- to keep international pressure off and satisfy the United Nations Human Rights Commission?
Suggestions
* Provide all facilities to the new Presidential Commission to carry out its onerous task.
* Expedite the payment of compensation to the families of victims. Money can never bring to life those who are dead or have disappeared, but it will help them to overcome their abject poverty even temporarily.
* Bring the culprits — whatever their rank or position — behind such deaths and disappearances to book.
Act without fear or favour. Then and only then will Sri Lanka be able to live with the thought of that bloody era.
---
They just vanished
This is the oft told tale of those who have to live with the thought of a loved one who has "disappeared". The tale told for many years-a tale so similar-yet unique. A tale told by mothers, fathers, brothers, sisters and wives. For most of us it is a common story, an old story. We shrug it off .Yes, it's 10 years old.
By Kumudini Hettiarachchi
"O for the touch of a vanished hand And the sound of a voice that is still ."
Vanished.The fa mous words of Lord Tennyson kept hammering my brain as I listened to her. Death is a reality we meet in life. It is inevitable. But these were no ordinary deaths-death due to sickness-death due to an accident or-death due to old age.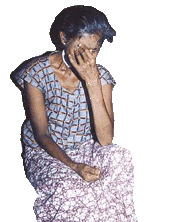 This was different. "Athurudahanvela" (disappeared), she choked amidst her tears. This is the oft told tale of those who have to live with the thought of a loved one who has "disappeared". The tale told for many years-a tale so similar-yet unique. A tale told by mothers, fathers, brothers, sisters and wives. For most of us it is a common story, an old story. We shrug it off. Yes, it's 10 years old.
But for this mother whom I met last Sunday, it has been a living nightmare for 10 years. Ten long years without a trace, without a word from the authorities - just file numbers. Yes, numbers 5225 and 5226.
The drive to Avissawella was a pleasant one. We sped along the well-carpeted High-Level Road, leaving behind the more populous towns quickly, as there wasn't much Sunday traffic. Towns, fields, rubber estates casting a gloomy shadow on the road.
Ihala Talduwa, a village about three km from Avissawella is scenic and salubrious. The rain-washed area looks clean and tranquil. We leave the main road and take a turn to the right. A narrow hilly road. We stop at a turn off to the right once more. No vehicles can use the path. As we climb a slippery incline, the soft tinkling notes of a spring, lull you to complacency. It's away from the madding crowd-a vast state-owned "watte" - Mossangewatte.
Their home is a wattle-and-daub hut, with two rooms. The "sitting room" with just two chairs and the "bedroom" with one bed. Their life has been a permanent battle with poverty. That they accept.
The tears don't flow about their impoverishment. But the tears flow about the tragedy that befell them that night of September 18, 1988.
What happened to their son? What happened to their young aunt? Are they alive? Are they dead? Were they tortured? Hope- no, not any more. Just hope for information and hope for justice. They see the culprits roaming the village. Yes, at least if they can't have their loved ones back, let there be justice.
Grey-haired and gaunt Padukka Vidanalage Somawathie had returned home from the hospital, after an operation to remove a growth in her throat, a couple of days before that fateful September night in 1988. Her husband, Ariyawansa Perera (65) had retired from the Department of Telecommunications and was drawing a monthly pension of about Rs. 2,500. Life was very hard. They were eking out a living by buying some food, like rice and dhal on debt from the boutique close-by and plucking the jak, bread fruit and "pala" (leaves) in their 28-perch land which the government had granted for them to put up their hut. But the deprivations were bearable.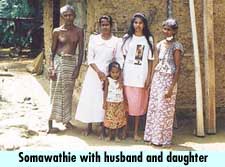 Somawathie (55) was the mother of seven - three sons, three daughters and one adopted son.
That night she was too ill to eat. But her 20-year-old son Premakeerthi wouldn't budge from her bedside. It was around 8 p.m. and he wanted her to have even a few mouthfuls of rice for dinner. They heard the crunch of boots outside their home and her son said, "Amme egollo apahu avith" (They have come again)
They had come three nights before and taken Premakeerthi in a van, after firing into the air to scare off any one who dared to follow. But Somawathie had followed shrieking, flagged a passing lorry and gone behind the van. She found her son, bleeding from his head, dumped under an "Andara" tree. He had been blindfolded with his own sarong and because he said, "Mava maranavanang parata danna, ammata penna" (If I am to be killed, put my body on the road, not anywhere else, so that my mother can see), they hit him on the head with a rifle butt and dumped him on the road.
Then they came again. Like the first time, the family knew most of the abductors. They threatened to get him from inside the house if he did not come out. When Somawathie stood in the doorway, they kept a gun to her chest, pushed her aside and not only dragged Premakeerthi out, but also 24-year-old Kalyanawathi, Somawathie's sister-in-law, who had returned from Kuwait a few weeks before that. When they attempted to drag them out of the house by their hair, Somawathie had knelt, worshipped and kissed their feet, begging them to leave her family alone.
But this humble family was at the mercy of the assailants. There were two brothers, both in the army, in uniform, one carrying a gun and the other a sword. They were from the same village. The other person, with a club, at the door was also a village youth, whom the family knew very well, Somawathie alleged. There were many others in the garden. She worshipped them, and they kicked her like a dog. They hit Ariyawansa and shouted, "Thopi okkama maranawa" (We'll kill all of you). They dragged Premakeerthi and Kalyanawathi, mother of a two-year-old boy (in 1988) out, bundled them into a van and took off. That was the last the family saw or heard of them.
Early next morning, Somawathie and her family rushed to the Avissawella police station. To their horror two of the abductors were in the compound. The police allegedly refused to record their statement with the excuse, "Hamudaveng gennichchanag api monevada karanne.(If the army took them what can we do).
Then the agony started. Visits to politicians, to army camps,begging for information. But not a trace. Visits to devales, to temples,prayers, poojas. Nothing yielded information.
Why were Premakeerthi and Kalyanawathi taken? The question brought out more tragedy. The culprits had a score to settle, Somawathie wept, amidst her wheezing and the whistling of her cancerous throat.
The story which ended on this tragic note began during the Sinhala and Tamil New Year of 1988. The villagers, including "Kaluwa", younger brother of Somawathie and husband of Kalyanawathie gathered for the New Year celebrations in April. An argument over a cigarette ensued between Kaluwa and the two brothers in the army. That was the score.
In August, the brothers in the army had gone in search of Kaluwa, to another family member's house nearby. Not finding Kaluwa, they had taken away Somawathie's other younger brother. He was never heard of again. But that does not seem to have appeased the wrath of the brothers - they still had a score to settle. Then in September they took Somawathie's son and Kaluwa's wife. Kaluwa, suspecting that they would come after him had gone into hiding.
For eight or nine months after the September abductions, Somawathie's family had spent every night hiding in the "wela" for fear of more reprisals. They would wrap up their dinner, a little rice with some gravy, and leave their hut as twilight fell. Somawathie and her husband feared for their other sons and daughters because they had shouted out the names of the abductors that night.
Any scrap of information about bodies lying on the banks of the Seethawaka river or the Atalugama kanatte, near their home, would send Somawathie hurrying to the spot to see whether she could catch a glimpse of her beloved son or sister-in-law. She saw many bodies, but theirs were not among those.
Hope for the family came in the form of the Organisation of Parents and Family Members of the Disappeared (OPFMD).
The organisation gave the distraught family courage and persuaded them to complain to the Commission of Inquiry into the Involuntary Removal or Disappearance of Persons in the Western, Sabaragamuwa and Southern Province, one of three appointed by President Chandrika Bandaranaike Kumaratunga after the People's Alliance came into power. The other two commissions covered the Northern and Eastern Provinces and the Central, North Central, North Western and Uva Provinces.
Somawathie filled forms, answered questions, but nothing came of it. The time of the Commission ran out last year.
According to OPFMD President Chandra Peiris the three commissions received around 32,000 complaints of which 19,000 were investigated. Of the figure 17,000 have been termed "disappeared" and compensation ordered. Then the commissions' time ran out. Around 13,000 complaints lie in files-with only numbers.
Mr. Peiris said though the number of complaints was 32,000, human rights groups had recorded more than 60,000.
Last month, President Kumaratunga appointed a fresh commission headed by Ms Manouri Muttetuwegama to investigate the balance disappearances. It began sittings about a week ago-and Somawathie hopes for "sahanaya" (relief) at least from this commission.
Her heart-rending plea is that they be told something, anything about their loved ones. At least that there is no hope of ever seeing them again. She also hopes for action against the culprits who allegedly strut around the village arrogantly.
Then, they may be able to look at the large photograph of Premakeerthi-which is carefully covered with polythene and hidden from sight — once again without such anguish.
They may even be able to light a pahana, hold an alms-giving and do merit in the memory of Premakeerthi and Kalyanawathi, innocent victims, like so many thousands of others, of an era of ruthlessness and lawlessness, that this country is ashamed of.
---
More Plus * Historic rock cave mosque
Front Page| News/Comment| Editorial/Opinion| Business| Sports | Mirror Magazine