Duncan White is gone, but will be long remembered
By Bernie Wijesekera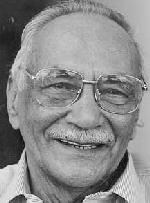 Duncan White, the lion-hearted Trinity 'lion' who put Sri Lanka in the World map at the Wembley Olympics in 1948, winning a silver medal for the country for the first time in the history of track and field sports passed away in his home in Birmingham. True, life is uncertain, but death is certain. But the whole country grieved the passing away of this officer and a gentleman, who was here on March 1, to attend the awards ceremony at the yearly Duncan White Sports Foundation 1997 award to Susanthika Jayasinghe, along with his wife Angela. Ironically, it turned out to be three- in- one. It was the 50th year, after winning the Olympic 'silver', his 80th birthday and Sri Lanka's 'Golden Jubilee ' Independance anniversay which was celebrated amid pomp and pageantry. Though domiciled in Warwickshire, England, Duncan never forgot his country of birth and made a regular trek, with his life-long friend Eddie Gray, who was one of the members of the '48 S.L. Olympic team. At times some children forget even their poor parents, when they go places in life and settle down in greener pastures. He was born to a middle class family where his father was an apothecary and served in Matugama. He had the education at Trinity at much expense. There was no free education at that time. It was a slippery climb for White. He never reached the top from the top. But it was hard grinding. White found it doubly difficult to buy even a pair of running shoes, unlike the present day sportsmen, who get everything on a platter including sponsorship packages. Some of them forget overnight the very people, who helped them. Apparently due to lack of credibility. His simplicity in life, despite reaching higher levels in the sporting world is unparalleled in the annals of Sri Lanka or for that matter in the portals of Trinity College. The hurdles - both the 110 m and 400m was the much looked forward to events in the Olympic Games. These two events were dominated by the U.S. athletes. In 1948, Roy Cochran won by a street, but White the gallant athlete form little Sri Lanka stormed his way to second place, with a time of 51.8 secs and won much praise for his heroics beating some of the best in the world. Simplicity was his codeword. He never lost his balance and always preferred to move with the elite for mere monetery gain. Duncan and his wife Angela was always prepared to help those who needed help even in a small way. The amiable couple always believe in this saying 'God's gift to you is life, what you do with, it is your gift to God'. This scribe was fortunate to stay with them while on a cricket tour in England in Birmingham. Well, I came to know him through Eddie Gray while in Sri Lanka, Duncan's close buddy. White beaming with smiles, said come and stay with me. You are most welcome. Well, I walked into a home not to a house. Even for the two days I was fortunate to be part of their family. I had a severe migraine. I still vividly remember these words coming from Duncan; 'Bernie relax, dont worry and enjoy yourself. Angela will give you the antidote - a table spoon of brandy with coffee and you will be fit for tomorrow. These are the noble qualities of Duncan White the great sportsman, humanitarian - an officer gentleman. Apparently these days they rare ingredients among the present-day society. The criteria is to win at all cost and craving for money all the time. Past Trinity 'lions' like late Denzil Kobbekaduwe, Himal Maralande, Lakshman Kadirgamar, Kavan Rambukwella to name a few where this scribe had the privilege of moving around with them will testify to this effect. Not that there are others - there are many from various walk of life, who watch silently in a society plagued by power politics and hatred. The amiable Minister for Foreign Affairs , Lakshman Kadirgamar, who was the chief guest at the Duncan White award ceremony, spoke about Duncan White's simplicity in life, and a glowing example for others to follow. Kadirgamar himself a Trinity 'lion' in athletics must have learnt much from this greatest product from the Hill Captial school. Kadirgamar addressing the audience, paid a glowing tribute to the maestro. He had the right attitude and no one should have any negative ideas. Kadirgamar, who took up to politics at the late stage of his life has enjoyed a privileged life by birth - be it education or otherwise. He felt that time has come to give back something to the society which you have grown up. This is what White did during his lifetime on off the field for others to follow. Lakshman also a 'lion' in the 110 M hurdles, is one of them who emulated the legend's simplicity in life, despite being seated in the high seat of power. This was endorsed by yet another sportman - old Royalist and Lakshman's colleague in the P.A. cabinet, C.V. 'Puggy' Gooneratne. C.V. advised the young sportsmen, who were there in their numbers, to follow White's simple ways and not to keep on moaning, but work hard with a disciplined approach to achieve ones objective. Gooneratne, made special overtures to Susanthika Jayasinghe to follow White by example. Duncan White, who always speaks out his mind without fear or favour said about officials holding office in sport bodies when interviewed by this scribe. 'They should not hang to office, too long. Do your job well within the specified time and pave way for others. Hanging on to power far, too long is not going to help the sport. It gets corroded and leads to all sort of unwanted criticism.' "Power corrupts, absolute power corrupts absolutely" Lord Acton. It was not Ides of March, but first of March, 98, that Duncan White appeared for the last time at the DWFSF presentation ceremony in this one-time peaceful country, now torn apart due to pseudo nationalism. It was a fitting farewell to one of Sri Lanka's greatest sportsmen, who has left an indelible mark in athletics, a lonely sport, running against the clock, where training and discipline is the core to its success. The others, who were present besides Mr. Kadirgamar and Mr. C. V. Gooneratne, were sportsmen of the calibre of Eddie Gray, John de Saram, Ken Balendra, Kavan Rambukwelle, Neville Abeygunwardene, and past celebrities, who were there, to pour accodades on a legend who put Sri Lanka in the World map in athletics, with sheer endurance and battling on, all by himself. My former Times of Ceylon colleague M.V. Muhshin now living in the U.S. too an old Trinitian, has commended the DWSF for the good work done since its inception (March 1, 1990). Weather beaten Duncan White, with his limited resources kept on burning the track despite tremendous pressure at home and abroad during his era. For all this toiling, he has earned a well earned rest, under a flamboyant tree in Birmingham for the rest of his life. The maestro even valued his Trinity 'lion' more than the "Silver" he won at the Wembley Olympics. The 'lion' is only offered not for achievements on the field, but off the field conduct, too.
---
Mid-Summer Windsurfing hampionships on July 26
By Baron de Livera
(President, Windsurfing Association of Sri Lanka)
Windsurfing became a popular sport among watersportsmen in Sri Lanka in the early eighties when it was realised that Sri Lanka could be developed into a prime destination for water sportsmen and enthusiasts.
The Windsurfing Association of Sri Lanka was at that time formed by a group of top travel agents and hoteliers with the full support of the Ceylon Tourist Board and AirLanka. The idea was conceived in Germany.
Among the persons involved were Anton Wickramaratne Managing Director V. I. P. Tours Agent for Condor Airline, Shelton de Alwis Director (V. I. P. Tours) Eardley Fernando (M. D. Goldisando Hotel Negombo), Pieter Pock (German Windsurfing Instructor) Mrs. Cristel Greishaber Wickramaratne, M. Samaradivakara, Director General Ceylon Tourist Board European office based in Frankfurt, Gerd Ramsch G. M. Jet Travels. Ramsch became first President of the windsurfing Association formed in 1983.
The very first international Windsurfing Championship held on Nilaveli, Trincomalee in June 1984 was very successful. This was so because of the ideal conditions in Sri Lanka for windsurfing and the determination of the windsurfing Association to make the occasion an outstanding success. This was confirmed by Ms. Pat Howard professional race organiser of the first international championship who was a vice chairman of the windsurfing race committee at the Los Angeles Olympics. Since then there was no looking back.
The Championship was sponsored by the Ceylon Tourist Board, AirLanka, Black and White scotch whiskey with a generous donation of more than £10,000 and windsurfing association Sri Lanka supported by reputed Hoteliers and travel agents.
Windsurfing champions of international repute was drawn to Sri Lanka from this championship. They were amazed that they had not known before that Trincomalee was said to be a magnificient location for windsurfing. Nature lent a hand in promoting Sri Lanka as a water sports location by the consistency of the strong winds (which in fact continues for four months of the year) and kept windsurfing thrilled by the ideal conditions. One comment made by one of the competitors was that the winds were so ideal that when one woke up in the morning the mosquito net had blown away and their day was made.
Among the local competitors was Mark Anthony Perera who made a mark at the Goodwill Games in the former U. S. S. R. Earlier at the international meet he won the Baron de Livera trophy for the best Sri Lankan windsurfing performance.
It was at the 1984 first championship that the foreign competitors predicted that he was an Olympic prospect. Unfortunately he went off to the Middle East as an Instructor.
The foreign participants were so enthralled by Nilaweli and what it offered that they fixed up tentative dates for the International championships the next year. Unfortunately the unstable security situation prevented the holding of this championship.
The event enjoyed tremendous world coverage (beyond our comprehension) even media TV, camera film and Press, surfing magazines and journals covered it and featured it in all languages in the European continent. A German project had a 40 minute film show on TV during prime time at a cost of a million Deutschmarks.
The Windsurfing Association got the fullest support from the Ministry of Tourism, Ministry of Sports, Ceylon Tourist Board Colombo and its Frankfurt office.
All foreign participants were flown in by AirLanka and windsurfing gear was brought in by Condor German Airlines free of charge as part of the promotion.
The magnificient championship cup was presented by AirLanka and won by Sweden's No. 1 Johan Salen the overall champion. Since, I have been President of the Windsurfing Association from 1985 up to the present, I have had a very close relationship with the organisation and I am very familiar with all its activities.
In the succeeding years we have organised windsurfing meets and championships for local and foreign competitions and enthusiasts with great zeal.
In February 1985 the Association obtained recognition from the Government for windsurfing as a national sport by extraordinary Gazette Notification No. 351/57/1985 through the Ministry of Parliamentary Affairs and Sports.
We felt that our local surfers needed training by experts from abroad. So we obtained the services of one-time champions who were instructors of international repute. We were also able to find employment abroad for several of our surfers. Since then our surfers were able to participate and excel in international championships such as at the1986 Goodwill Games in the former U. S. S. R. and Asian Regattas in Singapore. Thus they received exposure abroad as well as opportunities of competing with World Cup and Olympic champions.
Arrangements were made for training one of our surfers in Sydney under an Australian champion with all expenses met. Thusal Goonawardena who was selected unfortunately was unable to make it because of commitments in Europe.
In 1986 about 300 Manufacturers, Dealers, Distributors and Windsurfers from the European continent brought their latest windsurfing boards etc for testing at Hambantota while attending a convention there.
Lanka Sportsveizen and the Association will continue to sponsor and organise meets and championships in Sri Lanka in the future. Incidentally Tilak Weerasinghe who is secretary of the Association is also managing Director of Lanka Sportsveizen and he is the first Sri Lankan holder of an A Grade instructor's certificate from Verband Deutsche Windsurfing Schulen (V. D. W. S.) of West Germany, one of the foremost windsurfing schools in the world. Thusal Goonawardene is also the only other holder of this same certificate in Sri Lanka.
At a press conference held recently at the Airport Garden Hotel, Katunayake, Mr. Ranjan Stanislaus General Manager Airport Garden Hotel and Mr. Ashok Fernando Sales Manager said that the Hotel will continue to give their unstinted support to promote the sport and that all facilities including windsurfing gear are available at the water sports centre run by Lanka Sportsveizen. Mr. Tilak Weerasinghe said that together with Airport Garden Hotel and W. A. S. L. a training programme for school children and others will be launched shortly.
The clear shallow waters of the lagoon by the banks of the Hotel provide absolutely safe environment for all water sports activities. He also thanked 'Carlsberg Beer' Marketing Executive Nishantha Hulangamuwa and Ranjan de Silva, Brand Manager, and Airport Garden Hotel for the sponsorship and encouragement and looked forward to their continued support in the future.
---
Lankan gymnast tries for gold in Olympics
By Jason Botchford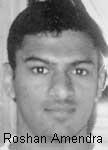 Courier staff Canada's Olympic gymnastic program is trying to recover.
The team didn't qualify for the Atlanta Olympics and now it is working to change things as the 2000 Games approach.
And one of the people the program is depending on is Roshan Amendra, a rising gymnastic star.
The Scarborough native is heading to New Brunswick to move in to Kingswood, a new Olympic training center.
Kingswood represents Canada's latest strategy in its attempt to improve results at international competitions. It will centralize training by keeping athletes living and working together in one place.
Amendra turned down a scholarship opportunity at Nebraska to go to the center where he will attend University of New Brunswick while he trains.
"Centralization is what the team needs to do to improve", Amendra said. "All the best guys will be training together".
Five of Amendra's teammates are there right now and organizers are trying to get the whole gymnastic team there. Amendra said turning down the Nebraska proposition was a difficult one.
But he wants to win at the international level and said his best chances would come from training in New Brunswick. "I've reached the point where I need another level of coaching', Amendra said. "Kingswood will offer me that".
For Amendra (21) it's one more step toward his lifelong goal of going to the Olympics. He has been involved in gymnastics since he was 6 years old.
He has competed in world competitions before. He went to Puerto Rico in his second year as a junior and Switzerland for the senior competition. But he missed out on his chance to make it to Atlanta when he got very sick at the Canadian qualifying meet.
"I don't even remember a lot of the competition", he said. "And afterward I wasn't sure if I wanted to stay (competition in gymnastics)".Instead of quitting, however, Amendra discovered a new commitment to reaching his Olympic goal. And now how he is leaving everything he knows - his family, friends and community - to go all out for Sydney, host of the 2000 Games.
"It will be hard on my father, who has always been there for me", he said. "But I'm pretty excited to get this opportunity. I only hope we can get the rest of the team to come.
---
Ruchira Palliyaguru needs consideration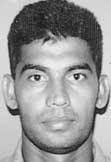 Ruchira Palliyaguru, the outstanding all-rounder who turns out for Bloomfield C. and A. C. is a key member in the team with his consistent performances in the major tournaments (P. Sara) and in the "A" div. limited over competitions.
He has the potential and know-how to play in the big leagues - in international (limited over cricket). Keep-fit Palliyaguru has the physical strength to match anyone in the limited overs game. A hard hitting batsman, he is a medium pace bowler who bowls with rare accuracy. To cap it off he is an excellent fielder with a fine arm to hurl the ball from the deep outfield.
Last season Ruchira hammered five half centuries, with 62 runs as his highest against Panadura S. C. in 42 balls, with 3 sixes and 3 fours, as his best effort. While against Sebastianite S. C. cracked 60 not out (with six sixes, 3 fours in 23 balls). It speaks well for his aggressive and intelligent hitting all round.
A dedicated young cricketer, Palliyaguru, has been highly commended by knowledgeable students of the game and has the temperament and ability for consideration, if the national selectors have any idea of planning to build a team for the one day international league, as he is an utility all-rounder when compared to some of the players who are still considered despite them not making any worthwhile contributions.
Given the opportunity, Ruchira is bound to give of his best. According to Bloomfield C. and A. C. hierarchy, Palliyaguru is a fine team man and has regularly performed creditably for the success of the Club.
He has captured 16 wickets for 317 runs, in 106.2 overs.
In a tall scoring game - in the final against SSC - he captured 3 for 75 in 29.2 overs, with his accurate medium pace bowling. (B.W.)
---
Madras Boat Club beats Colombo
Madras Boat Club beat Colombo Rowing Club by two points (22-20) in the 64th Regatta on the Beira Lake.
In the first race, the Madras A pair, Karthik and Shanmugaraj beat Colombo's D. Aluwihara and R. Wanigathunga.
In the scullers events Colombo B. S. Ganegoda beat Madras' N. Billimoria Colombo A. D. Sri Candrasekera was beaten by Madras's A, Dushmanth.
At this stage Madras Boat club led 14-4. Colombo Rowing Club fought back when Colombo B's pair C. Thalpaheva and D. Maurice beat Madras B's Balaji and R. Sayeed in a close finish.
The score then were Madras 14 and Colombo 10.
In the fours the Madras B. crew, Karthick, Billimoria, Ravindran and Shanmugaraj coxed by Lakmal beat the Colombo B fours Chandrasekera, Jayasinghe, De Neise and Mendis coxed by Tennakoon.
In the other fours race Colombo A's D. Maurice, C. Talpahewa, R. Wanigatunge, D. Aluwihare coxed by Shamil Edirisinghe beat the Madras A fours.
The trial tally of points was Madras 22 to Colombo 20
In the Ladies' events too Madras were victorious with a score of 18 points to Colombo's 6 points.
The Indian High Commissioner Shivanarayan Shankar, was the chief guest.