Cleared for take off
The Airport Aviation Services' massive plan to upgrade the country's only international airport BIA is ready. It's only a matter of financing. Tharuka Dissanaike reports: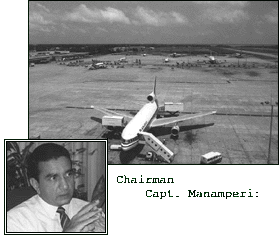 The Bandaranaike International Airport (BIA) will undergo a long term face-lift in preparation for the approaching millennium. To prepare the airport for the future, the Airport and Aviation Services (Sri Lanka) Ltd. will launch on a US $ 200 million project to upgrade facilities and construct more passenger and cargo space.
New facilities will include two piers with eight bridges each, which will facilitate passenger movement into aircraft through corridors, avoiding the shuttle system that exists today. Also on the list is a new terminal building, additional cargo space, a new aircraft apron and a separate domestic terminal and inbound duty-free shop.
Called Phase 11 of the Airport development, the improvements to the country's only international airport, will increase both passenger and cargo capacity, Chairman, Airport and Aviation Services, Capt. Sudharshan Manamperi said. Several of the projects are awaiting funding. The government is negotiating with the Japanese Overseas Economic Co-operation Fund for financial support.
Capt. Manamperi said it was after his assuming duties of the fully government owned company that the departures checkpoint was brought back into the airport and the interior car park was reopened. The blast wall that had been built around the airport buildings was skilfully camouflaged by grassy slopes and foliage.
"An airport is a visitor's first and last impression of a country. An airport cannot look like a fortress or a military camp- especially in a country that promotes tourism," Capt. Manamperi said.
The developed Airport will facilitate 8 million passengers annually. The present capacity is only 3.4 million passengers. "Right now 2.4 million people use the airport annually. This will mean that by 2001 there will be congestion of passengers if not for the improvement of terminal space," Capt. Manamperi said. The new airport capacity will suffice until the year 2010.
A multi- storied car park will be constructed and the present remote car park will be developed further for additional parking space.
Right now only 17 aircraft parking areas are available. An additional 98, 000 square metres will facilitate the parking of 24 planes.
The Duty Free shopping area in the arrivals lounge will be increased greatly. This project alone will cost Rs. 300 million and will get underway once Cabinet approval has been secured. The first floor duty-free shopping area consisting of 30 shops will be ready by mid 2000. The money for this project comes from advance payments made by shops leasing out the new facility.
Another important change will be in the cargo department. Two large cargo terminals will replace what is today the public viewing gallery. There is some 13 percent increase in cargo handling every year and 12 new warehouses will be constructed - each 2000 square feet - to contain the increase.
The public viewing gallery will be removed from its present location to the second floor of the airport building.
"This is a service we provide to the poorer sections of society, especially families of West Asia workers. We want to continue to offer them facilities like restaurants and toilets in the new premises ," Capt. Manamperi said.
Equipment used by the air traffic controllers at the airport and Ratmalana will be improved. At the moment the airport has instrument landing system (ILS) only on one side of the runway. By the end of this year, the authorities hope to install ILS on the lagoon side of the airport so that craft can land on automatic instructions on both sides of the runway.
"We also hope to acquire new radar equipment. called MSSR (Monopulse Secondary Surveillance Radar) which will give details of height and speed of the aircraft in addition to its position and direction as shown on radar now," Capt. Manamperi said.
There are plans also to set up a Civil Aviation Training Centre. At present basic training in Air Traffic Control is done at Ratmalana. "Right now many of our senior controllers are in lecturer positions in aviation academies overseas. Therefore we have the resource people to manage such a training centre," Capt. Manamperi said.
They have already identified 60 acres in Thalangama for the project. The Centre will be available for foreign students as well. Already a few students from the region attend basic courses taught at Ratmalana like aircraft fire fighting, aviation security and electronic engineering.
Capt. Manamperi hopes to purchase expensive equipment for the centre including an air traffic control simulator, which will provide trainees almost real experiences of traffic control.