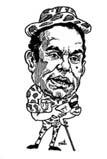 If a bout of bronchitis kept him at the Army Hospital and away from Parliament when it debated the motion to extend the State of Emergency, Sri Lanka's de facto military chief, Deputy Defence Minister, General Anuruddha Ratwatte, was there for the next two important events that followed in the past two weeks.
The first was an alms-giving for 200 members of the Maha Sangha at the Mahaweli Centre to mark his birthday. Leading members of the Sangha praised him as the "most qualified person to lead the fight against despicable terrorists."
State owned Independent Television Network (ITN) aired a special programme of the event with its newly appointed Chairman, Newton Gunaratne, a close confidante of Gen. Ratwatte, playing the devoted anchor man. He also played "gentleman usher" at the alms giving.
The second important event, was of course, sans the glare of TV cameras and special programmes.
That was the birthday party at Gen. Ratwatte's heavily guarded official residence at Stanmore Crescent for a hand picked crowd.
One of the first to arrive was another close confidante, Police Chief, W.B. Rajaguru, who is retiring next month.
Service chiefs and other VIPs joined in.
As they waited for the VVIP to arrive, the cocktails continued to the gyrating rhythms of the baila. The loud sound of music was heard even in the distant neighbourhood.
Some danced whilst others tapped their feet.
It went on till well past midnight but the VVIP did not arrive. So they sat to dinner nearly two hours after.
Guess who is the VVIP who did not come for dinner?
---