SSC iron out differences to emerge champions
By Marlon Fernandopulle
The Sinhalese Sports Club had their share of problems in the recent past with administrators and cricketers not seeing eye to eye, important issues like selecting a captain also came under-fire and sparked off sharp debates at inhouse meeting. Shrugging off all those off-field differences, SSC has once again emerged as the Champions of Sri Lanka's premier Cricket Tournament, the P. Saravanamutthu Trophy.
The domination of SSC is such that the club has won the blue riband of local cricket on six occasions since the tournament was granted first class status in 1988/89. However this year's victory has something sweeter to savour for the Maitland Place club. They had their full contingent of players only for a single game in the preliminary round and for the Final, due to national commitments. Yes, the team was without captain Arjuna Ranatunge, Marvan Atapattu, Mahela Jayawardene and Pramodya Wickremasinghe for the majority of the season, but fought gallantly to ensure that the prestigious Sara Trophy was brought back to the shelves of SSC.
Skipper Arjuna Ranatunge paid a glowing tribute to his colleagues in the team when he said, "The youngsters have done a great job in the absence of the senior players, all credit should go to them for bringing the Sara Trophy back to SSC".
The National skipper who played only in two games including the final and scored two centuries, was delighted that the players have clicked as a team. "We had a few problems and misunderstandings among some players in the last few years in the club, but today we have overcome all these and played as a team to win the trophy", said Ranatunge.
In the absence of Arjuna , SSC were led by Nisal Fernando and Hemantha Wickremaratne who both did a splendid job with the limited resources. On their way to the top SSC defeated Singha SC, Kurunegala YCC, Moors SC, and Old Antonians SC outright, and BRC and CCC on the first innings. In the semis they defeated Bloomfield in the final.
For Coach Saliya Ahangama, success was instant. The former Sri Lanka opening bowler took charge of the under 24 team earlier this season and guided them to victory after seven years. Buoyed by the triumph, the SSC cricket house committee had no hesitation in giving Ahangama the senior side. The challenge was accepted, and Ahangama delivered the goods in his first season.
When asked what the secret of his success was, the coach who is now the BCCSL Secretary said: "My task was to try to get each and every player to play to his full potential, motivate the players, and mould them to play as one single unit. I am glad I succeeded in that and as a result we won the championship after 5 years".
Unlike the past, SSC does not have the majority of players from the better known schools in Colombo. It will be surprising to note that the last few players who have graduated to play in the big league, are from the Outstations and sometimes from the lesser known schools. They include Suranjith Silva (St Sebastians) Suranga Arunakumar ( Prince of Wales) Malinda Perera and Chaminda Boteju (De Mazenod) Suresh Perera (Isipathana) and Gayan Wijekoon (Gurukula MV). All of them played stellar roles in the tournament, helping SSC to the championship title. In fact four of these players have secured permanent places in the side and play even with the seniors.
"SSC is open to any young scholboy cricketer from any school. If the players show dedication, commitment and keenness, we will put them through their paces and give them the place they deserve. The school and village he comes from does not matter", said Ahangama, who was already happy that cricketers from the outstations are now trickling in to play for SSC.
However, the coach was dejected that two of his players Suranjith Silva and Hemantha Wickremaratne were overlooked for the Sri Lanka A pool. "Suranjith captured 31 wickets with his leg breaks, while Hemantha notched up over 600 runs inclusive of three hundreds in eight games but both players have failed to catch the eye of the selectors."
---
The never changing game in never changing India
A team of past Sri Lankan cricketers embarked on a short tour of India on invitation and returned a few days ago having experienced a memorable tour. For me it was a return to India after quite a while with my last outing there being as far back as 1982.
The games were titled Sri Lankan Masters versus the Indian Masters and it was cricket played very seriously and competitively, yet without the venom of the big game.
Nothing seems to be different, nothing seems to change with India. Millions of people all over the place, ungainly looking buildings of all sizes and shapes cluttered together, animals roaming about as they please.
Boringly similar types of vehicles speeding around, are all too familiar sights. The game of cricket progresses steadily on. There is a lot of cricket being played at different levels.
Many good Indian cricketers manage to survive on playing cricket and not having any other employment. This excludes those playing at National level and thus expands the life span of many players. Amongst those who played against us Madan Lal, Sandip Patil, Ashok Malhotra, Chetan Sharma and Sanjeev Sharma are of such status. They make their living out of playing in India and abroad, coaching, making public appearances and broadcasting. One who is much involved in broadcasting is Mohinder Amarnath. He played in one of the four games that took place.
It is indeed a very important aspect of cricket to keep experienced cricketers in the game. Their presence is valuable for the team and the younger players. The longer you stay in the game the more you absorb about its fascinating art that it becomes so valuable when teaching and coaching.
Four games of cricket were played in all, starting in Jodhpur, then in Jaipur, Bombay and finally in a town called Rasaanya which is about 100 kilometers from Bombay. The first two were of 35 overs duration, then 30 overs and finally a 40 overs game. The final score read two games to each team, so the series was an honourable draw. It must be mentioned that the third game (which was won by the Sri Lankans) was more a social event. Then again a game is a game! Personalities like Sunil Gavaskar, Salim Durani and journalist Rajan Bala graced the occasion.
The best individual performances for Sri Lanka came from Roy Dias, Hemantha Devapriya and Guy de Alwis with the bat, while Asoka de Silva and Ranjan Madurusinghe excelled with the ball, Best for the Indians were Madan Lal, Ashok Malhotra and Syed Kirmani who stood behind the stumps. Most significantly with the Indians was their exceptional ability to play the spinners without difficulty. The slower pitches with some turn needs an amount of adjusting to, both when batting and bowling. That is another experience.
As expected the weather was extremely hot. The organizers were sensible in commencing the games early. Our game started as early as 7.30 in the morning. No chance of late nights for the veterans!
What was most impressive was the condition of all the grounds. The outfields were lush green but the ball ran very fast due to the hardness underneath. Obviously well irrigated and well manicured. These grounds are not current test venues so it makes it even more commendable that such effort goes on the maintenance work.
It was twelve days renewing old friendships. Even we in the Sri Lankan team had the opportunity of getting together after quite a while. Masters cricket is getting popular. There is still more training to do, still more fine tuning of technique. It's a game where you never stop learning.
---
Dancing the devil with cricket
By Nalin Fernando
The Daily News, the official mouthpiece of the Ministry of Sports and Cricket Board President Sumathipala, reported on Saturday , May 2, that Minister Dissanayake had told Sumathipala to hire an Australian psychologist to motivate the sagging national cricket team. He was following the advise of Sports Medicine Institute's Neurologist, Githanjan Mendis.
Cricket fans applaud the imagination of the Minister of Sports to support the neurotically motivated suggestion of the Sports Medicine guru, and hire the psychologist, who "will improve sustainability at the wicket and concentration".
Chuck gudu fans of yesteryear will recall that similar action was taken by a past Minister of Sports when the national gudu team, after winning the World Cup, got bogged down in the lower depths of performance. He sought the help of an Australian Aborigine witch-doctor, who was a reputed motivator and psychologist, to work with the coach of the gudu team who was also an Australian.
After sometime, they found that the Aborigine language would be as foreign to the team as the Australian English spoken by the coach. The witch-doctor's proposal was cancelled and a famous Moratuwa 'kattadiya', Charlie Gurunnanse, was hired. The Australian gudu coach promptly resigned. The Minister of Sports and the Cricket Board President had a hearty laugh because they had both betted 2 to 1 that the Aussie coach would soon go 'down under'.
Charlie Gurunnanse was not only a motivator/psychologist, but also a part-time psychotherapist, and although he was unfairly called Psycho The Rapist by jealous competitors, he was as good as any Greek to massage a stiff muscle or even become a sports administrator.
Charlie had some difficulty in persuading the five-star hotel into which he was booked to allow him to share his room with his sacrificial cockbird. The management did not mind wives, fiancees or girl friends, but it took some urging to agree to accommodate the cockbird.
The 'kattadiya' began his motivation course at the Cricket Board indoor gymnasium the day after he arrived in the metropolis, and vowed that the national gudu team would improve their sustainability and concentration in seven days.
Starting early morning, he subjected the team to various rituals, collectively and individually. They were put through a rapid course of devil-dancing to improve their mobility in the field. A 22 carat gold chain and a 'kaneru' gudu stick were displayed, and the team were asked to alternate their concentration on the two, meditating that one would supplement the other.
Their diet was regulated; sausages were replaced with seer fish caught at Koralawella (and sold by Charlie's son), 'thambili' stood for beer, and three meals of rice and curry, partaken by the captain and his deputy, were cut to two, and string-hoppers and 'miris malu' for the third. Gambling, other than on horses, was forbidden.
A few players were overcome by the ritualistic atmosphere of burning incense and chanting, while a turmeric-stained cockbird strutted around, oblivious to his fate. One of them grabbed a drum from one of Charlie's acolytes, beat it in a frenzy, while the others broke into "Punnsandapaya Moratuwa Dilenna". Before long, the entire team, except the skipper, who had fallen asleep, were dancing, while Charlie sneaked into the toilet where he had placed a bottle of medicine for his own sustainability and concentration. The day after the course was over, Charlie Gurunnanse informed the press that he was pleased with the response from the team to his directions, and that once again the national gudu team would achieve world honours. He had, he said, prescribed a minor follow-up to his efforts to be dispensed by the Sports Medicine Institute to cap it all.
The Minister of Sports, who presided at the press conference, had joyful visions of hugging the World Cup trophy once more, and falling asleep, rather than hugging a female athlete and losing sleep.
Next, the team played a friendly match against some players cast away for no valid reason from the national pool.
Charlie's angels suffered a humiliating defeat. Their sustainability at the gudu hole was that of a mating sparrow, and their concentration was for similar birds.
The press rushed to Moratuwa and quizzed Charlie. He denied any responsiblity for the debacle, insisting that he had done everything required of him.
"It is the sports medicine doctors who let me and the team down", he said. "They failed to give the players the follow-up shot of Mandrolone". The Minister of Sports dissolved the Sports Medicine Institute that very night, and he and the Cricket Board President took flight to Japan to sign a television rights contract.
---
Arjuna, my son
By Bandula Jayasekara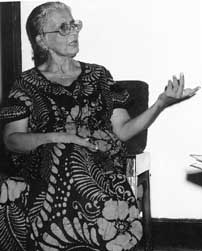 Arjuna Rantunge's mother, Nandani Ranatunge has been a teacher for 28 years, educating children on Economics and Western History at Dharmapala Vidyalaya in Pannipitiya, Bandaranayake Vidyalaya in Gampaha and at Ananda College.
Mrs. Ranatunge, who has a soft spot for debating and social sciences, loves music and reading. I met her at her Trichborne Place residence and found the interview difficult, as she kept on saying "All my sons are equal and I love them all". We persuaded her talk more about Arjuna.
Arjuna Ranatunge was born on November 1, 1963 to Reggie and Nandani. All the brotherts were keen sportmen, with big brother Dhammika leading the six- a-side team, followed by the younger ones Prasanna, Nishantha, Sanjeewa and Ruwan. Arjuna was a keen swimmer and an athlete.
No. 180, Udugampola was a busy address for the six boys who played cricket with their cousins from their younger days. It was an open house for everybody, and it's where Arjuna cut his cricketing teeth. Mrs Ranatunge remembered,"It was Dhammika who liked cricket more and Arjuna accompanied Dhammika for practices under Lionel Mendis. But one day Mr Mendis told me," I know that little fatty (Dhammika) is your son, but that little fellow with a little swimming pool, (notice the pool when Arjuna smiles), is greatly talented and I'll take him over because his future is bright. Lionel Mendis was right and the rest is history.
Little Arjuna was a fighter who behaved well. His mother did not get any complaints from outsiders or teachers. He shared a lot, was concerned for others, and took the side of the weak and the poor. "All my sons loved me a lot and I remember how protective they were of me when we were travelling by train from Gampaha. Arjuna used to get into the ladies' compartment, budge into the ladies and ask for a seat for me. Elaborating on Arjuna's meals, she said, "He loves his food, rice and curry, prawns, crabs and fish, but he can get used to any type of food.
The Ranatunges are a very united family. When they have problems they get together and discuss how to get about things. But they are taught to fight their own battles. Arjuna is no exception. According to Mrs Ranatunga some of her boys couldn't prove their talent because of Arjuna's captaincy, as people say he is a captain.
"Our family never entertained ambitions, but provided proper facilities to our children. I had to get close to Arjuna because my husband was too busy, and never watched any match, not even on television, but I have seen all the matches during and after school. I have also seen him injured".
Mrs. Ranatunge is loved and respected by everybody. In short she is a contented person.
She is proud that Arjuna is the captain of the Sri Lanka team, but sees it in a critical way, as one has to weigh both sides, and one has to lead from the front like true men do. "He can be the captain of the Sri Lanka side, but I am the captain at home", said Mrs. Ranatunge. Mrs. Nandani Ranatunge said that Arjuna's nomination as the Midweek Mirror's Man of the Year is another feather in his cap. Also, she remembered two outstanding moments.
First, was when Arjuna won the Schoolboy Cricketer of the Year award, having gone through many difficulties in life. Her expressions changed and she said "I sobbed on the stage that day, and my son never looked back since then. World Cup victory was a dream but I was depressed at one point, then chanted pirith, felt better and what I witnessed thereafter was unbelievable. It rained, but the parents were taken to the dressing room, we hugged, cried, sang and danced". It was her son who led that battle. Arjuna is a rare world cricketer, because he is the only cricketer and also the captain who does not appear in any advertisement. He listened to his loving mother when she said ,"my son is not for sale". Mrs Ranatunge shared a little secret with me, when she said,"He loves to sleep on my bed whenever he comes home. He is still my little son who shuns publicity, but likes to give generously and visit the sick, and the injured soldiers".
Nandani Ranatunge, advised Arjuna to leave when he was on top, and not as a defeated man. If you call Arjuna 'Captain Marvel' or 'Captain Cool', what do you call his mother Nandani?
Mother Courage!
(Reproduced from the Midweek Mirror Special Souvenir to mark The Man fo the Year 1997.)
---
Thurai is the best bet
To look into the medical aspects of the Sri Lanka cricket team...
By Bernie Wijesekera
It's given to understand that a doctor will be in attendance with the Sri Lankan cricket team, to look into the medical aspects of the players rather than giving the responsibility to the physiotherapist, according to Cricket Board sources.
Overtures will be made to the Ministry of Sports, to release one of their doctors to be in attendance. The Cricket Board must be commended for delving into this all- important area which is a crying need.
Whoever, is assigned with this job, must be highly qualified in sports medicine and in sports, that could meet the requirements of the injured player and put him right without much delay.
It has to be a highly qualified professional man, that, too with experience and not a mere general practitioner, which is not going to help the player problems.
The best and most qualified professional in sports medicine is Major General rtd., (Dr) C. Thurairaja, for the job. Nobody can deny that he is the best in the country, who has done a yeoman service for the sportsmen in their hour of need. Most of the sportsmen, be it rugby, cricket, golf, tennis etc, have benefited from his soothing hand and advice. He was the Commander of the Army Medical Corp.
Better known as 'Thurai' in sporting circles he has done a marvellous job where several sportsmen have benefited from his knowhow. A good example is Sri Lanka's ace golfer Nandasena Perera, who will vouch for it. He is a personality, who never put the injured player into a state of panic, but gave that much needed confidence to overcome the agony with his charming ways. Not only sportsmen, but personalities like late Lalith Athulathmudali was one of them where 'Thurai' put him right.
A great humanitarian, he has done a wonderful service to those sportsmen and others in the armed services for which amiable present Army Commander Rohan de S. Daluwatte will testify.
An old Royalist 'Thurai' have indulged in many sports, like cricket, golf, tennis, rugby, and badminton, where he has performed with distinction.
None of the men in the Sports Ministry medical fraternity could match his skills, when it came to sports medicine. The Cricket Board hierarchy should make overtures to Dr. Thurairaja, to help them, sans politics. Of course, he believes in discipline and no-nonsense, but adheres to his line of thinking on and off the field.
The others, who could come close to him, is former Sri Lanka wicket-keeper, batsman, Brig. (rtd), Dr. H.I.K. Fernando, who has abundant knowledge in sports and has the time to devote.
There is another personality, who could match the skills of any member of the sports medicine fraternity. He is the Consultant General Surgeon and the President of the Sri Lanka Rugby Union, Dr. Maiya Gunasekera, a great inspiration to the ruggerites. Dr. 'Maiya' is an ardent supporter of sports and a firm disciplinarian and an administrator, but hasn't much time to devote like 'Thurai' or H.I.K., due to exigencies of duty off the field. But still he could spare some time if he is required.
But 'Thurai' is the best bet, to serve in this all important slot.
He has the ability to motivate the players, too. Why bring foreigners at great expense? It's like carrying coal to Newcastle.
"Thurai' has been elected a member of the Sports Council - a good move by Minister S.B. Dissanayake.
---
Exciting draw at Jo'burg
The new ball was taken and now began a race against the clouds that were gathering over Wanderers. McCabe was now going full throttle and Australia's 250 came up in 199 minutes. Then with Australia at 2 for 274 - McCabe not out 189 and Darling not out 37 - came that historic appeal.
By Bruce Maurice
The second Test between South Africa and Australia played at Johannesburg in 1935 was one of the most exciting Test matches ever played, but it ended in a draw.
The South Africans were very confident of beating Australia as they had beaten England earlier that year though they were without H.B. Cameron, their wicket-keeper and batsman. Cameron had contracted Enteric fever and died on board while the team was returning from England. But Australia were also without Woodfull and Bradman. So Victor Richardson led the side with Stan McCabe as deputy.
Australia had won the first Test at Durban, but South Africa were confident of levelling the series at Johannesburg. Australia were equally confident of extending their lead. And though there was no Bradman, they still had Fingleton, Brown, Richardson, Len Darling, McCabe, Chipperfield, Oldfield, McCormick, O'Reilly, Grimmett and Fleetwood-Smith.
On the morning of December the 24, Wade took the first trick when he beat Richardson to the toss. But with the total only at 11 Mitchell got an edge to McCormick and Oldfield took an absolutely brilliant catch. Siedle was caught by Chipperfield and Nourse's leg stump was sent flying before he could bother the scorers and South Africa were 3 down for 50. McCormick's figures at this stage was 9-4-26-3. Richardson now brought on Grimmett and three more broadsides were fired, and out of the limping wreck floated the bodies of Wade, Briscoe and Langton. At lunch South Africa were 6 down for 78. Shortly after lunch they were all out for 157.
When Australia went in Fingleton and Brown put on 105 for the first wicket. But just before close McCabe was caught off Langton for 34. The mext morning before the crowd had time to settle, Langton sent Richardson's stumps cartwheeling and then had Chipperfield caught in the leg trap. From 105 for no loss Australia were now reeling at 5 down for 174. But now came Len Darling and Oldfield and these two with a series of glorious strokes brought 200 up. But at 209, Darling was run out to a briliant piece of fielding. Oldfield drove a ball wide of mid- off, called and ran. Darling took off.
Langton threw his right hand out, picked up and as he was reeling overthrew the wicket down with Darling stretching for the crease. With Darling's wicket the game began to swing South Africa's way. Mitchell then ran through the tail and Australia were all out for 250.
When South Africa went in, again Wade's intentions were clear. He was going for the Australian attack from the word go, an he himself opened with Siedle. Unlike in the first innings McCormick lacked line and direction and twice in his first over wide deliveries went for boundaries.
In the next over Siedle drove to the covers and ran. Wade yelled, 'No', Siedle jammed brakes, turned and just managed to beat the throw by inches. Wade now hooked and pulled McCormick in one over for three consecutive boundaries. In the next over Siedle straight drove O'Reilly for another two boundaries and in 30 minutes the 50 was up. Richardson now brought on Grimmett and Wade playing for the break was LBW to a ball that came through straight with top-spin. Then Siedle playing for the straight one was bowled by a leg-break from Grimmett and South Africa were 2 down for 89. Rowan was in the meantime defending for all his worth and Richardson and Fingleton were coming closer and closer in the leg-trap. 'Wasting your time Vic', Rowan told Richardson. O'Reilly then dropped one short and Rowan swung in to it.
As Richardson and Fingleton swung and ducked for cover, Rowan told Fingleton, 'I hope you see Australia again Fingo.' But Richardson had the last laugh. Grimmett hit him on the pads, swung round and asked the question.
Up went umpire Ashman's finger and South Africa lost their third wicket. 'There's your ticket Eric,' said Richardson as Rowan headed indoors.
At this stage Grimmett had all 3 wickets for 20 runs. Mitchell now came in at No. 4 and Nourse at No. 5. Richardson remembering that Nourse was vulnerable to pace early in his innings was thinking of bringing back McCormick.
But Grimmett had already taken 3 wickets and Fleetwood Smith had dropped in to a length. So he decided to continue with the double spin attack. Grimmett at one end was turning circles round Nourse and bowled four consecutive maiden overs to him.
After waiting for 25 minutes to get off the mark, he drove Grimmett gloriously through the covers for four, and now was to come one of the greatest innings in Test cricket. In the next over Mitchell off-drove, cover-drove and pulled Grimmett for three more boundaries. At tea South Africa were 3 for 132, with Mitchell on 28 and Nourse on 14.
McCormick came on after tea and Nourse cut him between Richardson and Chipperfield for four. Richardson at once gave McCormick more slip fielders until he had five in all. But Nourse cut McCormick for three more fours and overtook Mitchell in the thirties. He then flicked Grimmett and McCormick off his toes for two more boundaries. O'Reilly came on and put the brakes on by bowling four consecutive maidens to Nourse.
In the next over he pulled O' Reilly through the leg-trap for 4 and went to his 50 in 90 minutes. Actually his 50 took only 65 minutes as he had to wait 25 minutes to get off the mark. But with his score at 65 he gave a brute of a chance to Fleetwood Smith and then pulled the very next delivery for four. Mitchell by now had dropped anchor and Nourse surged on. First he lay back and square-cut Grimmett for four, he then came down the wicket, drove and pulled O'Reilly for two more fours, lay back and hammered Grimmett through the covers for four and then moved down the pitch and drove O'Reilly wide of mid-on for another 4. Up came the 200 and McCormick took the new ball. At 219 South Africa lost their fourth wicket. Mitchell got an outside edge to McCabe and Oldfield snapped up the snick. He and Nourse had put on 129 for the fourth wicket and Nourse had made 76 of them.
Next man in was Briscope and immediately Nourse hit McCormick for 11 runs in one over. When the last over of the day began, Nourse was on 98 and the crowd was howling in anticipation of his hundred. But he played out a maiden and at stumps South Africa were 161 ahead with Nourse not not out 98.
When play resumed the next day a North-Westerly blew up dust from thie wicket and Australia were in a state of panic as they had to bat last. On resumption Nourse immediately brought up his 100 and then square drove and off drove O'Reilly for two successive fours. Then at 160 Nourse gave his second chance. Going down the wicket to Fleetwood-Smith he was beaten by the left hander's 'Bosie' and for once Oldfield was also beaten by the turn. Nourse then pulled and straight drove Fleetwood-Smith for two more boundaries. He then hooked O'Reilly for four and Nicholson hit him for a massive 6 on to the roof of the pavilion.
At lunch it was 5 for 370 with Nourse not out 179. Clouds were now gathering over Wanderers and bad light and rain held up play for 15 minutes. When play resumed, Nourse hooked Fleetwood-Smith for 3 more fours to go to 199. Then brought up his 200 with a single in 276 minutes. But then Nicholson went LBW to Fleetwood-Smith for 29. Langton came in and lofted Fleetwood-Smith for a towering six and Nourse going full throttle was surging boundaries in all directions until it became an avalanche. Australia were now flat on the boards screaming for mercy and only hoping the end will not be too long in coming. At long last it came, when McCormic took an absolute blinder at cover and Nourse was out caught McCormick bowled McCabe 231 after batting for 298 minutes and hitting 36 boundaries. Bob Crisp made 35 and South Africa were all out for 491 lead of 398.
Australia then set sail with Fingleton and Brown chasing that distant 399. This on a fourth innings wicket that was dusting up and on which they had made only 250 in the first innings. Australia began disastrously when Brown was caught behind off Crisp and it was 1 for 17. And now came Stanley Joseph McCabe to play one of the greatest innings of this century.
It was 4.20 when they lost Brown. Clouds were gathering over Wanderers and the wicket now turning at right angles. But McCabe was on the warpath. With a series of glorious cuts, pulls, drives and hooks he had the South African bowlers by their throats and in just 35 minutes he raced to his 50 with 10 boundaries. However, at 4.55 the light was just impossible, so he and Fingleton came off for the day.
---
Square pegs
The Great Betrayal - V
By Neville Abeygunawardene
If ever there was a piece of legislation enacted by the highest legislature of this country, yet torn to shreds and in virtual tatters, and that too in the eyes and ears of the very legislators, its none other than the Sports Law of 1973 which irrefutably stands as an incomparable legislative misnomer that entered the statutes of parliament.
Incidentally this salient piece of thinking is credited to that amiable K. B. Ratnayake then minister for sports. The reasoning of this grand old K. B. was based on his steadfast belief that if our sport were to reach a degree of excellence internationally, it could only be through the perceptions, programmes, directions and guidance of those who have excelled in the sport at the highest level.
This dangling debonair politician who had himself been a modest participant at cricket, soccer and athletics was indeed wary of the new breed that held reigns in the national associations sans a modicum of active experience, while those who had the experience and expertise at the highest levels of competition were denied their places by design.
It is to arrest this situation that he prudently brought in the regulation No. 13, which in essence required a person aspiring to hold office in a national association even as a committee member other than as treasurer, to possesss an active playing record in the sport and that too at a major grade of competition.
This particular regulation if it was strictly enforced, by now our Olympic disciplines technicaly would have been a pride of Asia, but sadly it was not to be.
Came the regimes of the late Vincent Perera and Nanda Mathew and these requisites were gone with the wind. This regulation was subject to both trickery and treachery with the present ministry making it a further mockery.
Today these deliberate violations of the qualifying rule has snowballed into such a woeful state that it has literally made a mixed broth, only palatable for confused heads.
The media on behalf of the country and its people must necessarily expose this sinister attempts of a selfish few, and if it does not stand up to this very conspicuous hocus-pocus it would have unwittingly though, contributed to the inevitable decadence of our olympic disciplines. Politicians, professionals, businessmen, bookmakers and the blued-eyed satellites of the powers that be are brought in via pressure and political power to head our sports, unconcerned . These square pegs do not even fit into a square hole. It is evident that the present ministry of sports headed by its high brass, orchestrate the necessary changes in the top slots of national associations, on very personal and political levels.
The exit of Mahinda Rajapakse a seasoned campaigner for and on behalf of the poor and humble as president of the AAA, the ongoing battle with minister Fowzie as president on the Cycling Federation, and the tacit support of an official to serve as a top brass in the AAA, when this official was alleged to have been responsilbe for the loss of an article that was in his custody while serving as a senior offical in another ministry and was suspended, speaks so much for the morals and conduct of the sports ministry.
---
Soccer World Cup, a brief history
Paris (AFP) - Mexico hosted the 13th World Cup finals less than a year after being hit by a massive earthquake that left 30,000 dead.
As in 1970, the players had to endure searing heat and thin air - and midday kick-offs, thanks to television schedules.
The match of the tournament took place in the quarter-finals, when Zico's Brazil faced Michael Platini-inspired France, who had already knocked out holders Italy, in Guadalajara.
A marvellously flowing match finished 1-1 before France won the penalty shootout 4-3.
Diego Maradona, was, meanwhile, establishing himself as the star of the tournament.
The Argentine's infamous Hand of God goals when he punched the ball into the net, and a spectacular solo effort put paid to England in the last eight and he produced more magic to see off Belgium in the semi-finals.
Resilient West Germany beat France in the semi-finals, just as they had four years earlier but in the final they were quickly 2-0 down to Argentina, Jose Luis Brown and Jorge Valdano scoring.
Somehow the Germans recovered, Karl-Heinz Rummenigga and Rudi Voller netted in at the closing stages to force extra-time, only for Maradona, inevitably, to send Jorge Gurruchaga through for the winner. Not since Pele in 1970 had one man so inspired a team to glory.
1986 Legends
Diego Maradona (Argentina, Argentinos Juniors, Boca Juniors, Barcelona, Napoli, Sevilla, Newells Old Boys). The most gifted footballer since Pele, whose ability for creating headlines off the pitch is surpassed only by his astounding performances on it. Making his international debut aged 16, quickly revealed himself as an attacking midfielder with sensational technique, blinding skills and surpising strength for one so short. As his best he could simply win a free-kick, and score from it.
Used his stocky build and low centre of gravity to great effect and has left a giant footprint on every World Cup he has played in.
In 1982 he was sent off for a disgraceful kick on a Brazilian opponent as Argentina crashed out before the semi final.
But in Mexico in 1986 he was simply unstoppable as Argentina triumphed.
An outrageous handball goal - "It wasn't the hand of Maradona it was the Hand of God," he said - and a dazzling solo effort past six defenders put paid to England, and he produced another sensational zig-zag dribble in the semi-finals against Belgium.
When West Germany recovered from 2-0 down in the final, it was Maradona's whose first-time throughpass set up Argentina's winner.
Four years later he inspired an ordinary and highly negative Argentina side to the final, finishing it in tears as West Germany won with a penalty.
At USA 94 he was back, seemingly slim and sharp despite a series of drugs problems, only to be sensationally kicked out of the tournament after testing positive for a cocktail of amphetamines.
He is especially revered in Naples, Italy where he inspired Napoli to their first ever Italian championship in 1987.
Never out of the headlines, his comeback in 1997 was interrupted when he failed yet another drugs test. He has amassed 92 international caps.
Gary Lineker (England, Leicester, Everton, Barcelona, Tottenham, Grampus Eight)
Clinical goalscorer second only to Bobby Charlton in the all-time England goalscoring record with 48 from 80 caps. Missed chance to equal the record when he tamely chipped a penalty straight at the goalkeeper in a friendly against Brazil.
Fast off the mark and immensely cool under pressure, he often stroked the ball into the net rather than blasted it. The vast majority of his goals came from close-range.
Saved England in the 1986 finals when he scored a hat-trick against Poland. Further goals against Paraguay and Argentina saw him finish top scorer with six goals.
At Italia 90 he was coolness personified in scoring two penalties to see England past Cameroon and then equalising late on against West Germany in the semi-finals.
Never won a domestic league title at club level. International career ended when he was controversially substituted while captain by then coach Graham Taylor in a disastrous European Championship qualifying defeat in Sweden in 1992.
Lineker, known as Mr. Clean for his record of never having been booked in his professional career. Currently pursuing a career in the media.
Emilio Butragueno Sanchez (Spain, Castilla, Real Madrid) Gifted centre-forward whose intelligence and smart finishing saw him grab four goals as Spain demolished gifted Denmark 5-1 at the 1986 World Cup.
"The Vulture", as he was nicknamed, was rejected as a youngster by both Real and Atletico Madrid.
Made his name later with Real, helping them to dominate Spanish football in the late 1980's and with two UEFA Cups.
Holds the Spanish goalscoring record with 26 goals from 69 internationals.
Rudi Voller (West Germany, Kickers Offenbach, 1960 Munich. Werder Bremen, Roma Marseille, Bayer Leverkusen)
A real goal poacher who was inspirational in West Germany's surprisingly strong showing at the 1986 finals in Mexico.
Not particularly big, but strong on the ball and super-efficient at dispatching half chances, as he showed when scoring late in the final against Argentina to make it 2-2.
Managed 43 goals in 84 appearances for West Germany, helping them to victory in the 1990 World Cup in Italy with three goals in the opening stages.
He was then sent off against Holland together with Frank Rijkaard for fighting, with the Dutchman spitting full in Voller's face as they trudged off the pitch.
Returned in time for the final against Argentina, and craftily won the penalty that clinched the cup for the Germans.
1986 Trivia
Mexico became the first country to stage two Finals after the original hosts Colombia, financially bankrupt, withdrew their application.'
Denmark, Iraq and Canada were making their debuts in the finals.
Eight venues were used for the 52-match programme. They were: Guadalajara, Peubia, Leon Queretro, Irapuato, Toluca, Monterrey and Mexico City.
The opening game between the holders Italy and Bulgaria ended 1-1. Alessandro Altobvelli, scorer of Italy's last goal in the 1982 final, became the first player to score in this tournament.
Iraq were denied a goal in their first World Cup game, which they lost 1-0 to Paraguay, when the referee blew his whistle a split-second before Ahmed Rhadi's header crossed the line.
Ray Wilkins became the first England player to be sent off in the World Cup final when he was red carded in a 0-0 draw with Morocco for throwing the ball at the referee.
Mexcio's 1-1 draw with Paraguay in the group stages featured 55 fouls. The referee was England's George Courtney.
Uruguay's Jose Batista was sent off after just 55 seconds for hacking down Gorden Strachan in a 0-0 draw with Scotland.
Gray Lineker saved England's bacon by scoring a hat-trick in a 3-0 defeat of Poland that saw them edge into the second round. They had earlier lost 1-0 to Portugal whose players had threatened to go on strike just before the match over bonus payments.
Holders Italy were eliminated when they lost 2-0 to France.
On his 41st birthday Northern Ireland goalkeeper Pat Jennings gained his world record 119th international cap against Brazil. After the game, won 3-0 by Brazil, Jennings announced his retirement.
England made their exit in the quarter-finals, beaten 2-1 by Argentina.
Both their goals were scored by Diego Maradona, the first a deliberate handball he 18LABELled "the Hand of God" after the match, the second a stunning individual effort.
Three of the four quarter-finals went to penalty shootouts. Hosts Mexico were eliminated by West Germany 4-1 after a 0-0 draw, Brazil went out to France 4-3 after a thrilling 1-1 draw, and Belgium beat Spain 5-4 after a 1-1 stalemate.
West Germany became the first country to reach the final for the fifth time after they had beaten France 2-0 in the semis.
In this match Frenchman Daniel Xuereb completed an alphabet of players names used in World Cup action.
Argentina's Marcelo Trobbiani made his one and only World Cup appearance as an 88th-minute substitute in the final against West Germany, equalling the record for the shortest World Cup career set by Tunisia's Khemalis Labibi in 1978.
The 52 games produced the highest overall attendance figure of 2,285,498 and record profits of 30,281,690 million pounds.
The final had been watched by 580 million TV viewers around the world with a total audience of 12.8 billion.
But the 132 goals produced the World Cup's lowest scoring average of 2.54 per match.
Top scorer was Lineker with six goals, the first England player to achieve the feat. Argentina were the highest overall scorers with 14.