Mirror magic

Young artist Maheshi Munasinghe will exhibit her unique mirror art at the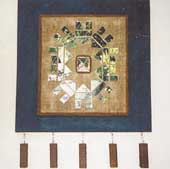 Lionel Wendt Art Gallery next weekend (23 and 24)
Maheshi 26, created these designs using pieces of mirror and local fabric, jute, coir, terra cotta etc..
An interior designer and decorator by profession Maheshi has always been clever with her hands. At Ladies College, Colombo where Maheshi schooled, she excelled in hand work. Among her creative designs, are a set of very realistic portraits of Sri Lankan birds using their own feathers.
Maheshi lives in Kurunegala. She says that the creative flair runs in the family.
---
Di's secret letters exposed!
Sensational love letters from Princess Diana to James Hewitt were rescued by The Mirror newspaper in London last month. The 62 hand-written letters had been taken from a safe at 39-year-old Hewitt's Devon home while he was abroad on business. They were snatched by his fiancee, Italian beauty Anna Ferretti, 39, who then tried to sell them for £150,000. The letters were immediately handed to Kensington Palace officials who thanked The Mirror for their safe return. Many were written at the height of her affair with the man she adored.
Cheating Anna Ferretti walked off with the sen- sational Diana love letters so she could sell them before hard-up fiance James Hewitt. Anna, who tried to hawk the notes for £150,000 after they were plucked from Hewitt's safe, said: "James has been having financial problems lately because his riding school business is not going well. "He's always known these letters are worth a fortune, maybe millions of pounds. In recent weeks, he's been talking about selling them.
"I knew there was a lot of interest and there was no time to lose. I decided that I would sell them before he could. He can be devious and now I've shown him I can be too. It was a race against time."
Anna also said in broken English that she wanted money to recoup the £30,000 she claims she has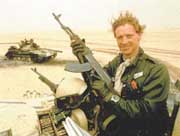 spent on Hewitt, 39, since they became lovers last December.
In the sensational letters, Diana pours out her heart to her then lover. At the time, Hewitt was a dashing Army major.
Most of the notes were handwritten on pale blue, sealable airmail paper between 1989 and l991 when their love affair was at its height. They were then posted to Hewitt at his army bases. In her distinctive, looping writing Diana confides in Hewitt about her catastrophic marriage to Prince Charles, her children, her charity work and her hopes and dreams for the future. In some, she signs off as "Julia." In others, she signs herself "Diana" or just "D," followed by a kiss. On the back of envelopes, she wrote the name and address of an intermediary who was posting the letters.
It is clear from the moving and emotional notes that Diana was head over heels in love with Hewitt. In her famous Panorama interview she said she had "adored" him. For years, there has been speculation that Hewitt kept the notes which he collected together in a tatty A-4 envelope. But last month's revelations are the first proof of their existence. Their dog-eared condition shows they have been read time and time again. On some, the ink has smudged and in others some the writing has started to fade.
When widow Anna, 39, met Hewitt in Monaco in December last year he told her he was still grieving after Diana's death in a car crash four months earlier. Within weeks, Anna claimed, he had fallen in love with her saying she was the only person to help him through his lingering grief. In February Hewitt asked her to marry him. Anna, who has a 20-year-old son by a millionaire husband who died two years ago, accepted. By now, Anna was spending weekends at her lover's £225,000 home in Bratton Clovelly, Devon, where he introduced her to his family and friends.
There, Hewitt allowed his fiancee to read the world's most sought-after collection of love letters. But as the weeks went by Anna became convinced her lover was making plans to sell the notes for his own gain. Determined to stop him in his tracks, and get her revenge on him for his alleged meanness, she plotted her great betrayal. Anna came to The Mirror's Canary Wharf headquarters with her accomplice Jean-Marc Medecin. Then she unveiled her plan. She said she knew where the Di letters were kept and to dispel our doubts produced two of the notes from her Prada handbag.
Anna claimed she could easily take the letters from a drawer in Hewitt's bedroom and agreed to hand them to The Mirror for £80,000. To expose her plan, the Mirror strung her along for the next eight days. Anna arrived at the Mirror offices with Lucia, her sister and Jean Marc. The three were shown to a l9th floor room where two Mirror representatives were waiting for them. Seated at a boardroom table, Anna placed the 56 remaining letters in Hewitt's buff envelope in front of her. Clutching them tightly she said through Jean Marc, acting as her interpreter: "Let me tell you my conditions. I am taking a big risk here. I will be in a lot of trouble if I am found out. I want more money than I originally asked for. I want £150,000-£2,000 in cash and a cheque for £ l0,000 now."
The Mirror representatives explained that was too much money and said they would not be able to pay. They also pointed out she already had a contract for £50,000 from them. However the contract was for publishing the contents of the letters which they never intended to do. They had no intention of paying her. Anna said: "I need cash now so I can go and buy presents for James so he doesn't suspect it's me who has taken the letters. I will take them to Devon with me tonight."
Finally The Mirror agreed to give her £1,000 in cash so she could buy presents for Hewitt. She then unwrapped the letters. She said: "James keeps them all in order and has probably folded them in a certain way. Make sure you write down which order they are in so I can return them to his safe tonight without arousing suspicion." "Also take care of the envelope he keeps them in - he knows exactly how it's torn."
Anna let them take the letters away to photograph them and establish their authenticity. The three then asked for a driver to take them shopping. Anna demanded The Mirror meet her at 6.30pm to hand back her letters and drive her to Devon. The Mirror journalists did not keep the meeting. Instead they delivered the letters to Kensington Palace.
They were the love letters Princess Diana desperately tried to keep secret. She knew ex-lover James Hewitt's possession of 62 letters written by her during their five-year relationship posed a huge potential embarrassment to her.
She told friends they were a "ticking time bomb that will one day explode".
For Hewitt, they were a poisoned chalice - a pot of gold, yet one that would make him reviled if he ever revealed their contents. But as he faced public humiliation over a kiss and tell book Princess In Love, he was itching to reveal their contents.
Unable to resist blabbing, he arrogantly said to a newspaper when he was trying to sell his story in October 1994: "I've slept with Diana and I've got letters to prove it."
The sensational revelations led to fears in Royal circles that the letters could spell the end of her public life and further embarrass the Royal Family.
The 62 letters were written between August 1989 and January 1991. They all begin "Dearest James", "Darling James" or "My Darling James" and are signed off in her pen name Julia. Sometimes she changed it to Susie, once signing off with "Your adoring and devoted Susie". They are typical of a young woman in love missing her partner, but the overriding message is one of concern for the man who was later to betray her.
Strangely, the style and tone is more of that of a girl in the first throes of a love affair than the 29-year-old mother of two she was then.
Some letters are happy. Others are heartachingly sad. But even when she's feeling low she is careful not to off-load her misery on Hewitt. The postmarks show they were sent from Kensington, Paddington and even Highgrove, Gloucestershire. Hewitt has cruelly tried to use the letters to back up a claim that he had slept with Diana.
He said he called her "Dibbs" and she called him "Winkie". He made the astonishing revelations as he tried to tout his story. Inevitably, some details of the letters have already surfaced, thanks to Hewitt. He has claimed in the past that she wrote in one: "I shall always love you."
Hewitt passed some of the letters to journalist Anna Pasternak to paraphrase in a book about his relationship with Diana, Princess In Love.
He told her: "She sent me a stream of love letters during my long months in the Middle East during the Gulf War."
The book, published in October 1994, contains dozens of references to the letters. By then Hewitt was desperate. He had been made redundant from the Army after serving 17 years and fellow officers accused him of being a cad for trying to cash in on the relationship.
Hewitt also took his letters to a Sunday newspaper. Through friends, Diana let it be known that she was "bitterly hurt" by Hewitt's deception. Legally, the letters remained her copyright. But she was reluctant to sue, because she feared people would assume she was trying to hide something.
She was also still reeling from allegations that she was behind nuisance phone calls to art dealer Oliver Hoare.
At the end of 1995 Diana finally publicly admitted the affair in an amazing TV interview with Panorama reporter Martin Bashir, saying she had been in love with Hewitt.
Hewitt was immediately put under pressure to dispose of the letters.
Hewitt was visited by military officials at the Arundell Arms, Lifton, in November 1995. He was warned he faced a massive legal battle if he tried to reveal their contents.
But in July 1996, a leading New York publishing source claimed that "red hot" pages were being offered with a reserve price of £350,000. They dropped the letters, fearing multi-million dollar penalties.
But Hewitt would not be put off. He showed samples of handwriting, and phrases from the notes to journalists when he first tried to sell them to British newspapers in July 1996.
Apart from the series of letters sent during the Gulf War, the correspondence between Diana and Hewitt covered his stay at Salisbury Plain in 1988, when she wrote to him care of BFPO 648, an army address. Hewitt's letters to Diana got him into serious trouble when it was discovered he had written to her at Kensington Palace and at Highgrove on his regiment's headed notepaper.
A colleague revealed: "There was a terrible hoo-hah about that and James was told in no uncertain terms that he must be more discreet in future." Hewitt claimed he first caught sight of Diana at a high society party in Mayfair in the late summer of 1986. Describing their introduction, he said: "We faced each other with a mixture of shock and disbelief. There was no mistaking it. We both knew. Every nerve ending was raw and alive."
But the relationship soured when his official girlfriend Emma Stewardson exposed his friendship with Diana in a Sunday newspaper. It wasn't until 1995 that Diana publicly confessed. When asked "Were you unfaithful?" she replied: "Yes, I adored him. Yes, I was in love with him. But I was very let down."
After Diana's death Hewitt expressed remorse. He looked close to tears as he said: "The world has lost a very special person who has touched the hearts of millions. I would like to say how much I loved and admired her."
(Asia Features)
---
Call on me....
Fifteen simple words carved on a black- boardered plaque will provide the most telling tribute to Britain's Queen of Hearts.
They will be placed on the wall of the wooden temple that looks out on Princess Diana's island grave.
The 18th century monument, will be among a host of glorious memorials to Diana at her family home when it is opened to the public this summer.
But it is those few words, spoken from the heart two months before her death, that best tell her story for future generations.
"Who ever is in distress, can call on me: I will come running wherever they are."
Underneath will be writing: Diana, Princess of Wales, June 1997. A touching epitaph in a fitting place.
The temple-brought to Althorp House by one of her ancestors - is where Diana played as a youngster. On hot summer days she would chase her brother around it. Hide and seek between the pillars. Children's laughter echoing under its vaulted roof.
Now it will be her headstone.
Opposite the plaque carrying her words of love, will be another saying: Goodbye, England's Rose, Elton John, 6th September 1997.
Between the two will be hung a tablet with a simple silhouette of the princess on white marble, framed by carvings of white roses and forget-me-nots... the flowers contained in the wreath from Princes William and Harry that was carried on her coffin.
Above the portrait, will be the Spencer family crest and its motto Dieu defend-le droit, which means God defend the right.
The roof of the classical temple will feature her name in a carved scroll. Below will be a garden seat where members of the family can sit in private reflection.
Plans for the alteration to the temple - used as a summer house after it was brought to the estate from Admiralty House in London - were submitted to the local council by Earl Spencer last month.
He has also produced drawings of a 12 ft. stone urn and plinth which will stand near the princess' grave on the Oval Lake island - which will not be open to the public.
Made by artist Edward Bulmer, it will feature carved eternal flames emerging from the top of the urn, signifying the princess' brightly burning spirit.
On the side of the plinth will be a private family inscription.
It is understood Charles Spencer chose the grave side tribute after remembering childhood conversations with his sister about how many of the ancestors ended up in urns.
"The exact spot where it will be placed is a family secret," confides a family friend.
"But Earl Spencer could not leave the island bare without some mark that his sister is buried there. He will be consulting William and Harry and he hopes he has got the balance right - something which shows the dignity of her role and the humanity of her life.
Groundsmen will landscape the area and remove trees so the urn and temple are seen more easily from the rest of the estate.
Meanwhile work on the nearby museum of Diana's life is nearing completion and will be ready for the July opening.
Visitors will be taken from room to room showing every aspect of her life from childhood, her role as a wife and mother, her public works and up to her funeral.
"This is about putting Diana's life in to context," said the Earl. "I do not believe there should have been some huge glass structure on the edge of Birmingham portraying Diana as some sort of Monroe-style icon. What we are doing here is showing Diana as she was, and what she achieved but also where she came from and the family she was part of."
"I really hope this museum can do what nowhere else can do and that is to show Diana as a young woman whose life became extraordinary but who was part of a family."