30th November 1997
| | |
| --- | --- |
| It was sheer guts and determination all the way the the National Championships for the Disabled which commenced at the Sports Ministry Grounds at Reid Avenue yesterday. On left R.P Chrishan gets ready for the 100 metres dash. On right Chaminda Kumara in action in the Discus Throw. - Pictures by Sajeewa Chinthaka. | Contents |
---
Get back on track or you're out
AAA getting tough with Susanthika
By Annesley Ferreira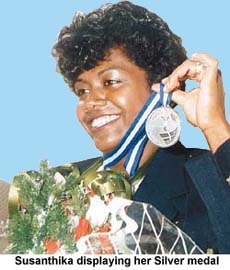 The controlling body for athletics in Sri Lanka has warned sprint champion Susanthika Jayasinghe that she must participate in the Golden Jubilee Nationals to be held in Colombo in two weeks, if she is to be considered for selection for next year's Asian Games and other international events. Amateur Athletics Association's Administrative Officer K.S. Kalinga told the Sunday Times yesterday the Nationals were scheduled to be held from December 12 to 15 at the Sugathadasa Stadium and the winners at the meet would form a national pool for international events.
An athlete might have won silver or gold medals earlier but if he or she did not participate in the Nationals without valid reasons the AAA would not consider that person for selection. Susanthika Jayasinghe, at the centre of a major national crisis during the past month over her allegations of a sex scandal at the Sports Ministry, has said she will resume training as soon as she finds a new coach.
In a recent interview, the World Games silver medalist who hopes to become the first Sri Lankan to win a Gold medal at the Olympics indicated she wanted to replace her long-time coach Derwin Perera who has been widely acclaimed as the man who brought out the extraordinary potential in her. Coach Perera responded graciously. He told the Sunday Times Susanthika was free to choose a new coach and he wished her well.
During the past week, Susanthika was away in the Sabaragamuwa Province attending an official ceremony organised by the UNP-controlled provincial council and other events. In one of her recent interviews, she said an Authority at the Sports Ministry had sexually harassed her and she would not be able to resume training unless that individual was out of the scene. Susanthika also alleged that the Sports Ministry had not given her what was promised and had not given the official documents for the two houses and vehicles given to her.
Amidst a countrywide uproar over the charges and counter charges, Sports Ministry Secretary K.M.B. Ratnayake said that all the necessary documents and other privileges promised to the sprint queen were being given.
---
Suranga a key player in the Sri Lanka pack
By Bernie Wijesekera
Twenty-year-old Suranga Amerasinghe, yet another outstanding product from Trinity College Kandy has already made his mark in the national team, when he played for the country as a schoolboy in 1996 as a lock forward. He is a player with a bright future.
Burly Amerasinghe, a member of the Sri Lankan team on tour for the World Cup qualifying round in Malaysia, made a tremendous impact for Trinity with a trail-blazing start which paved the way for him to reach stardom.
Youthful Amerasinghe was interviewed by The Sunday Times prior to his departure while undergoing training at Longdon Place. The lad has already made an impact for Kandy SC and for the country as a robust forward.
Q-What made you get interested in rugby?
A- Well Trinity had a cherished record in school rugby and has produced some of the best at national level. Rugby is a manly sport. It's a game where no quarter is asked nor given. But everything is forgotten after the match and camaraderie prevails.
Q-Who encouraged you to this manly sport?
A- Of course my parents gave me all the encouragement. To achieve something in life, be it on and off the field, it's the parents, who are the guiding light.
Q-Who coached you at the start?
A- Janaka Kiridena and Lohan Ratwatte. But later at the senior level it was Quentin Israel, who further helped me to improve my skills.
Under his tutelege Trinity rugby was in the forefront in the school scene. In 1996, the 'Lions' had a glorious season under his captaincy. The team won both legs of the Bradby Shield 30-3 and 12-3 a record in the traditional contest against Royal. Further Trinity also beat S. Thomas' to bag the De Saram Shield. It was a real team effort nursed and nurtured by Mr. Israel.
"While in school I joined Kandy S.C. in 1996. It was hard grinding playing against seasoned campaigners. But with the guidance afforded by Nimal Leuke and skipper Priyantha Ekanayake, it paved me to go places and gain national recognition to be a member of the Lankan team playing against Singapore and Thailand. The duo gave me all the encouragement to improve my skills. The first match was a World Cup qualifying match and the match against Thailand was in the quadrangular", said Suranga.
Q-Any other personalities, who inspired you to hit the top?
A-Yes, rugby promoter Malik Samarawickrema, a man of few words, helped me greatly. It was not only me, who benefited from his helping hand, other needy promising players too be it Kandy S.C. or otherwise, received his help, he added.
"After reaching the higher level former Trinity rugby maestro Ajith Abeyratne and national coach Ana Saranapala did much to further improve my rugby skills", said the soft-spoken Amerasinghe.
Q- Are you going to be with Kandy S.C.?
A- Yes. This year the white shirts won a triple crown, under Lasantha Wijesuriya with a stinted team effort. I don't believe in changing stables, for the mere sake of changing. I will strive to give of my best for the country and for the club as long as I am in the game, the Trinity 'lion' in rugby, assured.
---
Lanka's wheel chair champ in Oita race
Sri Lanka's wheel-chair marathon champion, Sandun Wasana Perera of the Nylander Home, Mahabage fared well this year too at the world's largest and most prestigious Oita International wheel chair marathon, conducted by Oita Sports Association for the disabled in Japan last week.
Sandun, 26 years of age,a paraplegic, was nominated by the ESO Rehabilitation Council for Disabled in Sri Lanka based in Egodauyana, Moratuwa.
He completed the 21.5 kilometres half marathon in 59 minutes 4 seconds and was placed 43rd overall among 216 wheelchair competitors. Last year his position was 72nd out of 220 participants.
In view of the steady progress made by Sandun, ESCO has decided to nominate him for the 1998 event as well. (AF)
| HOME PAGE | EDITORIAL/OPINION | NEWS / COMMENT | BUSINESS | PLUS
Please send your comments and suggestions on this web site to
info@suntimes.is.lk or to
webmaster@infolabs.is.lk