30th November 1997
| | |
| --- | --- |
| A section of the crowd leaving Savoy cinema after watching a special show of Kama Sutra only for women. The management hopes to have more shows of this nature in view of the encouraging response from the three previous shows. Pic by Lakshman Gunatillake | Contents |
---
By Imran Vittachi
An Eppawala delegation, opposing the government's move to award a $425mn phosphate mining contract to two foreign companies, is due to meet President Chandrika Bandaranaike Kumaratunga on Wednesday, representatives said last week.
A coalition of Buddhist priests, paddy farmers, ex-politicians, and old soldiers is vowing to take its case to the President saying it will defy her and mobilise popular resistance against the deal if it has to.
"The people will take necessary action to protest," Venerable Mahamannakadawata Piyarathana Thero, President of the Committee for the Protection of Phosphate Deposits at Eppawala (CPPDE), told a press conference in Colombo.
The group said it had at heart the welfare of up to 12,000 families living in-and-around Eppawala, Anuradhapura District.
Should the government go through with the deal, it would displace settlers and disrupt their lives, bringing untold environmental hazards, and also depriving the country of a potentially important source of fertiliser in as little as 30 years, protesters said.
According to the CPPDE, government officials had failed to properly consult with the people of Eppawala on the deal. Previous requests for an audience with President Kumaratunga had been turned down, protesters said.
"Up to date, they [the people] have not been notified in this regard," said Piyarathana, a priest who is stationed at Eppawala.
According to Board of Investment Chairman Thilan Wijesinghe, the mining deal, approved in August by BOI and the Cabinet, would be made official before the New Year.
"It would represent the largest ever manufacturing investment agreement signed in Sri Lanka," he told the Sunday Times in a recent interview.
Under the deal, Tomen Corporation of Japan and IMC Agrico — a joint venture between Louisiana-based Freeport-McMoran Resource Partners and IMC Global Inc. of the United States — would be allowed to extract at least 3mn metric tons of phosphate — in rock form — in just 11 years. The mineral, to be processed into super phosphates and other fertilisers, would be both exported and sold on the domestic market at reduced prices.
According to a copy of a preliminary document to the deal — released to The Sunday Times by the CPPDE — IMC Agrico and Tomen would be permitted to mine over an area of 56 km sq and add a buffer zone extending to 10km from the boundary.
"The Project Company will have the right to extend their exploration activities into the buffer zone as well, if found necessary," the document states.
Another point of contention, as far as the protesters are concerned, is the proposed construction by the investors of a processing plant and deep water dock at Trincomalee. The deal calls for the plant to be built on 450 acres of beach front, with an extra 300 acres to the East kept in reserve.
"We must protect our wealth for future generations," said Colonel Anil Amerasekara, an ex-Army officer who is also a staunch opponent of the government's devolution package.
Meanwhile, a merger between Freeport-McMoran Inc. and IMC Global Inc. (IGL) is imminent. In a statement faxed on Nov. 20 from its New Orleans headquarters, a Freeport spokesman announced that IGL, and not his company, would control all American equity in the Sri Lankan project, once the merger was concluded.
"Assuming this merger is approved by shareholders of both companies at a special meeting of stockholders to be held on December 22, 1997, IGL will have the sole U.S. interest in the proposed Sri Lanka phosphate project," Thomas J. Egan, Senior Vice President of Freeport-McMoran Copper and Gold, said in reply to questions from The Sunday Times.
---
By Bandula Jayasekera
A private airline which has been combing the skies of Sri Lanka since 1994 is making a strong bid to be designated as Sri Lanka's second international carrier.
The Sunday Times learns that the local airline, LionAir, has held preliminary discussions with the relevant authorities in this connection.
LionAir Managing Director Palitha Wijesuriya told The Sunday Times they hope to fly to Australia, Russia and Canton in China using a Boeing 767 and a TV154M to these destinations which are not covered by the national carrier AirLanka.
"Our aim is to assist the country in international aviation and we hope to co-operate with AirLanka when we make those routes viable," Wing Commander Wijesuriya said. AirLanka's PR chief Rienzie Perera said the appointment of another airline to operate international flights from Sri Lanka to certain destinations was entirely a matter for the airline concerned and the government.
He pointed out however that international air traffic was largely worked out by bilateral agreements between governments which often chose national carriers but had the descretion of designating others also. "However, AirLanka has no negative thoughts on this issue," he said.
---
Trade Minister Kingsley Wickremaratne told Parliament on Friday that as a nation "We over eat and as a result our productivity is the lowest in the region."
Speaking during the vote on the Trade Ministry he said: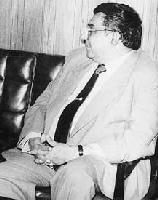 Minister Wickremaratne
"The basic problem with us is, as a nation, we overeat. As a result our productivity is the lowest in the region. A classic example is this very Parliament. Take the restaurant. We have three different kinds of rice, six or eight curries, Kolikuttu and Anamalu, curd and honey, watalappan and caramel pudding - a massive meal. There are arm chairs in our resting room and that is why there is no quorum in the House after lunch - no quorum in the work place - and productivity is at its lowest," Mr. Wickremaratne said during the vote on his Ministry.
It is astounding that in Sri Lanka, the per capita consumption of sugar is 32 kilos, wheat flour is 44 kilos, rice is 102 kilos which are among the highest in the world. Even the young suffer from diabetes, he said pointing out that in developed and newly developed countries people consume light meals such as noodles or rice with two curries or a sandwich or salad.
"That is why their productivity is high," he said.
"If we can reduce our overeating by 30% we could save 32 billion rupees and there would be no budget deficit. So let's start in the Parliament restaurant to reduce the quantity of our lunch by 30% and others too would follow suit. The country will be blessed with much healthier people. The cost of the food basket which is 40-50 % of the salary of an average person can be reduced drastically. By the turn of the century our population will increase to 21 million and we will have even more mouths to feed," the Minister said.
---
By Mohammed Qassim In Saudi Arabia
Saudi Arabia has requested time to study the new recruitment procedures introduced by Sri Lanka for Saudi employers, officials said.
The President of the Saudi Arabia National Recruiting Committee SANARCOM, Waleed Al Suwaidan told the officials from the visiting delegation from the Association of Licensed Foreign Agents ALFEA, that the employers in Saudi Arabia would follow the new recruitment procedures only after a careful study of the new set of regulations. He also blamed Sri Lanka for suddenly introducing procedures without consulting the recruiting agents in the Kingdom.
A six member delegation headed by W.M P Aponsu met Saudi officials to discuss the smooth implementation of the new labour regulations introduced by the Sri Lankan government .
Mr. Aponsu told The Sunday Times that it was reasonable for the SANARCOM to protest against the new procedures because there were several issues that need to be ironed out with mutual understanding. Although, the ALFEA, is a statutory body in Sri Lanka, the special task force which formulated the new procedures failed to consult the organisation in formulating the new regulations, he said.
---
By S. S. Selvanayagam
Some 200 Tamil detainees at Colombo's New Magazine Prison have launched another fast demanding that their cases be expedited and settled either way.
TULF parliamentary group leader Joseph Pararajasingham told The Sunday times yesterday these 200 detainees were among 1,000 Tamil youths who were languishing for several years in prisons, detention camps or police stations while the legal process was moving at snail's pace.
He again demanded that these youth should either be released or charges should be filed against them in a court for the law to take its course. Just keeping them for so many years was a crime against the Tamil youths, he charged.
The TULF leader said that the government had promised several times that the cases against the detainees would be expedited. But the promises were not honoured and this time the detainees would fast unto death till justice was done.
Meanwhile, The Sunday Times learns that the 200 fasting detainees were transferred to Kalutara.
---
LONDON, Saturday- Controversial author-in-hiding Salman Rushdie has launched an angry response to Sri Lanka's decision to axe the shooting of a television film based on his novel.
The island state off India bowed Wednesday to mounting opposition from minority Muslims and formally withdrew permission for "Saleem's Story", based on Rushdie's Booker Prize-winning novel "Midnight's Children", to be filmed on its territory.
"Unfortunately the forces of Muslim intolerance and political cowardice are stronger than those who wish to defend such things as the ability of writers to make films out of their work," Rushdie told BBC radio in London.
Rushdie, who worked 18 months on adapting his book for the small screen, is living under a death threat imposed in 1989 by Iran's then spiritual leader Ayatollah Ruhollah Khomeini, who accused him of blaspheming Islam with another novel, "The Satanic Verses".
BBC production staff who had been in Sri Lanka ahead of shooting the planned five-million-pound (eight-million-dollar) film, which was due to begin in January, will now return to Britain.
Producer Christopher Hall said: "We are deeply disappointed that permission to film this epic story has now been withdrawn following earlier agreement from the government of Sri Lanka and the National Film Corporation."
The BBC had asked the Indian government for permission to film the five-part serialisation there — but this was rejected in July for fear of upsetting the country's Muslims.
But it looked as if the long-awaited project, first intended to mark 50 years of Indian independence, would finally get off the ground after Sri Lanka approved filming in August.
"Midnight's Children" traces the fate of a group of children born on the stroke of Indian independence in August 1947. One, Saleem, migrates with his family to Pakistan and fights in the Bangladesh war.
Sri Lanka's Local Government Minister Alavi Moulana announced two weeks ago that President Chandrika Kumaratunga decided to stop the filming of "Saleem's Story".
However, the president's office at the time said no final decision had been taken by the government but confirmed she had received several petitions from minority Muslim groups opposing the filming.
"There may be nothing objectionable in the book," said minister Moulana. "But Salman Rushdie is anathema to the Muslim community."
Rushdie rejected this Thursday, saying: "There was no actual public protest at all — in fact the discourse in the newspapers and so on was entirely ... on our side."
The Sri Lankan population is around three-quarters Buddhist, 15 percent Hindu, seven percent Muslim and five percent Christian.
---
By Bandula Jayasekera
The BBC has expressed disappointment over the government's decision to refuse permission to film controversial author Salman Rushdie's book 'Midnight's Children' here.
The BBC's reaction came 24 hours after Presidential Secretary Kusumsiri Balapatabendi officially informed producer Christopher Hall of the government's decision.
"Having considered all aspects involved in the film, the Government of Sri Lanka is regretably unable to grant permission for BBC to proceed with the film," a letter from the Presidential Secretariat said.
It said the decision had been taken on a directive of President Chandrika Kumaratunga, but did not give reasons.
The Sunday Times learns that the initial go-ahead for the shooting of the film was granted by Deputy Foreign Minister Lakshman Kiriella when he was acting for Foreign Minister Lakshman Kadirgamar.
Muslim organisations and Ministers protested against this decision, because they say that Salman Rushdie had blasphemed Islam in his controversial book Satanic Verses.
However several local film industry personnel and other organisations have protested against the new government decision while the BBC crew was preparing to leave the country.
---
By Roshan Peiris
Plantation Union Chief and Minister S. Thondaman has threatened to pull some 350,000 estate workers out on strike from January 1, if the government does not honour a 1992 agreement of wage increases and other benefits.
Making a strong indictment on the government Minister Thondaman said that principles of cabinet responsibility and all that apart he was ashamed that estate workers who contributed so much to the economy were being treated so shabbily.
"Last year the Ceylon Workers Congress was successful in getting a 16 percent wage hike. With the rising cost of living it must be admitted that plantation workers need a better pay. Our demand is that govenment must fully implement the 1992 agreement and make the plantation companies to pay estate workers wages of a minor public servant," Mr. Thondaman said.
Asked whether it was right for him as a Minister of the government to go against it in this crucial sector of the economy, Mr. Thondaman said "I'm first and foremost the leader of a Trade Union. To me everything else comes second. When I accepted the post of a Cabinet Minister even under the UNP government I made it clear that when it comes to the welfare of estate workers I will take their side. I have made it clear that being a Cabinet Minister does not prevent me in any way from acting as the leader of the CWC which I have served for 50 years."
Mr. Thondaman said the CWC was also seeking besides the implementation of the 1992 agreement amenities such as payment of maternity benefits, insurance for workers and improved hygienic and living conditions.
"It is a shame that we have to often call for strike action and flex our muscles before any wage hikes and facilities are given to the plantation workers. Right through the years plantation workers of Indian origin have had to fight every inch of the way to gain their rights. This is a sad indictment I am compelled to make," Mr. Thondaman said.
---
Continue to the News/Comment page 2

| HOME PAGE | FRONT PAGE | EDITORIAL/OPINION | PLUS | TIMESPORTS
Please send your comments and suggestions on this web site to
info@suntimes.is.lk or to
webmaster@infolabs.is.lk