30th November 1997
By Dilrukshi Handunnetti, our Lobby correspondent
Speaker K. B. Ratnayake, de spite his high office, is a lonely man pleading for order in a parliament which is a far cry from a voter's dream.
Mr. Ratnayake was often seen censuring errant members — something he was compelled to do throughout last week.
The 'no quorum' Parliament as described by the UNP's perennially heckling member A. H. M. Azwer, assembled on Wednesday for the Committee Stage debate on the Ministry of Transport and Highways.
On his feet was UNP MP and former Transport Minister Wijayapala Mendis against who a motion is pending to strip him of his civic rights. He spoke in soothing tones, but not to the PA ears.
It was indeed an opportunity several PA parliamentarians had been waiting for to unleash their verbal punches at the senior member who was found guilty of misuse of power.
PA backbencher Kumar Welgama began reciting a melody on 'Latec' in an apparent warning to Mr. Mendis that they had come with enough ammunition. Allegations were many even during the UNP regime when Latec buses were assembled here when Mr. Mendis was transport minister.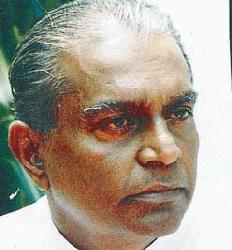 Dharmasiri senanayake: in defence of AirLanka chief
The early hours of the debate was marred by the use of what has now become not unparliamentary words.
If only the 'gona', 'balla' and the 'booruwa' knew that they were honoured in the august assembly. The Chair's constant appeals fell on deaf ears as the members liberally exchanged verbal blows.
Earlier during the day, when the allocation on the Ministry of Tourism and Aviation were taken up for debating, UNP's Gampaha District member Pradeep Hapangama complimented President J.R. Jayewardene who headed a separate Ministry for Tourism during the Dudley Senanayake government of 1965.He said that after that period, for about 30 years, little had been done to promote the industry. Sri Lanka could not forever market its golden beaches, central hills and the Raja Rata ruins to attract tourists. Novel features like scuba diving and water sports should be introduced befitting the country's expanding business and image, he said.
Warning the amiable Minster, Dharmasiri Senanayake, seated right across the divide and smiling away, Mr. Hapangama urged him to set up a special committee to improve this industry which has so much scope.
Mr. Hapangama — who, it seems, like his friend Anura Bandaranaike, has been destined to be in the opposition irrespective of whether it was the UNP or the SLFP-led PA in office — fired his salvos pointing out many flaws in the national carrier.
Expressing concern, he queried whether 40% of AirLanka shares were to be sold lock, stock and barrel to the Emirates, a competing airline.
Moving from AirLanka to the airport, Mr. Hapangama took on mafiosi operating there.
"If you want to improve tourism, take action to curb the gangs operating at Katunayake," he said.
Thought-provoking, though in lighter vein, Mr. Hapangama said: "An astounded tourist had once made inquiries about these gangs, as to whether they were Velupullai's boys. He was told 'no sir, they were not his, but some other Pullai's."
Defending Mr. Senanayake and paying him a glowing tribute was Minister Kingsley T. Wickremaratne who described the bachelor minister as a maestro at the game of tourism.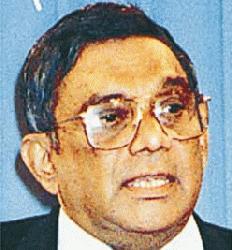 Kingsley Wikremaratne: peace and tourism
"It is he who transformed tourism in Sri Lanka to quality tourism. It was he who created our first ever tourist village in Bentota as Tourist Board Chairman.
Within four years we have opened eleven hotels, some of the finest in the region itself, with three to be opened shortly."
The Trade Minister apparently knew how to transact with the UNP — he traded off tourism with the government's peace package, about which the UNP is still dilly-dallying.
"If tourism is to survive, help bring peace to the county. There is no better incentive," he said urging opposition members to support the political package if they were concerned about the tourism industry which he called the 'Peace industry'.
Where's peace, it is in pieces as everything else, cried the UNPers in reply. Not to be outdone, the PA backbenchers came with an equally resounding reply saying that peace eluded the UNP ranks, and not theirs.
One-time tourism minister Gamini Lokuge stood in defence of the UNP, emphasizing that all the eleven hotels opened recently were initiated by the UNP.
Mr. Lokuge challenged the government to show a single hotel constructed or initiated during its tenure.
"This is a government which has failed dismally to control cholera. Will tourists come to a cholera plagued country? Certain countries are not purchasing our vegetables.
In this backdrop would tourists come? The PA must learn that a co-ordinated and concerted effort was necessary to improve any industry, and this meant getting its act together," he said.
In the recent past it was Gamini Atukorale, the UNP's general secretary, who was seen launching a crusade in the House against the controversial activities of Harry Jayawardena, who is heading AirLanka. And what better occasion than this to raise it again by another Gamini, Mr. Lokuge as he urged action to probe allegations against Mr. Jayewardene.
A different but a stinging aspect of tourism was brought into focus by Colombo District PA member Bennet Cooray.
Taking the minds of the members to the picturesque Sigiriya rock, Mr. Cooray said tourists who visited this historic place were exposed to the stinging blows of wasps and bees. "There are no protection cells as before.
Who wants to see local attractions at the risk of their lives?" he asked adding that the war was a worse deterrent than Cholera, or any other plague in an apparent reply to Mr. Lokuge.
The irrepressible Dharmasiri Senanayake in his reply said that he was a satisfied man quietly doing his job, irrespective of political instability, fluctuating fortunes, epidemics and the like.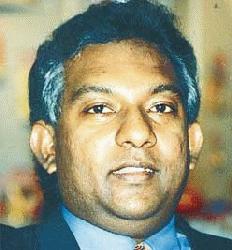 Pradeep Hapangama: who are Pulle's boys?
"I shall tap all resources to the brim. We don't have a dog in the manger policy, and no Ronnie de Mel to pump in insulin into the industry at crucial times.".
Defending the Air- Lanka Chairman who came under fire from the opposition, the Minister expressed his confidence in Harry Jayawardena saying that "aviation was soaring, thanks to him."
"I am very happy with him, and shall not be guided by interested parties casting aspersions on him. I am the minister and am happy with him. He made unprecedented profits unlike his predecessors," Mr. Senanayake said.
Several opposition benchers in a rebellious mood questioned what AirLanka's profits were. The minister who was in mood economics replied: "revenue minus expenditure was profits, and that's simple arithmetic."
The votes on the Ministry of Plan Implementation and Parliamentary Affairs was taken up last Monday. In spite of high expectations, the debate proved to be lacklustre with none of the important issues being addressed by both the opposition and the government.
It was Chandradasa Galappatty from the remote war-ridden area of Digamadulla who stressed on the necessity of enhancing the salaries and allowance of the members.
"It is not so much the pay, but the fuel which concerns me. The Rs. 2,500 fuel allowance is inadequate to travel around the constituency itself. And who is the driver willing to drive us for Rs.1,000. I spend Rs. 11,000 on fuel alone, and consider the mileage aspect. This must be increased or else MPs cannot come here," he said.
Wijeyapala Mendis: Latec memories
With a feeling of fair distribution, he also proposed that Parliament staff should also be brought under a special pension scheme according to their educational qualifications and experience. He stressed that it was only fair to attach them to the Public Service under some category, entitling them to benefits they lack at present.
The day was more or less dedicated to discussing the necessity to increase salaries and allowances, a scheme to foot the MP's cellular phones, more fuel and proposals to increase staff and other facilities.
Mahinda Amaraweera, a bashful PA backbencher from Giruvapattuwa said: "During the UNP regime, we did not receive a red cent, and our proposals were not even given serious consideration. We have no 'kankani' minister unlike the UNP.
It was just last week when Minister Jeyaraj Fernndopulle pointed out that MPs received five star treatment was a fallacy. "They were condemned to eat rice cooked in cauldrons as done in prisons. We are not basking in luxuries, but in a sense perishing," he said adding that hereafter the district development councils would collect their entire allocation and utilize money on a priority basis.
"We lead no luxury lives. Nor do we represent the aristocracy with enormous properties. A person representing the upper crust has recently remarked that thugs and 'mudalalis' have entered Parliament. That era is over, and today it is your popularity among constituents which counts most, not wealth or aristocracy," said a perplexed Minister.
Thus the House by the Diyawanna has seen how the members of all hues having opposing views be it peace, war, Susanthika or any other thing. But it seems for one thing there exists near unanimity.
It is MPs' perks and privileges. Perhaps it may be why William Randolph Hearst thought it fit to say that a politician would do anything to keep his job — even become a patriot.
---
Return to the News/Comment contents page
| HOME PAGE | FRONT PAGE | EDITORIAL/OPINION | PLUS | TIMESPORTS
Please send your comments and suggestions on this web site to
info@suntimes.is.lk or to
webmaster@infolabs.is.lk