27th April 1997
| HOME PAGE | EDITORIAL/OPINION | NEWS / COMMENT | BUSINESS | PLUS
Contents
---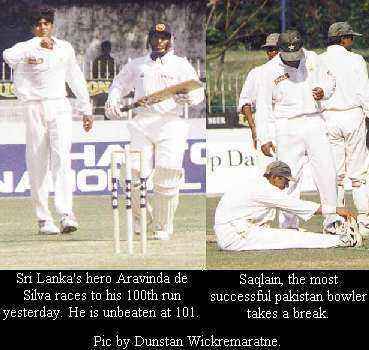 Sri Lanka's hero Aravinda de Silva races to his 100th run yesterday. He is unbeaten on 101. Right- Saqlain, the most successful Pakistan bowler takes a break. Pic by Dunstan Wickremaratne.

---
Magnificent Aravinda: 101 n.o.
By S.M.D.Sirisena
Magnificent Aravinda! When Sri Lanka were tottering at 124 for 3, Aravinda made his larger-than-life presence, to lift the side out of the dark and murky waters and place them on a solid ground at 281 for 7 at the end of the first day's play in the Second Cricket Test against Pakistan at the SSC Grounds yesterday.
Sri Lanka won the toss on a bright and sunny day and opted to bat. Openers Sanath Jayasuriya and Russel Arnold frustrated the Pakistan bowlers by playing them on their merit. Sanath Jayasuriya in particular was a picture of concentration as he put his head down and played a very responsible innings.This pair batted on steadily until lunch.
After lunch Pakistan got their first 'scalp' when Sanath Jayasuriya was caught by Mushtaq Ahmed in the slips off the bowling off right arm off spinner Saqlain Mushtaq, Sanath made a well compiled 72. He faced 94 deliveries and hit 13 boundaries and one five. Russel Arnold, playing only his second Test for Sri Lanka, showed the maturity of a seasoned player. Arnold knew what he had to do and he did his job very well. When Marvan Atapattu made his appearance, Russel Arnold gave him valuable support and was associated in a 29 run partnership. Arnold was brilliantly run out by a throw from Moin Khan and Arnold made his exit after a valuable 37 which included four boundaries and came up on the board in 183 minutes.
Sri Lanka from a sound 95 for no loss were struggling for runs at 144 for five when Aravinda made his solid presence felt. Aravinda de Silva and the gritty Romesh Kaluvitarane put on 65 runs for the sixth wicket and lifted the side. Romesh was the first to end this partnership when he was bowled by Asif Mujtaba for 22 which was compiled in 29 minutes, 41 balls. His knock included three boundaries.
When the day's play ended Aravinda and Chaminda Vaas were at the wickets, on 101 and 9 n.o, in an unbroken stand of 57 runs. Aravinda's century came up in 190 minutes and had 15 boundaries. He faced 126 balls. His 50 was made in 72 balls and the 100 was made in 119. His unbeaten 100 came up in 185 minutes. Chaminda Vaas faced 60 balls and hit one boundary during his 69 minutes stay at the crease.
SCOREBOARD
S. Jayasuriya c M. Ahmed b S. Mushtaq   72
Russel Arnold run out                   37
M. Atapattu c S. Elahi b M. Ahmed       14
Aravinda de Silva not out              101
A. Ranatunga c S. Elahi b S. Mushtaq     4
Hashan Tillekeratne b M. Zahid          10
Romesh Kaluvitarane b Asif Mujtaba      22
R. Kalpage c Salim Elahi b S. Mushtaq    5
Chaminda Vaas not out                    9
Extras -                                 7
Total - (for 7 wkts) 281 - in 90 overs (370 mts)
Fall of Wickets - 95 (S.Jayasuriya), 124 (Atapattu), 124 (Arnold), 129 (Ranatunga),
 144 (Tillekeratne), 204 (Kaluvitharne), 224 (Kalpage).
Bowling: Mohammed Zahid 12-1-44-1; Zahied Nazir 8-1-50-0;
Mushtaq Ahmed 21-6-67-1; Saqlain Mushtaq 34-9-93-3; Asif Mujtaba 15-3-23-1.
---

Muralitharan, best off spinner in the world, says Hanif
By Samuil Hasan our Guest Correspondent
Hanif Mohammad, a former world record holder and legend in Pakistan cricket, rates Sri Lanka as one of the finest and hardest working teams in world cricket.
In a special interview for The Sunday Times Hanif who is here to cover the Sri Lanka-Pakistan series for Radio Pakistan, said he viewed Muttiah Muralitharan as the best off spinner in the world today but Sri Lanka also needed a good leg spinner and a top pace bowler to help them rise higher in Test cricket.Hanif said Murali and Chaminda Vaas would find a place in any world team while he felt they also needed exposure in English county cricket to bring out their full potential.
The new generation dominates the sports nowadays. There are certain cricketers of yore who are actually responsible in putting their countries on the world map. The man who served as a true ambassador of sports for Pakistan since its independence in 1947 was Hanif Mohammad, the legendary figure in Pakistan who still has a great following not only in his country but wherever he goes.
Hanif Mohammad, the legendary figure in Pakistan who still has a great following not only in his country but also whereever he went.
Hanif Mohammed, born on December 21, 1934, in his 18-year career as a cricketer, represented Pakistan in 55 Tests and 11 as captain. He scored 3,915 runs at 43.98 with 12 centuries. The Little Master is here on his first-ever visit to Colombo, Sri Lanka, and it was a privilege talking to him. Hanif, humble, soft-spoken and a true gentleman, was very interesting recalling his days and the turn cricket has taken which was an amateur sport then but now a professional and commercial one.
"I never consider myself as world-class or one of the greatest batsmen ever. But the thing which made me great was my patience, determination and courage. These three were the basic ingredients then and still today. Anyone bidding to represent his country and play the sport with distinction, must have these features besides a very strong and religious hard work," said Hanif.
Recalling his epic 337 after a record 970 minutes of batting, Hanif Mohammad says: "It was very hot and humid and we were facing a certain defeat after the West Indies had scored 550 odd and then dismissed us for something like 125. I went in for the second time and with sheer determination managed to score 337 in 970 minutes.
"Some salient features of that innings were that when I used to return from a friend's house (Patel), in the evening after day's play I used to find a letter stuck with my mirror and signed by the captain late Abdul Hafeez Kardar. Sometimes the letter said, "You are our only hope," and sometimes "Keeping fighting. Don't give up," and sometimes "No one can bowl you out unless you want to get out."
"The other point to note is that in those days, we didn't have helmets, thigh, chest and elbow guards etc. The ground was so hard and warm that I wore crab sole shoes which helped me slip on the hard surface while taking runs.
"The memories of that match are tremendous and sometimes thrilling as well because the Windies had a foursome bowling attack spearheaded by Gilchrist who sadly had to wear glasses after that Test because it was very hot."
Hanif Mohammad also held the record of 499 in a first-class game which was shattered almost after 48 years by Brian Lara, in 1994-95, the same year he broke Sir Gary Sober's 365. Interesting, Hanif was run-out while trying to reach the exclusive class. "Though it was part of cricket, it was actually the fault of the man who was looking after the scoreboard. He placed two runs less than what I actually had - 498 - that left me four runs needed with just two balls in the match remaining. I played the ball at cover and after it was misfielded, I started off. Since I had to return for the second run to keep the strike, I sprinted back but the fielder was smart enough to recover and throw the ball at the striker's end to beat me by more than a couple of yards.
"When I returned to the pavilion, I came to know that I was out on 499 and actually it was 498 and not 496 as placed on the scoreboard. It made me very sad but I could have taken the chance to score the required two runs off the final ball. Nevertheless, it is still history but a sweet one which I still feel proud to owe."
Asked who was the batsman he thought has the potential of breaking Brian Lara's 501 and 375, Hanif said: "I strongly believe that Sachin Tendulkar has the guts to do that but he is wasting his talent by scoring 70 and 80 and sometimes 150s. He is young and strong and this is the best time to do that. If you look back at history, all the big scores have been scored by batsmen when they were in their early 20s or mid-20s.
"If Tendulkar failed to break Lara's achievement, I can assure you that it will be a young batsman who would do it.
"One more reason for the batsmen not getting huge scores is that so much one-day cricket is being played that batsmen don't concentrate or apply themselves. They lose determination after scoring 50 or 60 runs which is really very bad for Test cricket."
Talking about the Sri Lankan cricket team, Hanif Mohammad said: "It lacks one right-arm leg spinner and a genuinely quick fast bowler. At present, they are more dependent on off-spinners.
"Nevertheless, it is one of the finest and hard working teams and what they have achieved today is because of sheer hard work and dedication. About three or four years back, they were considered push-overs which they are certainly not, now."
Hanif said that the cricket administrators should concentrate more on younger players and pick at least one leg-spinner and a genuine fast bowler.
"Chaminda Vaas and Muttiah Muralitharan deserve calls from the English Counties. That exposure will mature them and transform them into even better bowlers. County system polishes the skills of a player and for a bowler, it is the best institution.
"In my book, Muralitharan is the best off-spinner around today and it is because of his action which helps him spin the ball viciously. He has the style to turn the ball even on flatter or wickets tailor-made made for the batsmen."
Asked which players he would select for a World XI, Hanif said: "Without a doubt Chaminda Vaas and Muttiah Muralitharan."
Commenting about the laws of the game, Hanif strongly emphasised that the TV Umpires should get more powers and should be involved more than they are asked to do now. "Since the job of a TV Umpire is very important, I would have to see his involvement in controversial catches, bat and pad catches and to judge if a crossing has been made by the two runners.
"The rules need modification because cricket is now a professional sport and the careers of the cricketers depend sometimes on one big innings."
About his old days, Hanif said very little cricket was played in the early 50s and even till 60s. "Most of the teams used to play one-off Test because either they were on their way back or were proceeding to play cricket in some other part of the world. In the initial stages of my career, we used to get Rs. 15 (SL Rs. 12.5) for a Test match besides a bat to each player. There was no concept of sponsorship or commercialisation in cricket then."
---

CR in final
By Shane Seneviratne
CR&FC booked their berth into the Clifford Cup rugby football final played for the Carlsberg Trophy with a comfortable 26-6 win over Police at Nittawela yesterday.
CR's points came off four tries, one of which was a 50 metre run by Paul Bennet and two penalties while the Policemen's six points came off two penalties scored by Nizam Jamaldeen.
CR led 6-nil at the breather. Haren Perera scored the second and third tries while Naufer Rahim scored the first. Rohan Chintaka put over the two penalties for CR.
Roshan Deen refereed.
CR & FC will take on the winners of the CH&FC vs Kandy semi-final today at Nittawela. Kick-off at 4.30 pm.
The final will be played on Saturday (May 3) at Nittawela.
---

Swim champs
Natasha Kodituwakku of St. Bridget's Convent (right) and Gheffari Dulapandan of Royal College Union emerged open champions afor men and women respectively at the National Pentathlon Swimming Championships at the Sugathadasa Indoior Stadium pool yesterday. Natasha bagged the title for the second successive year winning the 100 metres dolphin stroke, 100 metres breast stroke and the 400 metres individual medley. Upeka Samarawickrema and Rasansi Lankage both failed to qualify to the set timings by the National Amateur Aquatic Sports Union (NASU).
Dulapandan, the former Thomian swimming captain, swimming in the colours of the Royal College Union won the 100 metres dolphin, 100 metres free-style, 100 metres breast stroke and the 400 metres Individual Medley.
---

Royal crush Kingswood
Royal, playing true to form, crushed Kingswood by 30 points (3 goals, 3 penalties) to nil in their Milo Inter-School league rugby encounter at Reid Avenue yesterday. Royal led 9-nil at half time.
For Royal, A.Wijewardena, Nissanka Sirikumar and Viraj de Silva scored a try each with Rananga Gonaduwa goaling the three tries. Gonaduwa put over the three penalties as well.
In their first game played last week Royal beat St. Sylvester's 8-nil.
In other week-end games Wesley beat Science College 12-5. Science College led 5-nil at half time.
Isipatana, the defending champions, beat Maliyadeva 39-13. The winners led 22-6 at the breather.
St. Peter's pulled off a narrow 10-7 win over Vidyartha. The losers led 7-3 at the short blast. St. Joseph's beat D.S.Senanayake by 17 points to 5. The Joes led 10-nil at half time.
---

Lanka rugby on the up and up
Dr. Maiya Gunasekara, the newly elected President of the Sri Lanka Rugby Football Union in an exclusive interview with The Sunday Times spoke of the elaborate plans and proposals he is undertaking for the improvement of rugby in Sri Lanka. He said that the standard of rugby in Sri Lanka is going up especially after our first ever victory over Thailand, the South East Asian Rugby Champions, last month in the World Cup qualifying game in Bangkok. Excerpts from the interview
Q: What do you identify as the immediate necessity for the inprovement of rugby in Sri Lanka?
A: The immediate concern is to make sure that the Sri Lankan rugby team which is quite strong and playing good rugby at the moment, gets into the final round of the Asian Leg of the World Cup qualifying matches by beating Singapore, Malaysia and Taiwan, having beaten Thailand, the South East Asian champs by a margin of 30 points to 15 points last month. If we get into the final round then we would have established some sort of supremacy in the Asian region and if the national team continues its winning streak the following for rugby in Sri Lanka amongst the schoolboys will be on the increase. This will make the rugby promotional and development programme undertaken by the Union much easier since everybody will want to back a winner and also there will be more sponsorship flowing in locally and from the region.
Q: With the above in view how do you hope to start?
A: Today there is an urgent need for a development squad consisting of outstanding schoolboy rugby players and those who have just left school to perform as a shadow squad for the national team. The Coaching Committee consisting of Ajith Abeyaratne (Chairman), Anton Benedict, Daya Jayasundara, Ana Saranapala and Tony Amit has been entrusted with the task to develop, nurture and follow up the progress of these young budding ruggerites of national potential. The main purpose of this exercise is to have at all times two or three players for each position so that they could be fitted into the national team as and when the need arises.
Q: Is this already underway?
A: Yes, this is already underway and I take this opportunity to appeal to all the Rugby Clubs that now is the time that they should rid themselves of petty club rivalries and rally round the Union as our rugby is on the up and up, so that a very strong national team and a back up squad can be formulated. It is pointless having a glorious Inter Club Rugby season locally and performing in the international arena disastrously. We all should be national minded and top priority should be given to the national side and the Club authorities should give all the encouragement to the national players to attend pool practices.
Q: Other than the World Cup Qualifying Games what other international games you lined up for the national team this year?
A: The South East Asian Rugby Quadrangular amongst Sri Lanka, Singapore, Malaysia, and Thailand will be played this year and Sri Lanka should have no difficulty in winning this championship on our present form. But we will be up against tougher opposition when we take on the Australian Northern Territories and Taiwan in October and November, for which our players should well equip themselves and perform well to create an impact in the international Rugby scene. This will also help us to identify new players for the next Asian Rugby Football Tournament to be held in Singapore in 1998.
Q: How was it that you were able to entice the Australian Northern Districts team to embark on a tour to Sri Lanka?
A: This tour was made possible, thanks to the efforts of Dilip Kumar, who is an old Trinitian now domiciled in Australia and a successful businessman who has been involved in rugby at the highest level in Australia and who has been appointed as the development officer for the South East Asia Region by the Australian Rugby Football Union. During his recent visit to Sri Lanka he told me that what prompted the Australian Northern Districts to take on a tour of Sri Lanka was our fine performance at the last ASIAD held in Taiwan which was witnessed by some of the Australian Rugby Union officials who said that Sri Lanka was an improved side playing aggressive rugby. The Northern Districts on their tour will play two tests. One in Kandy and the other in Colombo for a trophy and Sri Lanka will reciprocate by touring Australia next year and thereafter this will be an annual encounter. The benefits of this Australian connection will be immense especially for coaching and rugby development and also for player exchange programmes. The Rugby Union is extremely grateful to Dilip Kumar for creating this connection with Australian Rugby.
Q: What other plans have you with a view to stabilizing rugby administration financially other than the year to year sponsorship?
A: Presently we are in the process of preparing a draft to create a Rugby Foundation on the same lines of the Sri Lanka Cricket Foundation, headed by a patron and a Board of Trustees. These proposals will be conveyed to the Sports Minister S.B Dissanayake for his approval, support, and blessings. It is only through a Foundation that a solid financial structure could be created and this will pave the way for mercantile establishments and the expatriates to get involved financially for the development of rugby which will help the Rugby Union undertake a long-term development programme.
Q: Presently the Rugby Union does not have a playing field and a Secretariat of its own? What are your plans for these?
A: Yes, presently we are having our Union Office at the CR&FC Clubhouse paying a monthly rent and we are grateful to the CR&FC for helping us out. But now with our rugby on the upsurge internationally, a rugby ground and a Secretariat is a must. The present Rugby Union officials are alive to this and are making all endeavours to achieve this goal.
---

Aravinda proves his worth in test cricket
By Samiul Hasan
Aravinda de Silva is in a class of his own. In one-day games, he can score big knocks and in Test matches, he can handle all the pressure in the world and single-handedly carry his team to a stable position. This type of player is rare in this era where one-day cricket dominates.
Aravinda played an innings which would make every Sri Lankan proud of. Coming out to bat at No. 4 with the scoreboard reading 124 for two which soon became 144 for five, Aravinda de Silva excelled in difficult circumstances to slam an unbeaten century and take the sinking Lankan ship safely to fort with the scoreboard showing 281 for seven at stumps on the first day of the second and final cricket Test at the Sinhalese Sports Club.
Aravinda de Silva thoroughly proved that he was one of those players on whom one-day cricket has not left any bad habits. He scored 404 at Sharjah and then quickly adjusted to the demands of Test cricket to score 23 and 168 last week and follow up with 101 not out yesterday.
Opener Sanath Jayasuriya also scored an attractive 72 with 13 boundaries and a five from 96 balls. His innings was more a one-day one when he hit over the fielders heads and successfully found boundaries on balls which a good Test batsman and specially an opener would not play 10 out of 10 times. Nevertheless, in the background of what happened in the second session play, Jayasuriya's innings was quite important.
Aravinda de Silva timed the ball sweetly and struck it between gaps to pick up 13 exquisite boundaries in his 126-ball knock which speaks volumes for controlled aggression and defence with which he played. He was the man who disturbed the line of the Pakistanis who appeared all over the place after knocking down four wickets in 26 balls to reduce the world champions from 124 for one to 144 for five.
De Silva also must be thankful to Romesh Kaluwitharana (with whom he added 60 runs for the sixth wicket) and Chaminda Vaas with whom he has so far added 57 runs for the unfinished eighth wicket.
If Pakistan ever felt the absence of Wasim Akram and Waqar Younis, it was today when Sri Lanka were five down for 147. The two toe-crushers have the potential of running through the innings.
None of the other Pakistan bowlers, barring Mushtaq Ahmad, had the capacity to do this. But Mushtaq Ahmad couldn't come to terms because he was not in good physical shape. He has a side strain and the left knee was also bothering him.
Saqlain Mushtaq managed to pick up three wickets for 93 runs, but after bowling 34 overs. Statistically, he has to bowl another 34 overs to pick up three wickets which is a very bad strike-rate. A match winning bowler has to get five wickets in not more than 25 overs and if that is done, no side in the world can manage a score more than 250.
It was sad that Muttiah Muralitharan had to sit out because of side strain, another example of too much cricket, the heart-warming news is that Sanjeeva de Silva gets a chance to take over as Sri Lanka's second best pacer behind Chaminda Vaas who without a doubt is the best Sri Lanka have ever produced.
The thrill in the Test match has just started. Sri Lanka are no more in hot waters but can easily push Pakistan in the corner if they succeed in picking up a few quick wickets.
Sri Lanka's score around 325 should be handsome and considering the suspected Pakistan batting, it can become even more decent.
The next two days will decide the fate of this Test. Apparently it looked that it will be another tall scoring draw, but the first day proved that probably some more surprises are in store. Let's see whom Lady Luck favours.
Please send your comments and suggestions on this web site to
info@suntimes.is.lk or to
webmaster@infolabs.is.lk