27th April 1997
| HOME PAGE | FRONT PAGE | EDITORIAL/OPINION | PLUS | TIMESPORTS
Contents
No more that silver voice
By Shelani de Silva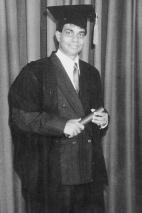 With a diction and political insight that put him on par with the best broadcasters in Sri Lanka, the outspoken and independent Ravi John who died on Wednesday will be remembered for his relatively short but spectacular contribution to the professional media.
For more than a year he has been out of the screen and radio as he bravely battled a dreaded disease.
Though his friends, colleagues and fans were aware of the nature of the disease, yet Ravi John's death came as a shock.
As hundreds of people gathered at Ravi's Havelock Road residence to pay their final respects and tributes the prolific broadcaster's son Divendran told us about the picture his father cherished most.
Being a famous personality Ravi John's face was seen and known to millions. But the picture he treasured most was the photograph taken on his graduation day, Divendran said.
Ravi had been quite cheerful on Wednesday night just one hour before his death. His eldest sister Shanthy Christie told The Sunday Times that though Ravi suffered from a terrible disease, he had died peacefully and with a smile.
Last Sunday Ravi had felt a bit stiff while spending time with his family. Since it was unusual, they decided to take him to hospital.
"It was a doctor friend who was at the house on Saturday who examined Ravi and asked us to take him to hospital. He looked very stiff when he was taken to hospital, but given his fighting spirit he revived within moments. From then on he was cheerful. He enjoyed having visitors at his bedside. Even on Wednesday he did not show any sign of weakness" Shanthy said.
Ironically perhaps the last programme that Sri Lanka's top T.V. newsreader watched was the Sinhala news bulletin over Rupavahini about one hour before his death. "I was with him until 6.00 pm but as I was leaving he asked me to stay with him. He was expecting my sister and mother but unfortunately they arrived a few minutes after he bid us good-bye," Shanthy said.
The Sunday Times also spoke to some of Ravi's colleagues who shared their memories.
The SLBC English Service Director and veteran broadcaster Nihal Bharathi said that Ravi John was one of the best loved broadcasters with a rare ability to capture and hold the attention of millions. "I clearly remember when Ravi first joined the SLBC he had to interview a lecturer from Britain. After the interview the professor said this young man had great potential. True to his word Ravi rose to become the best." the SLBC chief said.
Mr. Bharathi who had worked with Ravi for more than five years said he had an excellent personality and got on well with people. "He always encouraged people to excel in their work", he said.
Another close friend and colleague, Eric Fernando who had been regularly visiting Ravi John during his illness not so much to console him but to talk politics one of Ravi's favourite subjects, said "I got to know Ravi through Richard De Soysa before he joined the media field. Richard told me that Ravi was interested in broadcasting. One thing Ravi had, which makes him stand out among announcers was his diction. It was excellent. This is one thing that most announcers lack. He was outspoken and had an independent mind. He was a sensitive intellectual and a polished professional".
According to Eric, Ravi took his work very seriously and always did background work before doing any programme or interview. He was a student of politics. He loved the subject. Whenever I visited him we had long discussions on the subject. One thing I did not talk about was his illness. Ravi needed not sympathy but understanding" he said.
Radio and TV broadcaster Bevil Palihawardene said he knew Ravi as a colleague and friend who excelled in his profession. "Ravi was an allrounder. I worked closely with him when we had to cover the SAF games as well as the conference. He had abundant talent and never hesitated to help another professionally or otherwise."
On Friday night Ravi's home was a sea of wreaths. His voice from beyond echoed in our minds, long after it was heard no more and what we heard was somewhat on these immortal lines :
"Swift to it close, webs out life's little day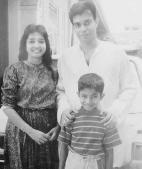 Earth's joys grow dim, its glories fade away
Change and decay in all around I see
Oh Thou who changest not abide with me"
---
Ravi: A glamour boy with a difference
Ravi John was probably Sri Lanka's first television celebrity. When John, fresh out of the groves of academe, was looking for a job, television was beckoning. Most television personalities at that time were mere tyro's, mostly because the medium was itself fresh and untried.
John's well scrubbed good looks and dashing manner was made for the medium.. Besides, he had a good voice, and a easy command of the language. In a field that even today is marked by a pathetic lack of talent, John was, relatively speaking, the greatest.
Ravi was the quintessential news anchor, and he played the part well. He didn't seek to create the news, he only wanted to convey it. He did that job with consummate ease — and stardom was easily accomplished.
Though his forte was as a compere, Ravi seemed to be always at odds with the part of his personality that played master of ceremonies. He seemed to be in a hurry to do more cerebral things , and it was almost as if he eschewed the "groupie" kind of celebrity that seemed to attach to him. Hence his short lived stint as a newspaper columnist.
In an era when television and radio is becoming more insubstantial and inane by the day, John will be missed. Particularly radio today is inhabited by mediocrity. The irritating prattle that goes on in most private radio stations is daily testimony to this condition. John never aspired to be the intellectual, but at least he knew substance was important. Whenever he was not caught up in the flamboyant world of compering, John forgot his glamour and looked towards improving on his grasp of contemporary events. He was certainly a glamour boy — but a rarity in these days in that he was a glamour boy who could be respected. – ( R. A.)
---
Seek help from Gujral - prelate
By Shane Seneviratne
The Mahanayake Thera of the Malwatte Chapter, Ven. Rambukwelle Vipassi Thera has said the government should not start peace talks with the LTTE until all supply routes to the LTTE are cut off.
The prelate told 'The Sunday Times' that the govt. and the opposition should not forget that the LTTE always entered into peace talks when they were weak. Referring to the PA-UNP accord on bipartisanship, he said he did not have much faith in the agreement, and cautioned the government of any ploys by the LTTE.
The Mahanayake Thera said that the Lankan government could seek the support of the newly elected Indian Prime Minister, Inder Kumar Gujral to bring an end to the LTTE problem.
The Thera's comments came as Sri Lankan Foreign Minister Lakshman Kadirgamar left for New Delhi on Wednesday night to greet the new Indian Prime Minister, with whom he had had established a close rapport when Mr. Gujral was external affairs minister.
---
Thonda greets Gujral
President of CWC and the Minister of Livestock Development and Rural Industries S. Thondaman in his felicitations to the new Indian Prime Minister Inder Kumar Gujral has expressed hope that his experience in governance and foreign relations provides an excellent opportunity for overseas Indians to play a greater role in their own countries in determining their own destinies.
---
Privena teachers plan pension protest
About 3,000 teachers of pirivena and government assisted schools would be adversely affected by the withdrawal of their pension scheme, a spokesman for the UNP Teachers' Association said.
Premsara Samaratunge of the TA added that these teachers were made pensionable by a circular on 23.12.1990 and accordingly some had submitted their papers while many others had been given pension forms to be filled..
The scheme was withdrawn by a circular issued in February this year. "When we spoke to an additional secretary of the ministry of education, she told us that she could not do anything about it as the circular had come from the ministry of public administration", he said. Mr. Samaratunge said that they would hold talks with officials of the ministry of public administration tomorrow and if the scheme was not brought back the teachers would conduct a protest campaign.
---
Ex-Mayor walks out
By Kumaradasa Wagista
The Independent group of Councillors led by ex-Mayor K. Ganeshalingam walked out of the first general meeting when the Colombo Municipal Council met on Wednesday. Mayor Karu Jayasuriya presided.
Proceedings went on a friendly note with councillors from both sides, some making their maiden speeches, stressed the importance of working together limiting politics to the platform.
"Work for the welfare of the ratepayers rising above party politics. As a journalist I can assure this House that the pen is always mightier than the sword" said journalist turned politician, UNP's A.S.M. Sanoon.
There was tension among the Independents during the tea break when they smelt that their leader may not be in the Standing Committee on Finance and as a protest the 19 kept away from the meeting. The Mayor announced the members elected to the 12 Standing Committees.
Ballot papares were distributed to elect five Councillors the Mayor being ex-offico. Councilors K.B. Lilantha Fabian Perera, Kaniska Perera, C. Mahendran, Ananda Vasantha Nanyakkara and Geethanjana Gunawardena were elected, each polling 30 votes.
At this stage Mr Ganeshalingam walked out saying he had given two names from the group to be elected to the Finance Committee which had been left out by the major party.
"We regret the walkout as everything was done with good intentions, extending cordiality and friendship to all sections in Council is our policy. We do not consider the walkout as a protest," Deputy Mayoor Omar Kamil said.
Members brought to the notice of the Mayor that a large number of retepayers in Colombo lacking basic amenities like water, street lamps, suwerage, recreational facillities, dispensaries, playgrounds etc.
Earlier, Mr Ganeshalingam alleged that the Mayor had fixed the date of the first meeting without consulting the leader of the opposition. This was a tradition which prevailed in CMC politics which has been ignored by the Mayor.
MEP's Geetanjana Gunawardena pointed out that nearly thirty percent of Colombo's population had no fixed abode. Kirulapona has been neglected by CMC for many years. He asked who elected the leader of the opposition without consulting all members in the opposition.
UNP's Joseph Charles said there was no provision in the MC Ordinance to have a leader of the opposition and the ex-Mayor's allegations were baseless.
---
Job or varsity, not both: report
By Chamintha Tilakaratna
The report on the National Education Policy on University Education has recommended that those employed should not be allowed to enroll as internal students.
The report released recently says that a significant number of students are in full-time employment while being registered as internal students of the universities.
"In future persons who are in full-time employment should be given the alternative of enrolling either as students of the Open University or as external degree candidates of conventional universities," the document states. The report calls for checks on the employment status of students to ensure that they are not employed while being internal students and do not abuse financial assistance.
Undergraduates who wish to be employed or wish to get significant work experience may be given leave for a specific period and allowed to re-join at the end of their work assignment. At the end of the leave they could opt to be either full-time students or use the facilities open to employed persons.
---
Report awaited on male turned female case
Police probing the man turned woman controversy this week submitted the person concerned to a full medical examination including a psychiatric test and began questioning bank managers where loans amounting to millions had been obtained by posing off as a woman prawn factory owner.
The Judicial Medical Officer, Dr. Hemal Jayasundara in his report submitted to the police has confirmed that the person concerned was a male and had a normal male sex organ.
The Police was awaiting a report on Friday from the psychiatrist, Dr. Nalaka Mendis about the mental health of the person.
Controversy surrounded over the 'man' who identified himself as 'Neluka Ekanayaka' and went on to obtian loans up to Rs. 20 million from private and state banks.
Police obtained full details from the state banks about her accounts and questioned several senior bank officials including managers to ascertain details about her transactions.
---
Continue to the News/Comment page 2

Please send your comments and suggestions on this web site to
info@suntimes.is.lk or to
webmaster@infolabs.is.lk