27th April 1997
| HOME PAGE
| FRONT PAGE
| EDITORIAL/OPINION
| NEWS / COMMENT
| BUSINESS
| | |
| --- | --- |
| | Contents |
---
By Roshan Peiris
Land mines, and anti personnel mines have become a 'man-made epidemic', causing immense damage to human life. These devices once planted cannot be detected even by those who have planted them. Roshan Peiris speaks to Dr. Gamini Goonetilleke, who is engaged in treating anti-personnel mine victims.
He is perhaps the only Sinhala civilian who has visited the LTTE cemetery in Jaffna and owns a special memento, an LTTE pass to enter Jaffna.
Dr. Gamini Goonetillake is glad to have this pass, shaped like the arch of a church window with a bright yellow and orange background which was given to him in 1994 when he was the only Sinhala doctor who volunteered to go there and conduct the MBBS examination.
As a gesture of goodwill to the doctor, the LTTE released two fishermen they had kidnapped from Mullaitivu. One of them, he brought over to the Sri Jayewardenepura General Hospital where he works now as a Consultant Surgeon.
Qualified in London, Dr. Goonetillake opted on his return to work in Polonnaruwa since no surgeon had volunteered to go there in 1982. He was the only surgeon for the whole district of Polonnaruwa where the injured from the armed forces from the East and from Jaffna were brought mainly sustaining gruesome injuries having trod unsuspectingly on land mines.
Even now in the salubrious surroundings of the Sri Jayawardenepura hospital he still hears the heart- rending cries of men who plead that their limbs remain whole.
'Mahattaya', they plead, 'Please don't amputate." One boy whose picture he showed us, was only twenty years old and had served in the army for only six months, when he trod on an anti-personnel mine leading to the tragic amputation of his leg as the only means of saving his life. But today with artificial limbs available many such young men have found hope for a future which they thought would forever elude them.
"What makes land mines so abhorrent is the indiscriminate destruction they cause to human life. Mines, unlike bombs or artillery shells which are designed to explode when they are approached, lie silent, until a person, a vehicle or animal triggers their detonating mechanism. An unsuspecting man, woman or child would find that they have been hit by some unseen object and are bleeding profusely," he said.
A mine does not distinguish between the footfall of a soldier and that of an innocent toddler. Mines don't recognise ceasefires and long after the fighting has stopped, the children or grand children of the army men who placed them may become the victims.
The saddest part, the doctor said, was that land mines lying dormant beneath the soil, just inches away from the surface can never be detected. If they are metal mines a metal detector can find them but now 'Jony mines' made by the LTTE of wood or plastic, or the plastic land mines used by the army can never be detected until injury or death takes its horrendous toll of the victim.
'It is sad', said Dr. Goonetilleke, "that these land mines strike the poor peasants looking for wood and food or those who till their fields. Children herding livestock are vulnerable too as they traverse wide tracks of land in search of fresh pastures. What is sad is that man does these horrendous things to man in the name of ideology or politics and to people who live way beyond the reach of medical facilities even of a primitive type. Blindness, chest and abdominal injuries too occur..
"There are the ghouls of society, those who globally provide land mines. Also these land mines can be manufactured by guerrilla groups at a cost of as little as three dollars, that is about 160 rupees. Just for this, man seeks to maim man in what is supposed to be a civilized world where religion, culture and values prevail," Dr. Goonetilleke said.
Since the beginning of the North-East conflict nearly one and a half decades ago, at least over 3000 personnel of the armed forces and the police have been either killed or maimed by land mines.
"Few know about this and still fewer care," he says.
"Army engineers who go around to detect mines ill-equipped without proper protective gear", the doctor said, "have also been victims".
Many a man returning to his home after a mini-battle going into his backyard treads on a land mine hidden there and ends up a broken if not a dead man, Dr. Goonetilleke recounted.
Many who live safely over here do not realise the ruinous effects of land mines on the human body. Land mines drive dirt, bacteria, metal, plastic fragments and clothing into the tissues causing secondary infections even years later.
The doctor said some of these fragments cannot be detected by X-ray examination. When they are overlooked in surgery they cause serious bone infections.
In young army men the traumatic amputation of the lower limbs due to land mine injuries is heart rending because they feel that their young lives have ended with no hope of marriage, family or jobs.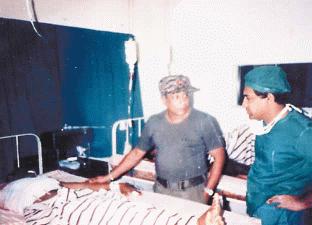 Dr. Goonetilleka and the late General Kobbekaduwa with two commandos who received Jaipur foots
Artificial limbs have been of great help especially the Jaipur ones made in Sri Lanka which now cost only three thousand rupees and can be used by even farmers. Artificial limbs from Britain, Japan or Germany don't suit our people, the doctor said, for they have to wear shoes over the artificial limb and hence farmers and outdoor workers cannot use them.
The doctor advises that most people living in vulnerable areas should know the basics of stopping bleeding by applying a pressure bandage and carry with them a First Aid Kit. Most soldiers die of excessive bleeding from the wounds before they are taken to a hospital with surgical facilities.
Dr. Goonetilleke has spent twelve years of his practice researching the effects of land mines and still does much to help the victims to survive. He is deeply concerned that often many amputees leave hospital and go back to their villages with no artificial limbs and no hope of a positive future.
He is one who serves humanity with no fanfare but with a conviction that men though losing a limb can be made useful members of society.
---
By Dr. Gamini Goonetilleke
Since the beginning of the North-East conflict in Sri Lanka nearly one and a half decades ago at least 3000 personnel of the Armed Forces and the Police have been either killed or maimed by mines.
The number of armed combatants and civilians living in the North-East of the country killed or maimed by this device is not known and will never be known.
In Sri Lanka the importance of anti-personnel land mine injuries from a point of view of the health care delivery and rehabilitation aspects lie in the fact that, today they are the commonest indication for the provision of a prosthesis for the lower limb in this country.
With no end in sight for the present conflict in Sri Lanka, more combatants and civilians are bound to be injured by this deadly device. This is especially so in view of the fact that civilians are now moving to "liberated" areas which were once combat zones littered with anti-personnel land mines.
The commonest method of triggering an anti-personel mine is by stepping on it. This results in a traumatic amputation of the lower limb with less severe injuries elsewhere.
Others may be injured by handling mines, when the injury is sustained by the hands with accompanying injury to face, chest and abdomen.
Injury to both eyes leading to blindness and traumatic amputation of the hand is not uncommon.
The amputation rate following injury by anti-personnel mines is high and these victims are more likely to require amputation than victims wounded by other munition. Thus the majority of the victims of mines are likely to be permanently disabled.
An examination of the devastating medical, social and psychological effects of mines experienced by a population living in some war-torn countries will reveal that many a civilian has been killed or maimed by anti-personnel mines.
The worst figures are from Cambodia, which has a population of 8.5 million people and a war ravaging for 12 years. Cambodia has the largest number of amputees amounting to 36,000, all victims of anti- personnel mines.
In Angola, a country affected by an internal conflict for the last 30 years, there are 20,000 amputees.
However, the situation in Sri Lanka is not so bad at present, but the future is yet to be seen.
---
Continue to Plus page 2 - That day in May
Go to the Plus Archive
Please send your comments and suggestions on this web site to
info@suntimes.is.lk or to
webmaster@infolabs.is.lk