Smugglers use novel ways to post drugs via courier services
View(s):

By Renishka Fernando 

On Tuesday, September 12, two suspects were taken into custody after an attempt of drug smuggling was thwarted by Sri Lanka Customs. The detection took place following initial investigations by the Narcotics Control Unit of Customs.

According to the police, a package to an address in Maradana, Colombo had been sent through a courier service from Brazil. It contained a volleyball net and the narcotics were in the edges of the volleyball net. Cocaine weighing 2.5 kilograms worth Rs 190 million had been hidden inside the plastic tubes inserted into the net. The two suspects had been arrested when they went to collect the package.

A seven-day detention order had been granted against the suspects. The two suspects aged 30 years and 37 years old are residents of Passara and Madiwela respectively. The narcotics and the suspects were handed over to the Police Narcotics Bureau.

"There has been an increase in cocaine smuggling over the past three years," said Seevali Arukgoda, director general of Customs and media spokesperson. According to him, smugglers send small packages through courier services. Heroin smuggling is also at an all-time high, especially through the coastal belt.

Unfortunately, Customs does not have a maritime enforcement division to detect drug smuggling. The maritime division was disbanded in 1996. Customs were in possession of four long range petrol boats which were taken over by the navy due to the war. In 1999, a petrol craft was built for narcotic detection however, due to the war at the time, the craft could not be operated. The tsunami of 2004 damaged the craft beyond repair, and it was eventually scrapped and sold for parts.

However, there is a move to restart the maritime division with donations from international organisations.

When the navy apprehends smugglers, they hand over suspects to the Police Narcotics Bureau. Mr Arukgoda said Customs is in frequent communication and cooperation with the navy when they do get tip offs. "We also cooperate when commercial goods are being smuggled," Mr Arukgoda said.

Customs officers are also stationed in postal processing divisions and courier warehouse services to help with the detection of drug smuggling through packages sent from abroad. The port also has an independent customs unit through which all imports and exports are scanned and cleared.
Data from the police show that 398 kilograms of heroin and almost 8 kilograms of cocaine were taken into custody from January 1 to August 23, 2023.
Meanwhile, data from the navy reports show that 1,500 kg and 315 kg of heroin were taken into custody in 2022 and 2023 (up to September), respectively.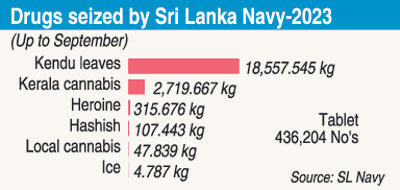 The best way to say that you found the home of your dreams is by finding it on Hitad.lk. We have listings for apartments for sale or rent in Sri Lanka, no matter what locale you're looking for! Whether you live in Colombo, Galle, Kandy, Matara, Jaffna and more - we've got them all!