Change course or face collapse: Warning signals for SLR
View(s):
As train services limp back to normal after a devastating 2-day railway strike, Sandun Jayawardana looks at the many-pronged problems that plague Sri Lanka Railways
As authorities await a report on revenue losses from yet another devastating railway strike, both the Government and trade unions say that the Department of Railways is in danger of collapse unless there is a serious course correction.
Sri Lanka Railways (SLR), will only be able to tell how much it has lost from this week's two-day strike launched by Locomotive Operating Engineers' Union (LOEU), at the end of the month when revenue reports for September come in from train stations, a senior SLR official told the Sunday Times. The losses are projected to be in the millions.
The strike launched by the LOEU severely hampered railway services across the country on Tuesday (12) and Wednesday (13). According to statistics released by SLR, only 165 of the 303 train journeys scheduled for Tuesday (12) were operated, with 138 trains being cancelled that day alone. Most of the train cancellations were on the Main and Coastal lines. Even some of the trains that did operate faced delays while passengers were forced to hang on precariously onto overcrowded trains that were few in number.
An 18-year-old engineering student was killed when he fell from the roof of the Kandy-Colombo intercity train after his head struck the overhead bridge at Horape Station near Ragama on Tuesday morning. Another passenger suffered injuries when he fell from the train travelling from Colombo Fort to Rambukkana near Bulugahagoda Station that same evening.
The strike continued on Wednesday, despite a gazette issued by President Ranil Wickremesinghe on Tuesday night declaring railways as an essential service. It was only called off on Wednesday night after discussions between trade union representatives, railway officials led by the General Manager of Railways and Transport Ministry officials.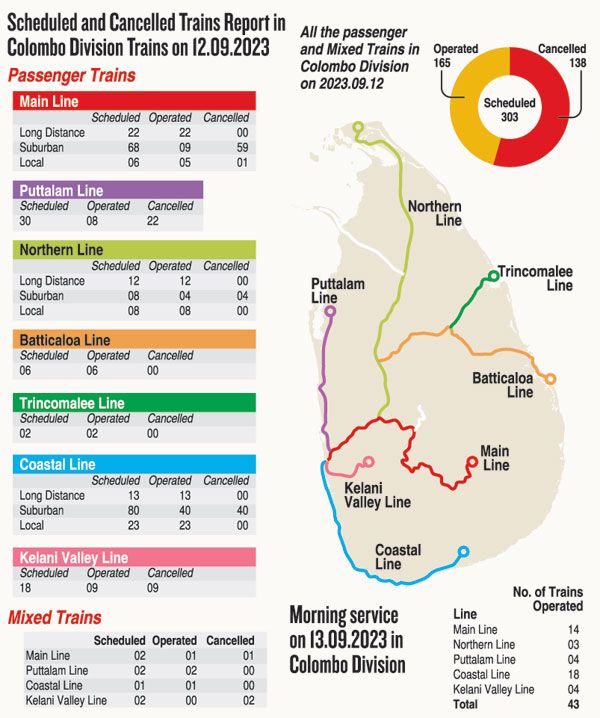 A key demand of the LOEU is that authorities resolve a promotion issue that has been affecting their locomotive operators at SLR since 2015. The union wants the period between promotions from Grade III to II of the Technology Management Service be halved from 10 years to 5.
Railways General Manager W.A.D.S. Gunasinghe told the Sunday Times that SLR is not in a position to resolve the issue raised by the engine drivers. "Our department cannot resolve this issue ourselves. It is up to the government," he stressed.
Transport Minister Bandula Gunawardana noted the government in 2015 had taken a policy decision that the period between promotions to the two grades will be 10 years. He acknowledged that this has led to a shortage of engine drivers. Nevertheless, the problem is that these grades in the Technical Management Service are also in place at 200 other government departments, according to the Public Service Commission (PSC). Thus making an exception to SLR would create issues for others. In the aftermath of the strike, the matter has now been referred again to the PSC, with the government requesting it to respond within two weeks.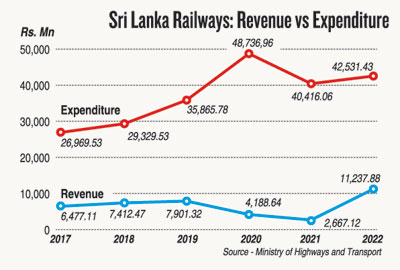 "We have briefed authorities about this matter time and again but to no avail," said S.R.C.M. Senanayake, Secretary of the LOEU. He claimed that there is currently no scheme of recruitment for engine drivers owing to a lack of a proper salary scale. There was no salary scale because of the promotions issue.
SLR should have 450 engine drivers but there are just over 280 currently in service. As such, many train journeys get cancelled on a normal day as well due to the severe shortage of engine drivers. It is also not unusual to see overcrowded trains or even people riding on the roofs of some trains on normal days, he added.
Some engine drivers have already gone abroad and others were also planning to go overseas, claimed the union secretary. This is mainly owing to low morale brought on by long working hours and a lengthy wait for promotions. A candidate has to at least be an engineering diploma holder to be recruited as a locomotive operator. Even after recruitment, they undergo rigorous training over 3 ½ years before becoming qualified as an engine driver, said Mr Senanayake. With no new recruitments and amid the retirement and resignation of engine drivers, the immediate future is bleak, with more train delays and cancellations, he said. "We are looking at a potential collapse of railway services if this issue is not resolved."
Mr Senanayake also rejected government claims that only 84 engine drivers took part in the strike while others chose to work. "That was purely a union decision. We only had junior drivers from two train yards joining the strike since they were the ones most affected by this issue."
Authorities have floated the idea of converting SLR to an authority as part of wider plans to restructure the department, arguing such issues could be resolved through such a move. Mr Senanayake however, said they could not give an opinion one way or the other to such a plan without knowing the specifics of such a restructuring process first.
The country's economic crisis has been a hammer blow to the already crisis plagued railway sector, with very little funding available to conduct even essential maintenance work. In January this year, SLR cut 30 train journeys from its schedule in a bid to reduce daily operational costs. The move was prompted mainly by severe staff shortages.
The lack of funding has also resulted in signaling breakdowns while the risk of train derailments has increased owing to the state of the railway tracks, which have not been properly upgraded given the difficulty in sourcing funds. There were 117 train derailments last year, according to the Transport Ministry. There have been a large number of derailments this year as well, with the most significant being the one in Agbopura, Galoya, on April 7 that left a railway guard and 15 passengers injured.
A damning report released in August this year by the Auditor General's Department into the state of the Railways Department noted that the planned number of train runs in 2022 was 120,993. Only 32,844 trains had run on time while 10,077 trains had been cancelled. Accordingly, 72% trains had not run as scheduled.
A total of 23 locomotives and 36 power sets were underutilised last year. In 2021 however, six power sets and 10 engines were obtained from India at a cost of USD 90 million.
The report has further found that 94 out of 200 bells and electrical systems that were installed at unprotected railway crossings last year were non-functional, less than a year after their installation. Accordingly, 50% of the bells and electrical systems were non-functional, which meant that nearly Rs. 500 million spent on this project had become 'idle cost.' Due to the non-functional nature of these warning systems, many accidents were reported involving people and vehicles travelling on these level crossings last year, it states.
Thus, the objectives of the project had not been met. SLR however, has noted that 20 out of the 94 systems had been destroyed by floods and accidents. Out of the 74 defective systems, many had suffered battery damage due to extended power cuts but these had been fixed, bringing down the number of faulty warning systems to 27 by May this year.
He didn't want to miss his classes

The funeral of 18-year-old Dineth Induwara Perera, who was killed after falling off the roof of the Kandy-Colombo intercity train, was held on Thursday (14) in Moragoda, Gampaha. A large crowd of mourners was present to pay their respects to a young man whose life had been tragically cut short.

After religious observances at home, a service was held in his memory at St. Benedict's Church in Moragoda. He was then buried at the Catholic section of the Moragoda General Cemetery.

Dineth, an engineering student, was the only boy among four children in his family. He was killed on Tuesday (12) morning when he fell from the train roof after his head allegedly struck the overhead bridge at Horape Station. He had left home that day despite knowing there was a railway strike, telling his parents he needed to somehow go for classes that day.

The Department of Railways subsequently announced that Rs. 500, 000 will be awarded to the family of the deceased as compensation.

Radical change the only answer, says Minister

The country's railway service cannot recover from its crisis unless it is subjected to radical change, Transport Minister Bandula Gunawardana said.

In an interview with the Sunday Times, Minister Gunawardana observed that when he took over as Transport Minister, the total revenue of Sri Lanka Railways (SLR) for 2021 was Rs. 2.6 billion. "But overtime payments for that year alone amounted to Rs. 2.3 billion while salary payments amounted to a further Rs. 7 billion. We had 14, 000 employees and our losses were close to Rs. 10 billion."  

SLR also has no cost-reflective price formula. There were some tickets that one could buy to travel from Kelaniya to Kollupitiya passing seven stations that cost only Rs. 10. It cost Rs. 6.50 to print that Rs. 10 ticket, he noted. "I then made a minor adjustment to the ticket prices at least to recover our fuel costs. This was the first price revision after many years. The Station Masters' Union though, refused to issue the new tickets on the first day claiming the price hike was an inconvenience to the public. How are we to change things if this is the attitude? They only relented after we pointed out they could face legal action for blocking a lawfully approved price revision."

While the price revision resulted in a significant revenue rise from Rs. 2.6 billion in 2021 to Rs. 11 billion last year, the steep rise in oil prices almost at the same time meant that SLR can still only meet its fuel costs, with salaries and over-time payments being borne by the Treasury.

To compound matters, the country can no longer obtain foreign loans since it declared bankruptcy. This will remain the situation until its debt restructuring programme is complete and loans are rescheduled. This is an enormous problem for departments like SLR. "Without loans and aid, we can't purchase engines, carriages, railway tracks, sleepers or oil. This is the reality no matter who runs the government."

Mr Gunawardana claimed he has taken many measures to try and reduce issues within the railway sector since he took over as Transport Minister last year, showing a file load of Cabinet Memorandums that he said he had submitted. The minister though, claimed he had been subjected to "terrorism" by certain trade unions when trying to make changes to SLR. He was highly critical of the strike carried out by the Locomotive Operating Engineers' Union (LOEU) this week, stating the union went ahead with the strike on Tuesday despite him having arranged a meeting between TU representatives and the Cabinet Sub Committee on Establishments for Wednesday. "However, it was only 84 engine drivers who took part in the strike, with the vast majority of the workforce choosing to work."

While some trade union leaders are actively trying to sabotage his efforts, many unions have accepted that things will only get worse without serious changes to the railway sector, the minister insisted.

In July, Cabinet granted approval to appoint an expert committee to study possible ways to restructure SLR. The committee, which has now been appointed, is expected to submit a report by the end of next month detailing its proposals on how best to restructure SLR. Minister Gunawardana said one avenue that could be explored is to convert SLR into an authority, which would allow it to be administered by a Board of Directors. That would mean that changes to the promotions structure such as the one demanded by locomotive operators can be implemented without it affecting other departments in the state sector, he said. "Whichever way you look at it, there will have to be widespread changes on a very large scale if this sector is to be revived," he observed.
The best way to say that you found the home of your dreams is by finding it on Hitad.lk. We have listings for apartments for sale or rent in Sri Lanka, no matter what locale you're looking for! Whether you live in Colombo, Galle, Kandy, Matara, Jaffna and more - we've got them all!