Major shortfall of surgeons in state hospitals
View(s):
Health Ministry officials cut out posts causing much frustration among those serving in the peripheries 
By Kumudini Hettiarachchi  
The sad tale of woe with regard to medical specialists either abandoning Sri Lanka or retiring from the state health sector, continued to hit the people.
"To make matters worse, Health Ministry officials in charge of the 2023 Annual Transfer List are acting irrationally and trying to show that everything is fine by harassing the specialists already working in the peripheries," alleged many.
They pointed out that these officials are trying new stunts to lengthen the stay in the peripheries of specialists who have served their tours of duty and more in those areas.
Are they trying to get these specialists too to leave the country in disgust, asked one specialist in frustration.
The latest stunt is in the specialty of surgery, where desk-bound officials seated in their ivory towers in Colombo are striking off places to prevent long-awaited transfers, it is learnt. Three-man stations are being turned into two-man stations with the swipe of a red pen.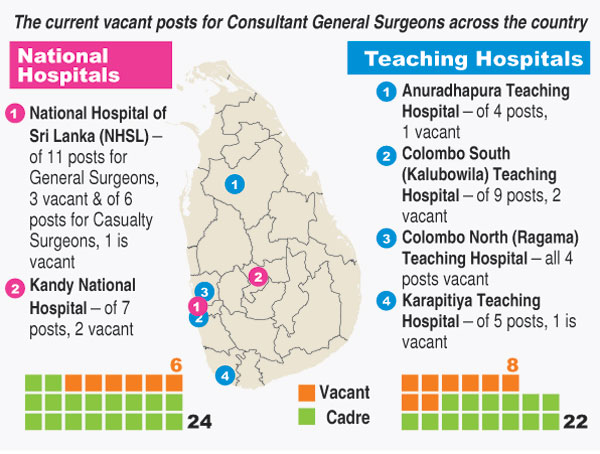 They are:
Negombo District General Hospital – 3-man has been made 2-man
Kegalle District General Hospital – 3-man has been made 2-man
Matale District General Hospital – 3-man has been made 2-man
When looking at the ground situation, meanwhile, the Sunday Times found a critical shortfall in surgeons in the state hospitals.
The number of Consultant General Surgeons working at present, according to the 2023 Annual Transfer List – 135
The'actual need' is – 180
Therefore, the 'actual'vacancies are – 45
The cadre requirement for 2025 is predicted at – 250
A specialist said that according to the 2023 Annual Transfer List, there are 8 Consultant Surgeons who are newly board-certified (from the Post-Graduate Institute of Medicine – PGIM) and eligible to fill some of the vacancies. However, only 5 have entered their names to the Transfer List with no information about the balance 3.
The math is simple, the specialist explained. There is a need for 180 surgeons and the state hospitals have 135 scattered across the country. As such the shortfall is – 45 and there are only 5 new arrivals, leaving Sri Lanka with a dearth of 40 surgeons.
"This is while there is also a discrepancy in actual numbers, for among those whose names are listed as being in service, some have already migrated and some have joined universities. Nam thibbata minissu ne. This would be obvious in the 2024 Annual Transfer List," the specialist said.
Next comes the double whammy of retirement. A source said that by the end of this year (2023), the following vacancies would arise with the retirement of surgeons who are 63 plus:
National Hospital of Sri Lanka (NHSL) – 3
Kandy National Hospital – 3
If the 60-year retirement rule is implemented, there would be another 26 vacancies by December next year (2024):
National Hospital of Sri Lanka (NHSL) – 4
Kandy National Hospital – 1
Colombo South (Kalubowila) Teaching Hospital – 4
Jaffna Teaching Hospital – 1
Karapitiya Teaching Hospital – 4
Ratnapura Teaching Hospital – 1
Kurunegala Provincial General Hospital – 3
In District General Hospitals Chilaw, Gampaha & Polonnaruwa would lose 1 each; Kalutara would lose 2; and Negombo would lose 3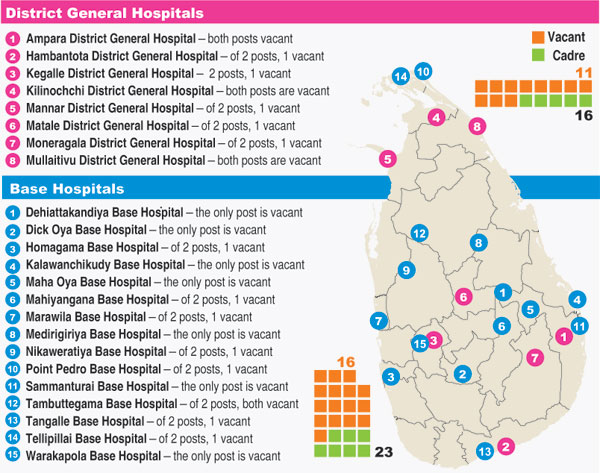 See graphic for current vacancies across Sri Lanka
Focusing on the issue that all 4 positions for General Surgeons are vacant at the Colombo North (Ragama) Teaching Hospital, a source said that 2 are expected to come on transfer here. Currently, these vacancies are being covered by the Resident Surgeon; a Vascular Surgeon; a Senior Registrar awaiting foreign training; and a 63 plus surgeon who has been re-employed after retirement.
"The important roles of this Teaching Hospital such as intern supervision and training of post-graduate trainees have come to a standstill. A major fear is that many other Teaching Hospitals would also face the same plight shortly," the source added.
The best way to say that you found the home of your dreams is by finding it on Hitad.lk. We have listings for apartments for sale or rent in Sri Lanka, no matter what locale you're looking for! Whether you live in Colombo, Galle, Kandy, Matara, Jaffna and more - we've got them all!