They look like paintings, but it's cotton waste
By Mithahasini Ratnayake
View(s):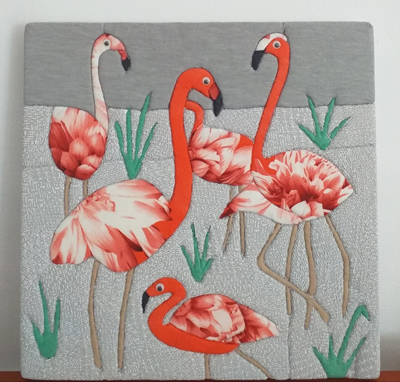 When you enter the first floor of the Lanley Paint Centre, your eyes are instantly drawn to an intriguing collection of colourful paintings – except when you take a closer look, you realize that they aren't paintings, but all made of cloth.  Nazly Zuhyle, Managing Partner of the family business, proudly puts forward a new initiative or rather, a hobby that has interested not just the older generation, but the youth as well.  "Cloth Art", the name of her charity project, is the term she uses – one that was used by a friend whose daughter she taught the skill to.
It was around 30 years ago when her mother's friend from Canada learnt the art of 'paper trilling', and she was taught it. She learnt the art out of sheer politeness and not curiosity, Nazly admits.  "In all honesty, I wasn't interested. I told my mother that I was not a person who generally could sit in one place and do handwork."
It was only 15 years after that the skill came back.  After doing a piece with her granddaughter, Nazly was intrigued.  "I realized that because I was working with colour, I was in a very happy mood," she says, "I found myself humming and singing, and I was enjoying doing it.  It was truly a stress reliever."
She created two more pieces herself – with intricate detail, and presented them to her friend in Gampaha, who helped enrich the work by showing her how to add a background.  "Because I'm in the paint shop, we sell cotton waste or they call it banian waste – off cuts from the factory that they use as rags." Nazly explains, adding that all material used for this type of art is very cheap, and that the hobby in itself is quite an inexpensive one.  Similar hobbies like sewing or crocheting require relatively more expensive material, she points out.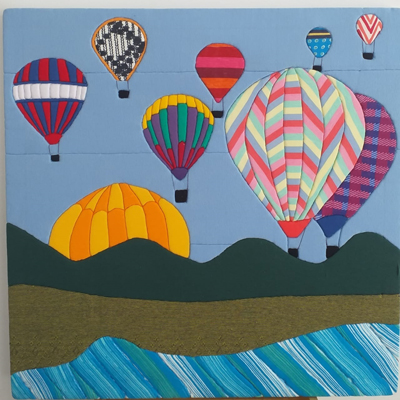 All her pieces so far are made out of the simple factory material that comes to life in her paintings. An alphabet collage is created with cloth from old cotton pyjamas.  "This is something that could even be used in a schools or nurseries," she adds, given that the letters of the alphabet were coated in material that had an object beginning with each letter (A for Anchor, Y for Yacht) Other pieces she has produced were inspired by her visits to Ella, Mannar and overseas to  Vietnam, etc.
"It doesn't even take long to do as once I get enthusiastic, I don't sleep in the night!" Nazly says laughing. "It depends how fast you want it done, but my paintings usually take a week."
Nazly welcomes all those interested in learning the art to the Lanley Cenre, 419, Galle Road, Colombo 3.  She can be contacted on 0777324676.  She charges Rs. 5000 for the class and Rs. 500 for the material, with all proceeds going to charity.
Searching for an ideal partner? Find your soul mate on Hitad.lk, Sri Lanka's favourite marriage proposals page. With Hitad.lk matrimonial advertisements you have access to thousands of ads from potential suitors who are looking for someone just like you.