Nightlife at Jie Jie Beach by Jetwing
View(s):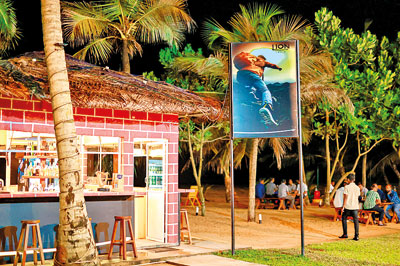 'Beach @ 150' and 'Singha bar' are the news addition at the Jie Jie Beach by Jetwing on the shores of Panadura. The vibrant city's nightlife just got a whole lot better with the launch of this two new entities that cater to every mood and preference.
The outdoor bar named "  bar," which translates to Singha bar. This outdoor space exudes a colourful and inviting vibe and boasts a stunning view of the coastline as well. Situated right on the beach, this bar is the perfect spot for an evening of relaxation and drinks. The atmosphere is perfect for catching up with friends, enjoying a romantic date, or just soaking up the scenery with a refreshing cocktail in hand.
'Beach @ 150' is an indoor bar that carries a vibrant and lively atmosphere, which is reflected in the colours used throughout, from the walls to the furniture. The bold and varied hues create a playful and energetic ambiance that is sure to enhance any night out. Perfect for groups of friends or colleagues, this bar is the ultimate destination for a game of pool, great drinks, good music, and a lively atmosphere. Whether you're looking for a spot to start the night, to spend the whole evening, or to play a quick game of pool and watch a game, this bar has everything you need to have a great time.
Both outlets offer an impressive selection of beverages, including signature cocktails and non-alcoholic beverages. The menus are crafted with care, and the bartenders are always ready to whip up something special. And to top it all off, the food is as delicious as it is varied, with options to suit every taste and preference.
'We are thrilled to introduce these two new bars to Jie Jie Beach by Jetwing' says Anthony Ferdinand, General Manager. 'We wanted to create spaces that would appeal to everyone, whether they prefer an outdoor setting or an indoor atmosphere. We believe these bars will be the perfect destination for anyone looking for a great night out.'
Searching for that next furry family member but couldn't find one in your area? Hitad.lk has the solution with our extensive listings of dogs for sale in Sri Lanka!